For 108 years, Wilson has been a fixture of the sports world, so much so that the brand has now reached a level of familiarity that borders on sacrosanct.
Lest you think we're exaggerating, consider this: Tennis balls were white — until Wilson decided they should be yellow. The first-ever Wilson-designed yellow tennis ball debuted at the U.S. Open in 1972, and no one's seen a white tennis ball since. The brand is an official partner of more golf and tennis majors than any other equipment manufacturer; it has supplied the official balls for the NFL since 1941, as well as the NBA for its first 37 years and now again, beginning this year, after it won back the title from Spalding.
With this level of dominance, one might wonder why the brand would change up its business model, and yet that's exactly what Wilson is doing as it builds a fleet of eponymous brick-and-mortar stores.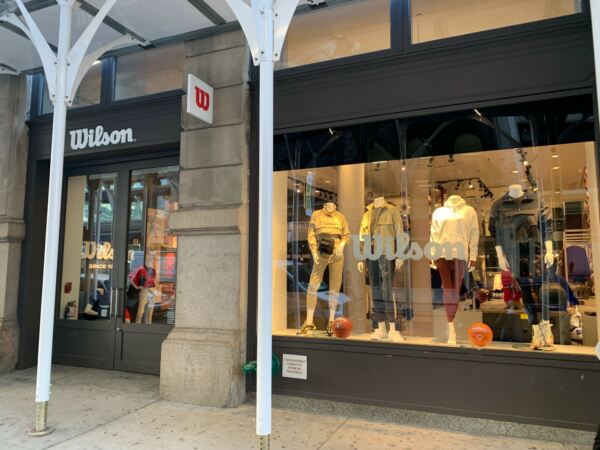 As the company's Sportswear President Gordon Devin explains it, Wilson has reigned for over a century because it doesn't stand still: "I'm a dad, I've got two daughters, and the thing I don't want to hear from their teachers is, 'Smart kid, but she could do better,'" he said in an interview with Retail TouchPoints. "That's what the report card for Wilson said. For decades, we've been at the heart of sport, and yet we can do better. We can be more; we can give our customers more. This brand is too unique and special to just rest on its laurels."
Wholesale will remain a foundation of the Wilson business. "We have no intention of doing anything other than growing with [our wholesale partners]," said Devin, but this year the company also debuted its first-ever permanent brick-and-mortar store. It's a precursor to a larger push into DTC physical retail, and true to form, Wilson has set its sights high: "We are reinventing the sports store," said Devin. Here's how they plan to do it:
Creating interactive spaces that prioritize education and engagement over transactions;
Using the store in its hometown of Chicago as a training field for continued evolution and innovation; and
Drawing on its rich history to create an inviting environment that nurtures a sense of community.
The Goal: Reinvent the Sports Store
"There are great big box aggregators, both offline and online, but what we're building is a premium brand direct model and an experience that doesn't exist in the world of sporting goods right now," said Devin. "At Wilson, we believe sport makes better people. If we can reinvent the sports store, then we have the opportunity to interact with these communities in a new way and get more people active and into sport, which is the greatest luxury in life."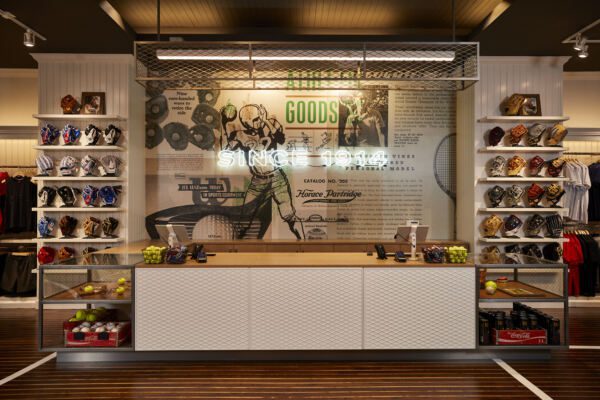 Fittingly, it all kicked off in the brand's hometown of Chicago with the opening of the company's first-ever retail location in July 2021. The 2,247-square-foot Wilson Heritage store features a curated assortment of sporting goods, the brand's new sportswear collection and regionally themed limited edition products. Additional exclusives will drop seasonally, in line with key moments in the sports calendar, and athletes also can have their Wilson rackets and ball gloves customized during regularly scheduled events at the store.
Chicago is just the beginning. During the U.S. Open in August 2021, Wilson launched a pop-up location in New York City's SoHo neighborhood, a precursor to the opening of the brand's permanent NYC flagship in early 2022. Devin said he expects the brand will have at least six stores open across the U.S. by the end of next year.
The goal, according to Devin, is to give Wilson a more impactful way to communicate its brand evolution to customers: "In the last couple of years, we've been pushing really hard to reinvent just about everything that we make, and how we do things," he explained. "It's challenging to communicate that, even with all the tricks and tools and technology that we have in the digital world. Creating a physical space for our customers to come and experience what we're up to, how we're changing, how we're growing, seemed like the best way of getting that message across."
Customer response to the NYC pop-up bodes well for the plan. Originally meant as a temporary installment during the U.S. Open, reaction was so positive that Wilson decided to not just extend its operating dates but also to expand the theme from tennis to a broader celebration of all aspects of the Wilson brand. The new Hall of Game-themed pop-up merges interactive elements, such as an area to test out basketballs, with museum-style exhibits showcasing key moments in Wilson and sports history, alongside a curated selection of products and gear with an emphasis on the brand's apparel offerings.
The pop-up is also conveniently located right next door to the site of what will be the upcoming NYC flagship, which will measure 8,000 square feet when it opens early next year. "The flagship store in New York will really be our first full retail expression," noted Devin. "It's a very different size and scale from Chicago, and it will be a very different experience. The flagship store will have play testing and community [outreach and engagement] on a level we've never done before, and we don't think that the market has ever seen before."
A Different Kind of DTC: Direct-to-Community
Devin is very cognizant of the need to differentiate Wilson stores from the sports stores that have come before it: "The world doesn't need another store; it doesn't need just another white T-shirt or more stuff," he said. "This world needs better products that do more, that make a difference. And consumers need experiences and places to go where it's not about transaction, it's about interaction, education, elevation."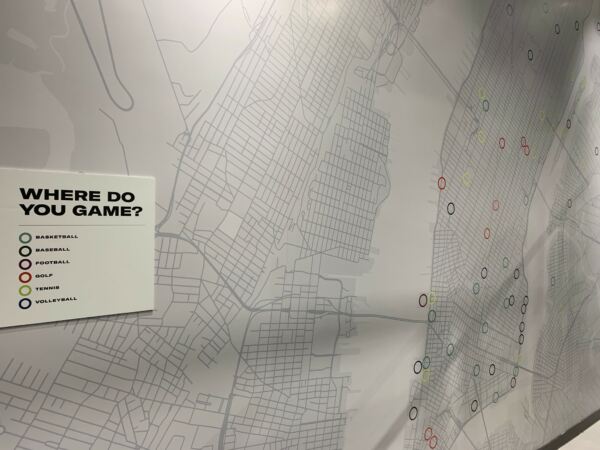 To pull this off will require constant evolution for the store and its offerings. Wilson plans to use its Chicago location as a training field for new concepts, with community engagement at the center of everything they build: "At Wilson, DTC stands for direct to community," said Devin. "We are a sports brand that is and always has been about communities of athletes, so we're not going into retail with a historic retailer's mindset, a transactional mindset. Instead, we want to create a space of community connection. A place that pulls our community together, gets them out of their houses, away from their computer screens and into the real world. That's where sport is played, and that's who we are."
One of the ways Wilson plans to do this is with the creation of a Community Captain position at both the Chicago and New York stores. This senior-level executive will be tasked with championing store community and programming events and activations, including tapping into Wilson's advisory network of 10,000 professional athletes, coaches and teaching pros.
Design Steeped in Heritage
Aesthetics also will play a big role in the store experience, with Wilson drawing on its rich history to bring its brand to life.
"The Wilson brand heritage has been woven into the store design materially, so you'll find leathers and timbers, things like that," said Devin. "We started in the stockyards of Chicago, turning the byproducts of the meat processing industry into sporting goods, so the industrial, architectural nature of that city is the kind of thing we're bringing into our store design, plus all of the rich, amazing imagery that we have from past campaigns and catalogs."
The multi-sensory experiences Wilson is creating in its stores go beyond the visual as well. The Chicago store features a leather-inspired signature scent, while the tennis-themed U.S. Open pop-up was infused with the aroma of a freshly opened can of tennis balls and the thwacking back-and-forth of a tennis match played in the background.
All of these design elements will be carried through as the brand builds its store fleet. In addition to opening as many as six stores in NYC, Los Angeles and Chicago by the end of 2022, Wilson is also growing its presence in China. The brand already has two stores open in that country and plans to eventually have approximately 15 across China's Tier One cities, alongside its digital storefronts on Tmall, JD.com and WeChat.
This expansion into brick-and-mortar doesn't spell the end of Wilson's wholesale partnerships though; quite the opposite: "We've got awesome wholesale partners," said Devin. "We work with the best of the best and we have no intention of doing anything other than growing with them."