Even though it operated for little more than one month, EMERGE In Color at Los Angeles' Beverly Center created a powerful space for Black designers and Black-owned businesses that are too often overlooked by retailers in the high-end category.
The concept for the pop-up shop, which operated June 17-July 23, 2022, came from Lori McGhee-Curtis, VP of Specialty Leasing at The Taubman Realty Group, the Beverly Center's parent company. It was executed and curated by Frenchye Harris, Founder and CEO of The Black Fashion Movement and Tori Nichel, Founder and Chief Creative Officer of Maison Black and a womenswear designer. The trio hope to bring this concept to additional cities such as New York and Nashville, Tenn., in addition to including a virtual live shopping component to make the experience available digitally in order to reach more luxury consumers wherever they are located.
The pop-up's design scheme was carefully planned to illustrate how strongly a luxury retail offering built by Black creatives, and orchestrated by three Black women, resonates with consumers. From choosing the location, a former Versace space situated across from Salvatore Ferragamo, to furnishing the shop with design elements from Black-owned businesses, every aspect emphasized luxury.
Along with the usual goal of a pop-up, selling merchandise, EMERGE In Color's purpose went deeper. "It's a destination for discovery of Black designers or Black-owned brands," said Tori Nichel in an interview with Retail TouchPoints. "I have just as many white friends and white counterparts that have asked me where they should go to find more Black designers. We have to continue to make sure people know everyone is welcome, this is for everybody to shop. We're just creating the space so you can now find us — you can now find them."
Making Space in Luxury Retail for Black Designers
"It was about finding the right people to work with that would elevate it, see the vision and understand," said McGhee-Curtis in an interview with Retail TouchPoints. "Who better [to create this space] than a designer who was fighting the same battle, or someone who would come from marketing and had seen the same thing, and promote more Black businesses when putting these together."
Relying on walls that resembled a blank canvas and rich wood that provided a framework for the boutique, EMERGE In Colors' producers designed the interior to align with an elegant celebratory atmosphere that promoted freshness through color. Prior to entering the space, shoppers caught glimpses of the interior's gilded shelving, handmade wooden platforms and colorful luxury inventory through floor-to-ceiling windows.
"It looks like a permanent store. It feels like a permanent store," said McGhee-Curtis. "The textures, fixturing and color scheme and wanting everything to flow; it's just so rich."
An important element of creating the allure of a luxury space in the confines of a pop-up shop schedule was to properly merchandise product. EMERGE In Color offered a wide assortment of goods including clothing, swimwear, intimates, shoes, handbags, makeup, beauty and wellness, and home goods. Additionally, by rearranging the store's layout each week, Harris and Tori Nichel created a new experience for customers each time they shopped while also affording equitable attention to every brand that was featured.
"When I walked into the store today, everything had changed, which is what I like," said McGhee Curtis. "It's like a new store every time you shop. It's really fresh. Some of the designers were different and I like the rotating change so it's not stale. A lot of stores today don't make the changes. They still want to function as the same business and they're losing customers. Here, you've got a pop-up that's changing every week."
"If you come back every week, you'll find something new to fall in love with," added Harris in an interview with Retail TouchPoints.
While Harris and Tori Nichel worked with their team to create a cohesive aesthetic that consistently spoke to the luxury consumer, they also relied on the designers and businesses to target the luxury consumers that frequent a shopping center known for its wealthy customer. That translated into product offerings designed to support an affluent shopper's journey.
"It has to be relevant," said Tori Nichel. "It has to be season appropriate and it has to be trend relevant. It can't be dead stock or something that they had for two years. From a designer standpoint, it's readiness, and do they fit in this market?"
However, EMERGE In Color also drove home the message that the work of Black artists can successfully support a retail space for many types of shoppers. Nearly every item in the shop — from the inventory to the décor that enhanced the space — was available for sale.
"We've seen customers come in and say they're so excited about this space, they just wanted to buy something," explained Harris. "Maybe that customer couldn't afford the higher-end pieces, but we did have other items like a T-shirt or a candle. We value each and every one of those purchases to treat every customer like the highest-spending VIP."
Developing a Roster of Black Suppliers
The 2,500-square-foot boutique and adjacent gallery of the same size relied on design sourcing and works from:
EMERGE In Color provided opportunities for Black creatives who design for the luxury consumer to be seen in a retail environment that speaks to their missions, drawing on work from design veterans who have been in the business for decades.
"Our goal was to use 90% Black-owned businesses but we probably exceeded that to more like 95% or 96%," said Tori Nichel. "As we were kicking off, [Byron Lars of In Earnest] said that in all of his 30-plus years he's never had the experience of having his clothes outfitted or curated head-to-toe with other Black designers."
Cultivating the Atmosphere Through Enriching Events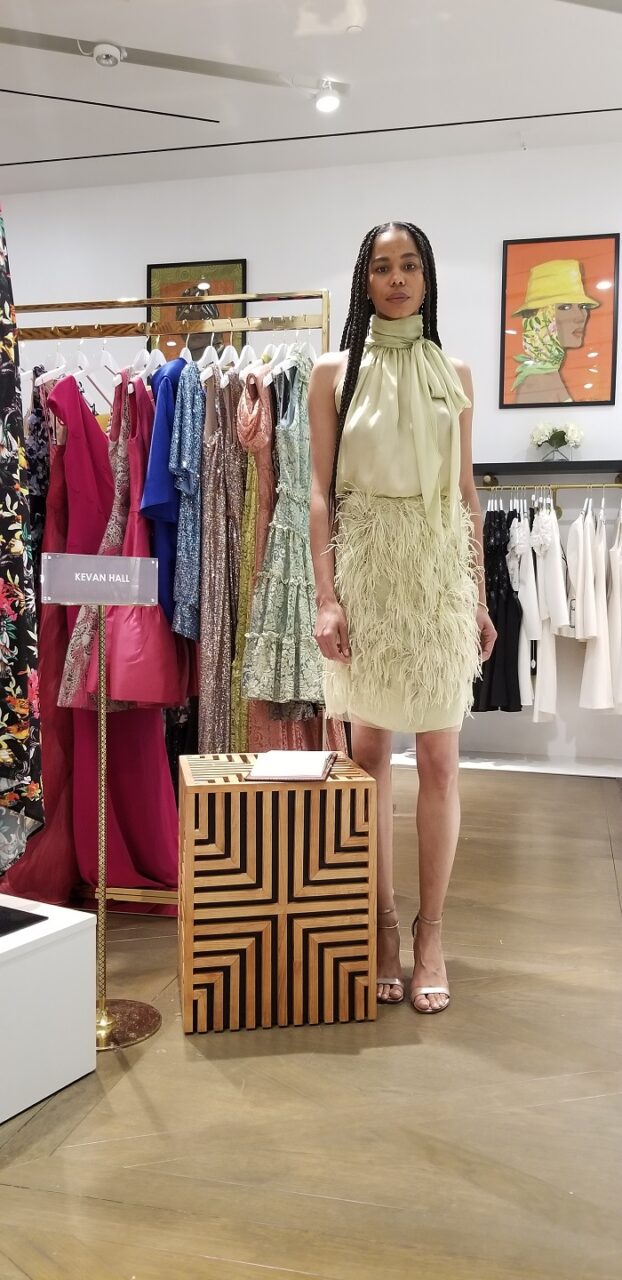 During the run of Emerge In Color, the shop and gallery hosted a number of events that informed the luxury community about the presence and contributions of Black creatives. Events also provided opportunities for education and insight into the inner workings of the luxury fashion business:
On Juneteenth the space hosted a Black Spending Power Panel: Claiming Our Financial Future;
Discussion and book signing with Marcellas Reynolds, author Supreme Models and Supreme Actresses, with subjects from his books including Tomiko Fraser Hines, Sessilee Lopez and Roshumba Williams;
Shop and Sip event with designer Kevan Hall, who showcased his Brushstrokes collection on live models and hosted a soft launch of Kevan Hall Home; and
A book signing with stylist Tameka Foster Raymond, who presented her Here I Stand…In A Beautiful State.
"We need to create platforms in retail experiences to bring those designers to the consumers in a way that purchasing can happen, relationship building can happen, loyalty can start to happen and we can start to really influence culture and sustainability for the brands," said Harris.
Through designing a luxury retail experience dedicated to connecting Black designers and creatives with an affluent or quality-minded consumer within a premium environment, Harris and Tori Nichel successfully brought to life McGhee-Curtis' vision with the backing of a corporate property manager. The message to mainstream retail executives is clear: investments in these artists can enhance a retailer's environment with authentic work from Black creatives that will attract the affluent consumer.