Urban concept store SHOWFIELDS is known for being a retail playground centered on innovation and experience, both in terms of the brands it showcases and the way they are presented. But this particular playground hadn't previously done much to cater to one extremely innovation-hungry audience — parents.
That has been remedied in SHOWFIELD NoHo's latest curation, which includes a new section themed "The Future of Parenting." Featuring a range of cutting-edge products, the activation also aims to breathe new life into the way baby care products are sold by offering the additional "content and context" parents need when making purchasing decisions.
"I had already done a small test at SHOWFIELDS, but we were one of the only family-oriented baby brands and it was hard to tell the story correctly," said Thai-Anh Hoang, Co-founder and CEO of baby skincare brand EmBeba, who led the curation of the new pop-up within SHOWFIELDS. "So when I started talking with them about the second iteration I said, 'You have really awesome hip products for everyone else. Why don't we bring together a curation of the most forward-thinking, parent-founded companies that are building products for the next generation of parents," she said in an interview with Retail TouchPoints.
"Hip" and "innovative" aren't typically designations applied to the childcare category (dealing as it does with so many "we don't speak about that at the dinner table" topics), and yet each of the 12 brands showcased in "Future of Parenting" are both hip and innovative in their own way. Through their SHOWFIELDS collaboration, these mostly mom-founded brands were able to:
Team up to create a platform for their solutions in an industry they feel is ripe for innovation;
Offer new ideas about what parents really need from shopping experiences; and
Champion the benefits of being both a mother and a businesswoman.
Bringing Baby Care to the 'World's Most Interesting Store'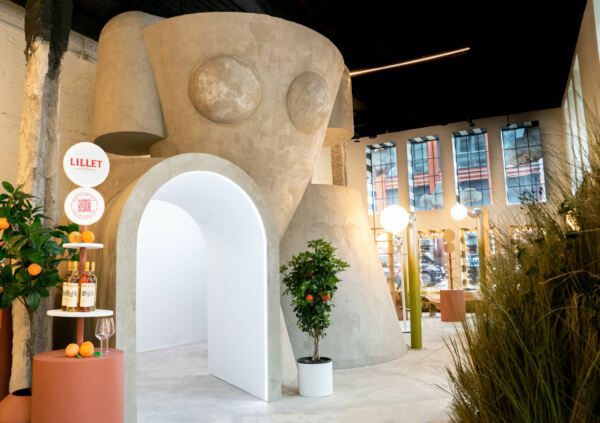 The "Future of Parenting" activation has been designed to showcase innovation in both the products it features and the way they are merchandised and sold. It also aligns well with this season's Showfields NoHo store theme, "Rebirth," with each floor of the three-story store centered on a different time of day. "Future of Parenting" sits on the second floor, themed to Sunset and the art of self-care (also, fittingly, the end point of the store's famed indoor slide).
For their activation, Hoang and her mom-founder counterparts decided to look waaaay into the future of parenting: "Our idea was, if parents on Mars were to go shopping, what would that look like?" said Hoang. "We took that idea and ran with it and that led to the design, which mimics a very deconstructed store on Mars. For example, the middle module looks like the control panel for a ship and it features our two digital brands."
The brands featured are very much Earth-based though, with many keyed to saving the planet's resources and all of them founded by parents inspired by their own parenting journeys. In addition to Hoang's brand EmBeba they include:
"Given SHOWFIELDS' purpose-driven and innovation-focused approach to retail, the collaboration was a no-brainer," said Laura Modi, Co-founder and CEO of infant formula brand Bobbie in an interview with Retail TouchPoints. "It's exciting for us to be recognized as innovating in an industry that is desperately ripe for change — when we launched in January 2021 we were the first new infant formula on the market in six years. This shouldn't be the case."
Reimagining the Retail Experience for Parents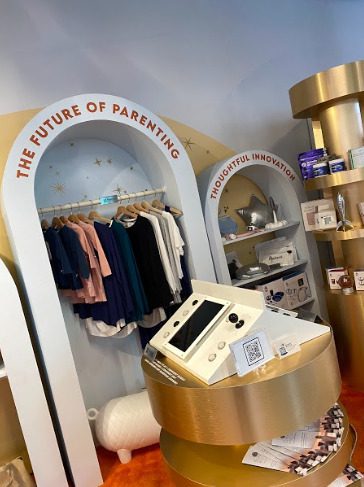 These women all believe there is ample room for both product and retail experience innovation for parents. "Traditional retailers, the brick-and-mortars, have been very slow to reinvent the experience — that's what attracted us to SHOWFIELDS," said Hoang. "This activation is about the products, but it's also about experiencing the product, giving content and context to parents. Parents these days are inundated. What they really want is help envisioning how they're going to use the products in their daily lives.
"Think of when you go to an amazing house that's perfectly designed and you start to think, 'My house could look like this; I could get something like this at Target' — that's the experience we want to invoke when they go through the curation [at SHOWFIELDS], and it's what other retailers miss by just doing traditional displays," Hoang added. "Ultimately, the idea is to be able to help parents navigate this next stage of their life."
Mantravadi pointed to buybuy BABY as an example of one traditional retailer making strides in this direction, saying the company had "really helped elevate some of the educational information that we're delivering from a pediatrician perspective. Delivering simple educational tips, small changes that parents can make in a bite-sized format, is really validating in this era of information overload."
Drawing on Personal Experience to Reimagine a Category
Almost every one of the brands featured in "Future of Parenting" was founded from a "point of frustration," as Modi described it. In her case, it was disappointment with the current options for infant formula after she had her first baby.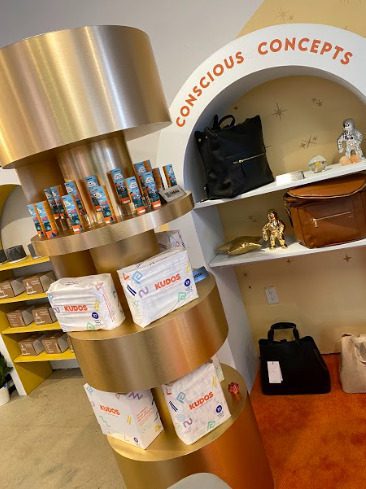 In Hoang's case it came from the struggle of trying to apply diaper balm to a squirming, uncomfortable child with diaper rash. "We want to bring about innovation in the application and use to help reinvent the ways parents and children engage with skincare products," said Hoang. "We made the product more engaging using toy theory and design [meaning it can be used as a distraction tool during diapering]. We also made it in a push-up form so it's one-handed. We have about four more products launching this year to help families in these iconic, stressful moments when your child is in need of soothing, like heat rashes, eczema and bug bites."
Manasa Mantravadi is a pediatrician who had no intention of becoming an entrepreneur — until she began talking with her colleagues about new studies that showed the detrimental effects of chemicals found in plastic on growth and development. "When I researched the market there really wasn't a great option for parents to follow these new recommendations [about removing plastic from the food system]," she said, adding that she felt compelled to help parents find a way to take action on these "big sweeping scientific policy statements" and stainless steel tableware brand Ahimsa was born.
Forget Work-Life Balance, These Moms Made Their Life Their Work
In speaking to these founders, the amount of thought that has gone into every detail of the products they've developed is evident. This work is deeply personal for these women, and far from being something they try to compartmentalize, family and their roles as mothers are integral to the companies they've built.
Hoang's original EmBeba baby balm was inspired by a trip to the Bosnian countryside to visit her husband's family, and the company's name is a combination of the word "baby" in Vietnamese and Bosnian, reflecting her family's mixed heritage. Modi boasts proudly of the fact that nearly half of the Modi team have had a "pandemic baby," while at the same time serving 70,000 babies across all 50 states. (Hoang too had a pandemic baby.)
For her part, Mantravadi — who was born in India and moved to the U.S. at the age of three — credits her own mother for the creation of Ahimsa: "When my kids were first born, I bought all these cute little plastic suction cups and bowls," she recounted. "My mom came over one time to watch the kids, and when I came home all my drawers were empty, she had tossed every single plastic dish. She said, 'I don't like plastic, I feel like the chemicals are coming into the food. At home [in India] we use stainless steel.' Five years later, science proved her right.
"I always say I didn't choose it Ahimsa, Ahimsa chose me," Mantravadi added. "I wasn't looking to be an entrepreneur, my worlds just intersected — this love for medicine and kids and my roots in India. This is my way of practicing pediatrics at scale."
For these women, being a parent isn't anathema to success — quite the opposite. "Being a mother is a full-time job in itself, so when you throw CEO on top of that it forces you to ruthlessly prioritize in a way that creates unstoppable momentum," said Modi. "Over 70% of the Bobbie team today are parents, and I dare you to find a more productive group of employees than a room full of mothers and fathers — you won't."