Lifestyle discovery store SHOWFIELDS has overhauled its New York City NoHo location with a new curation themed "Rebirth." Focusing on "fantasy visions of the future," the store currently features more than 100 brands and a range of experiences centered on the "desire for living a more inspired, full and layered life."
Each of the three floors of the retailer's Bond Street location has been redesigned to represent a different time of day:
1st Floor: Sunrise
The first floor focuses on sunrise and the melding of work-play-eat spaces, anchored by an art gallery presented by French aperitif brand Lillet. The launch exhibit — "Le Jardin Des Arts" — features an eclectic mix of works by female artists Trish Anderson, Zhanna Tsytsyn, Patty Suau and Fernanda Uribe. The design of the gallery structure itself, in the shape of a female figure, pays homage to the history of the building, which used to be an animal hospital operated by the New York Women's League for Animals and which subsequently served as a women's shelter.
In addition to the gallery, guests will find offerings brands such as Sunday Citizen (creator of the world's "softest blanket"), sustainable shoe brand YY Nation and monk fruit sweetener Lakanto.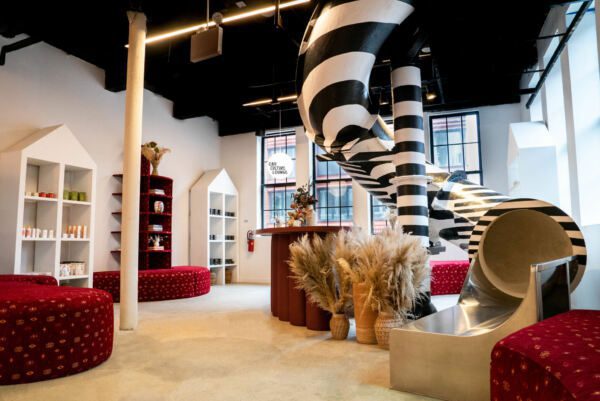 2nd Floor: Sunset
The second floor is dedicated to sunset and the art of self-care, featuring a CBD Culture Lounge with CBD-focused brands such as Flyers Cocktail Co. and Onyx & Rose. The lounge will host programming throughout the curation focused on wellness, CBD culture and entertainment.
Also featured on the second floor is baby nutrition company ByHeart, with the ByHeart x SHOWFIELDS private feeding suite for parents to nurse or nurture their babies.
3rd Floor: Dusk
The third floor, set to the theme of dusk, is dedicated to the art of self-expression and the shift to nighttime mode, inspiring guests to get ready for wherever their evening takes them. This area will highlight ready-to-wear and accessories brands such as the sustainable clothing line For Days.
Secret access to SHOWFIELDS' famous slide is located in the Self Expression Studio on the 3rd floor, landing in the CBD Culture Lounge on the 2nd floor.
The store will continue to expand its offerings throughout the spring with the addition of brands such as obé Fitness and new activations including a podcast studio, a sensory station, and a wellness and fitness studio. SHOWFIELDS NoHo also will host weekly signature events focusing on community, wellness, art and culture every Thursday through Sunday.