Shopping can be an emotional experience, and retailers hope that the emotions consumers feel are positive ones, like excitement at finding a bargain or satisfaction at filling a need. But apparel shopping, particularly for women, too often puts consumers into an emotional minefield — so much so that some female shoppers don't even feel comfortable sharing their clothing sizes with sales associates.
Khloé Kardashian founded Good American with Emma Grede to "redefine fashion for the modern woman." That very much includes shoppers who fall outside of sample sizes, according to Grede, the brand's CEO: "We have made it our mission to tackle this firsthand and have always focused on uplifting and empowering women to feel welcomed and confident."
That's why when Good American opened its first permanent store at Westfield Century City Mall in Los Angeles, the team thought critically about the experience and how its brand mission and values would shine through. The store features its fully inclusive line of denim, ready-to-wear styles, swimwear and shoes, but Crave Retail fitting room technology is at the center of the experience. The end product is an immersive environment where customers can "embrace their unique shopping styles and feel their most confident while doing it," Grede explained in an interview with Retail TouchPoints.
Putting More Control in Customers' Hands
Crave's Smart Fitting Room uses RFID technology to automatically recognize items brought into the fitting room, triggering a personalized digital display and a series of features that streamline the customer experience. For example, a customer can quickly select and request a new size or color of an item in the fitting room, or they can scroll a feed of similar, recommended items to request and try on. If a customer is done trying on items and decides to buy them, she can do so using self-checkout capabilities.
Giving customers this level of control is powerful because "everyone's comfort levels are different when it comes to in-store shopping, and the fitting room experience can be especially overwhelming," Grede said. "Some customers want the guidance of a store associate, while others may prefer to shop on their own."

When Good American started to design the store experience, finding the right partners to bring the brand mission to life was key, according to Grede. It was especially critical that the fitting room experience was top-notch, considering how stressed and frustrated many women feel when trying on apparel.

"We were excited to integrate Crave Retail's innovative retail technology into our fitting rooms, helping to further our commitment to providing a truly inclusive shopping experience," Grede said. "Through this immersive collaboration, we are evolving the traditional in-store shopping experience and placing customer needs at the forefront, which is what is the most important."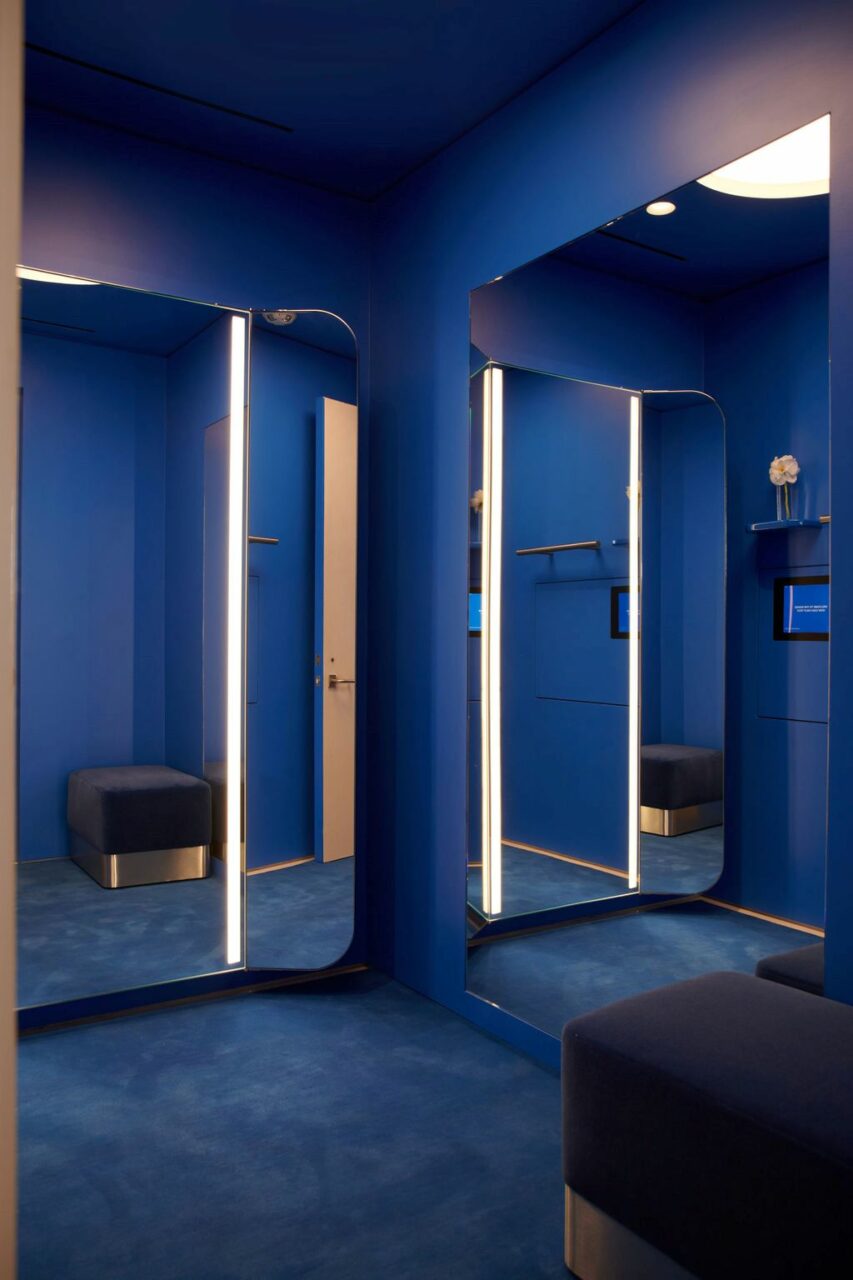 Fitting Room Tech Creates Happy, Confident Customers
Since its launch in 2016, Good American has been a community-driven business, which means the brand always tries to be transparent with its goals and priorities and adapts its efforts based on audience feedback.

"We've always maintained open communication with our customers to hear what they want to see next from us," Grede said. "Our customers have been instrumental in shaping our product design, and the same holds true for our fitting room and overall in-store experience."

What the team has learned is that a lot of women feel uneasy during the shopping process, especially when it comes to sharing personal information with the sales associate. In fact, women are so uneasy about sharing their size information that they often opt to not do it at all. This creates a lot of missed opportunities for brands that rely on the try-on experience to drive engagement and conversions. Crave Retail helps Good American close this engagement gap by giving shoppers the power to share size information in a more controlled and private environment, resulting in more confident, and happy, customers.

"Seeing so many people embrace our fitting room technology has been amazing," Grede said. "The most rewarding part of this process has been seeing customers walk out of our fitting rooms happy, having found the perfect pair of jeans or ready-to-wear pieces that fit how they need, rather than having to walk out empty-handed because of the discomfort often associated with the traditional retail experience."

Good American's executives and in-store associates also get a trove of valuable data about consumers' in-store behaviors and preferences. Knowing what products and sizes women request helps the team better understand in-store inventory needs and, more broadly, know what items and styles customers prefer.

"When customers walk into our store to try on clothes, we love seeing what they gravitate toward," Grede explained. "Listening and responding to their needs is what makes us better."