As many brands attempt to both revive and evolve their brick-and-mortar spaces, they're emphasizing the power of community. Their vision, and ultimate creations, revolve around creating spaces where like-minded individuals can gather and connect. Outdoor brand Snow Peak is taking a similar approach, but in a way that remains true to its uniquely natural roots.

Snow Peak's U.S. flagship and headquarters in Portland, Ore. is a multi-function venue that includes a store, restaurant and office space — all of which are thematically connected to a central invitation: "Let's dwell outdoors, together."

The design, developed in partnership with Portland-based design and architecture firm Skylab, revolves around a series of "moments" for consumers and employees to gather and discuss food, art, home and nature, all of which are central to the Snow Peak brand.
"At its core, Snow Peak believes in nature's ability to heal and restore humanity," said Tohru Yamai, CEO of Snow Peak USA in a statement. "Our plans for growth in the U.S. have always been, and continue to be, centered around bringing people together around a campfire sharing stories, surrounded by good food and friends. The new flagship brings those fundamental principles to life and signifies the start of an exciting new era for Snow Peak USA."

The store and office space are stationed in a four-story, 1980s-era building in northwest Portland and occupy 14,725 square feet of the first two levels. The retail space is on the first floor and Snow Peak USA's headquarters are on the second floor — but both sections incorporate similar design elements, creating a sense of uniformity and belonging for all who enter. In fact, the entire space was built around three key objectives:
Enter the outdoors and leave the city behind;
Build a new language both deeply Japanese and of the Pacific Northwest; and
Provide strong community-building experiences.
The end result is an immersive, community-driven experience that helps shoppers feel closer to nature, to Snow Peak founder Yukio Yamai and to each other. The entire space includes six different areas that consumers can easily flow in an out of. While developing so many micro experiences in a limited number of square feet was challenging for the Skylab and Snow Peak teams, "it allowed us to reflect on the holistic view of a person, their lifestyle and community building around food, fire, art and nature," said Reiko Igarashi, Project Director and Interior Designer at Skylab in an interview with Retail TouchPoints. "By integrating the brand into the program beyond retail, we allowed the space to be experience-centered rather than product-centered."
For example, the ground floor features a restaurant and bar called Takibi that was created to convey Snow Peak's ability to bring people together in nature. Takibi has indoor dining as well as a fully covered outdoor patio space. The 1,000-square-foot patio includes an open, multi-purpose space, so visitors can gather around fire pits with camp chairs.
"We imagined that the experience would have one moving in and out of spaces as if walking through a small village," Igarashi explained. "We defined specific moments where we could carve out space without overloading an already compact plan and worked with the Snow Peak team to identify product groupings that felt right in each area and adjacency. For example, kitchenware and tabletop near the restaurant and coffee/tea bar, outdoor kitchen systems in the double height space that can be seen both from the street and observed from above in order to illustrate the geometry and modularity of the system. We wanted to provide a journey that was interesting, full of surprises, but not labyrinthine."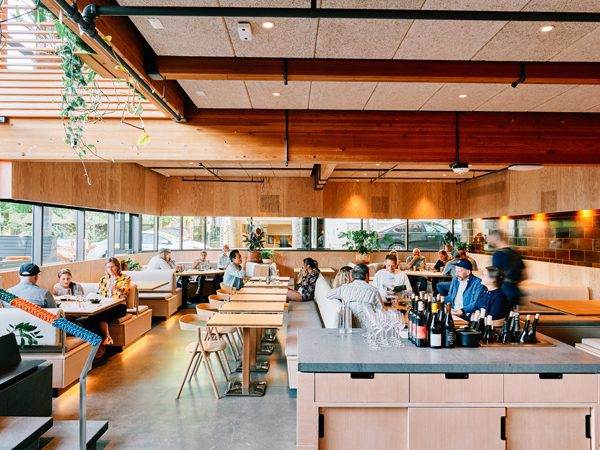 Natural Materials Create a Closeness to the Outdoors
The top goal of the Snow Peak space was to create a sense of cohesion between the inside and outside of the store. A glass façade that wraps around the parking lot helped Snow Peak create this connection — and also provided ample room for an outdoor retail space where visitors can test out the brand's array of outdoor living and dining products.
"From the beginning, Snow Peak noted it was important for people to be able to try out the product in the space," explained Igarashi. "We brainstormed a few different ways to make this happen in the interior — and we do have that to some extent — but adding the outdoor demonstration space was a turning point in answering that call in a truly Snow Peak way."

While this experience is incredibly valuable for the consumer, allowing them to test products in context, it also helps Snow Peak reaffirm its core brand promise to all who visit the space. "The outdoor space allows people to get a taste of Snow Peak's purpose — to facilitate restorative experiences in nature," Igarashi noted. "Snow Peak's attitude leads with community building, and places human relationships at the center of the brand. The core customer is someone who understands and values the quality of the product and design, and is excited by the ability of the product to foster community."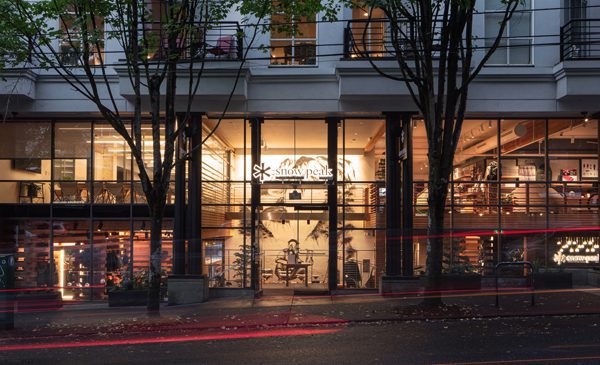 When consumers enter the store itself, they are immediately engulfed by nature. Raw rustic materials such as dark stone, wood flooring, hand-troweled concrete, wood paneling and custom wall coverings evoke an earthy atmosphere. Century-old Douglas fir beams were milled and stacked into a unique wall retail fixture system in a contemporary, American-inspired nod to traditional Japanese wood building methods. Finally, there is a center circulation core lined with historic imagery and lit with an airy, lantern-like fabric that ascends to the second level event space and showroom to create a feeling of brightness and "closeness to the sky."
At the main entrance, visitors are greeted by a double-height hand-painted mural of Yukio Yamai that was crafted by Seattle artist Shogo Ota. Skylab initially wanted to build a large-scale green wall featuring live plants, but had to rethink the concept to make it less complex. At the same time, the firm wanted to find a better, more unique expression of the Snow Peak brand.

"The effect is stunning, and the technique beautifully merges traditional tools and modern aesthetic, elevates craft and tells the story of a personal, life-changing experience in nature," Igarashi said. "As the welcoming moment into the Snow Peak space, this sets the tone perfectly for all who enter."

Photos courtesy of Stephen A. Miller (Snow Peak photos) and AJ Meeker (Takibi photos)