Smart home fitness mirror Fiture has a short, yet appropriate, tagline: "Don't fit in. Fiture." At its core, the brand is focused on making sure anyone and everyone can benefit from and enjoy fitness. And those core beliefs are reflected in everything the brand touches, whether it be an influencer partnership or an in-store experience.

"We believe Fiture can remove barriers to fitness and bring back the joy of movement," said Hannah Gates, Senior Brand and Campaign Manager for Fiture in an interview with Retail TouchPoints. "There is a constant barrage of unrealistic fitness messaging and outdated aesthetics that drive expectations of what fitness should be. We believe fitness should be what you make it to be — engaging, personalized and fun! Our Motion Engine™ technology, world-class content and sleek design are here to connect our members as we all move better together for years to come."
As part of its quest to expand into the U.S., Fiture doubled down on these values and collaborated with MG2 on an immersive and engaging physical space that allowed its Motion Engine technology to shine. The small-but-mighty 605-square-foot space at the Westchester Mall in White Plains, N.Y. opened in November 2022 and brought a burst of activity (and color) to consumers through a vibrant yet intimate space.
Fitting semi-private "zones" and making room for instructors to interact with customers posed as a possible challenge in the small space, but it was needed for Fiture to communicate what's unique about its platform as the connected fitness space market grows and evolves.

Gates noted that consumers can "immediately understand the difference" between Fiture and its competitors when they use the modular spaces equipped with its devices. They can either participate in virtual classes or walk through the process with instructors who are on hand to provide guidance and support. When consumers actually go through reps and sets, and see the device measure their progress and offer feedback on their form in real time, they can better understand how the proprietary Motion Engine technology works.

Having a limited number of instructors on hand helps nurture one-to-one relationships and build trust without overwhelming visitors in the space, explained Johnny Cruz, Senior Sales Manager for Fiture in an interview with Retail TouchPoints. "Providing customers with the opportunity to connect and learn from our instructors will fuel customers' motivation to start and continue their fitness journey, and provoke the desire to make us a part of that journey. Any fitness journey can be challenging, and we want to be able to leverage our instructors to make that journey realistic and fun, both in-person and on the Fiture platform."

Fiture focused on finding a space with high visibility, located in close proximity to retailers and competitors that aligned with its core demographic. Finding a space close to Fiture's New York City headquarters also was critical to "optimize the level of in-person support we could provide to ensure we deliver a best-in-class experience for our customers," Cruz explained.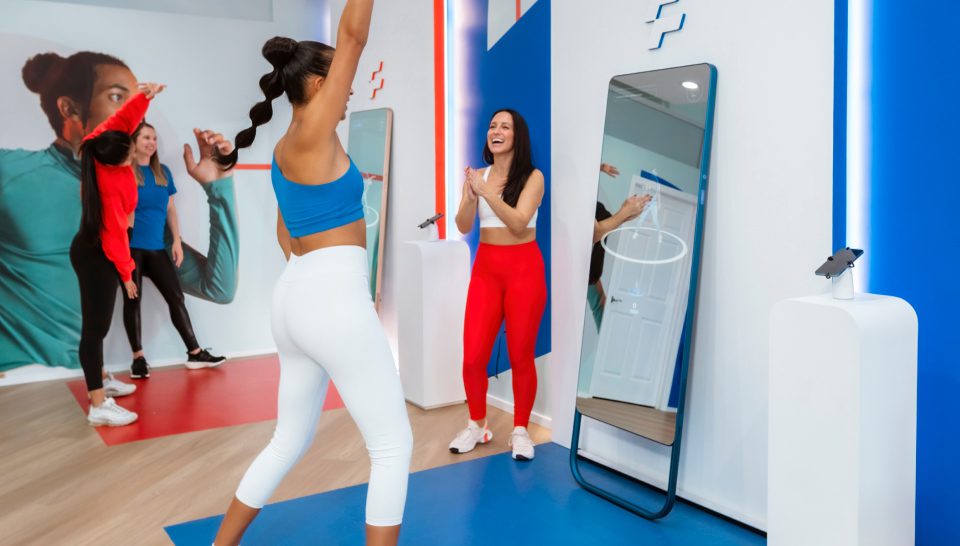 Bringing an 'At-Home Feeling' to Physical Retail Spaces
Because the store has such a small footprint, the Fiture team had to think strategically about its goals and the type of experience they wanted to create — one that was welcoming yet invigorating. They went to MG2 with specific objectives in mind, which helped the firm start to build out an efficient, yet effective, layout.

"From the larger-than-life graphics to the color palette, it was all about evoking the feeling of movement into the space from a design standpoint," said Melissa Gonzalez, Principal at MG2 and Founder of The Lionesque Group, an MG2 Studio, in an interview with Retail TouchPoints. From the curves of the custom pieces that fit behind the mirrors to the wood flooring and use of cork, all of the design elements create a feeling of home, which reaffirms Fiture's mission of making fitness accessible to all.

Of course, the top priority for the space is to get consumers in front of the product. Although Fiture lives in the "at-home fitness" space that emphasizes privacy and self-service, it is very hard to accurately convey the experience to consumers through digital channels alone. Through a modular layout, Fiture can immerse visitors into the brand story and, most importantly, guide them through specific product use cases.

"There's that juxtaposition of aligning the environment to the brand ethos, which is where you get the color and the high energy, but then there's the intimacy of being able to demo the product like you're working out in your own home," Gonzalez noted. "That's why we have those zones, where people can have their moment and engage with the equipment. We had to incorporate a lot of high-impact energy and demo stations in the space, so we had to be purposeful about every square foot, but we also didn't want to sacrifice the opportunity for intimacy."

While many experiential store concepts emphasize dwell time and in-store engagement rates, Fiture is prioritizing KPIs that reflect individuals' interaction with the product, such as lead generation, traffic-to-demo conversion, demo-to-lead generation and lead conversion-to-sales, according to Cruz. "We will also review the store's total contribution to overall sales in the key markets it serves, matched with any uptrends in the overall brand awareness in the area. We will use this data to inform any adjustments in strategy, both short- and long-term, to ensure we continue to drive success for our brick-and-mortar strategy."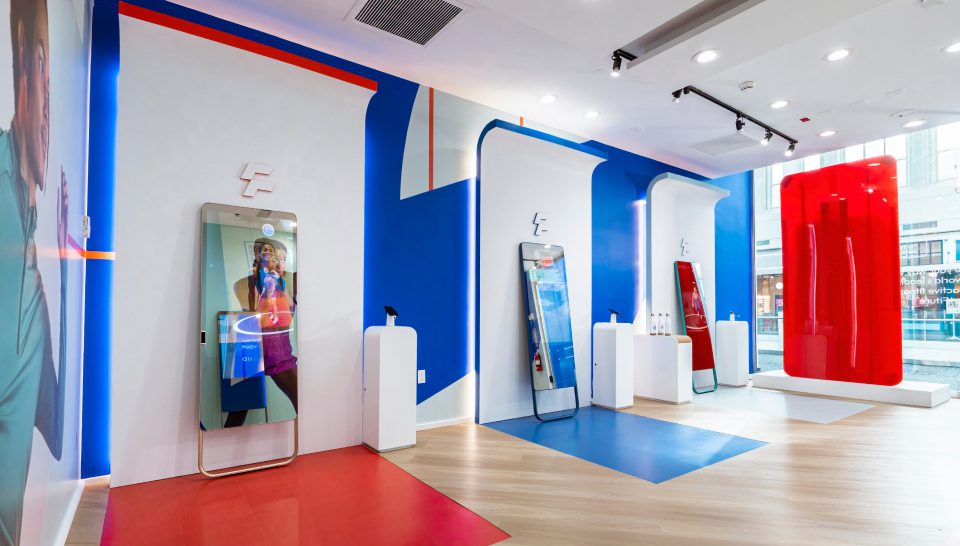 Driving Traffic and Building Community
Because Fiture is focused on driving brand awareness and building its community in the U.S., the team believes physical retail is a critical acquisition play.

"With these stores providing an immersive opportunity to experience everything FITURE has to offer, we believe that we will be able to influence awareness and interest in an impactful way," said Cruz. However, "as our community grows, we will ensure that the retail experience evolves to meet and beat their expectations as a service and community hub," Cruz explained.

Even though the White Plains store is small, it's already embracing this much larger, community-driven mission. To celebrate its grand opening, the store hosted several celebrations to entice both consumers and influencers to visit the store, participate in a Fiture demo, enjoy "Happier Hours" featuring complimentary non-alcoholic sparkling rosé and brut from Surely and snacks from @BoardAppetiteNY, and partake in unique in-store programming such as chair stretch sessions with Stretch*d and massages with Therabody.

To drive awareness of and traffic to the store, the company is using geotargeted digital campaigns on Meta in the tri-state area, a mall-wide OOH campaign that includes banners, standing signs and digital video panels, as well as a strategic influencer partnership with NYC-based influencer Katie Sturino, Gates explained. Of course, Fiture also uses its owned social media channels and CRM-based marketing to engage existing followers and customers in the area.