Tapping into consumers' constant desire for a successful weight loss program, Kraft Foods partnered with South Beach Diet to introduce a new meal and snack product line. To jumpstart the launch, Kraft worked closely with online consumer groups to learn about their needs and educate them about dieting basics, through an internally developed health and wellness community. Delivering on the promise of giving consumers products that meet their dieting needs, the South Beach line boasted $100 million in sales in its first six months on the market.
Kraft Foods was not a novice when it came to working in a social networking community. The veteran food marketer was already seeking consumer feedback for its Nabisco 100 Calorie Snack Packs via the CommuniSpace community.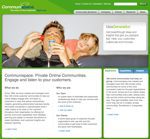 Online education effort
To research the potential for the South Beach line, Kraft enlisted CommuniSpace to invite 300 target consumers to participate in a private, branded community to help Kraft surface ad test attitude, emotions, ideas, and issues. Blending 150 women with the desire to lose or manage weight (with knowledge of the South Beach Diet) with 150 women considered Health and Wellness opinion leaders, the community served as place for the two groups to share their successes and failures that often defines "diet" as a 'four-letter' word.
The community members passionately shared insights and ideas about how they eat satisfying meals and do their best to lose weight. 'Social glue' formed as members shared their complex feelings and challenges. Knowing a company was listening and actively working on satisfying their needs, they passionately shared ideas, stores, and frustrations.
Pre-launch educational ad campaign
Kraft discovered that women had trouble maintaining their diets throughout the day, realizing consumers could succeed if the right food products were available to help them around the clock. In addition, Kraft harnessed the power of consumer education  to successfully support the introduction of its new product line. As a result, Kraft initiated its first-ever pre-launch advertising campaign to educate consumers about the South beach Diet and how this line of soon-to-be-available products would suite consumer needs.
Kraft involved consumers in every phase of the product development life cycle from concept through post launch and beyond. The community members helped refine product concepts and packaging, were involved in the merchandising and test marketing — and then, just 16 months after the first community was created, the new South Beach Diet line of healthful entrees and snacks arrived on supermarket shelves.
Post launch, Kraft continued to enlist the help of community members, as they shared their retail experiences, like difficulty finding the products in store. In addition, members shared usage patterns that proved invaluable to refining and optimizing the South beach Diet product line and business across the Kraft organization.
Throughout the new product development cycle, the Kraft team relied on the community members' perspectives and feedback to help them determine the proper marketing directions. Embracing and engaging consumers in the online community generated critical insights that allowed Kraft to realize success for South Beach Diet products. Real-time access to a passionate group of highly involved consumers meant that across the company, people could move more quickly than ever before to develop and market a new product line. According to Kraft, the community helped reduce the risk of new product failure as Kraft was able to test and understand all the elements before moving to a national rollout.