Amazon will invest more than $124.4 million to build 1,060 affordable homes near four public transit sites in the regions surrounding two of its U.S. headquarters, Washington State's Puget Sound region and the Arlington, Va. region.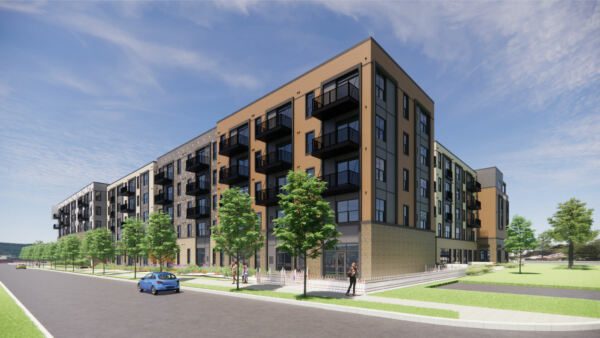 The new deals are part of Amazon's $300 million transit commitment, announced in 2021, to create 3,000 new affordable homes in collaboration with transit agencies in each region. The four newly announced transit-oriented housing developments will be completed in partnership with the Washington Metropolitan Area Transit Authority and Sound Transit.
The effort is part of the larger Amazon Housing Equity Fund, which features a $2 billion commitment to create and preserve 20,000 affordable homes for individuals and families earning moderate to low incomes in the areas of Amazon's three major U.S. headquarters: Puget Sound, Arlington and Nashville, Tenn.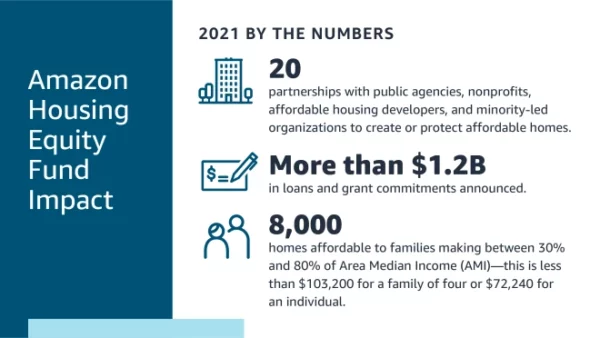 Since the launch of the Housing Equity Fund in January 2021, Amazon has invested more than $1.2 billion to create or preserve more than 8,000 affordable homes for families earning between 30% to 80% of area median income (AMI), including first responders, teachers and service industry employees whose wages haven't kept pace with escalating rents. For each Amazon-funded affordable home, rents will be maintained at levels affordable for low- and moderate-income families (generally for 98 to 99 years), and rents will only rise with wage growth as determined by the U.S. Department of Housing and Urban Development. All 8,000 units are or will be within a 10-minute walk to public transit.
The fund was created in part as a response to concerns over the gentrification of neighborhoods where Amazon opens major operations. In 2019, Amazon pulled its plans to build new headquarters in Long Island City, in Queens, N.Y. following robust local opposition. Despite estimates that the new HQ would have created more than 100,000 jobs and brought in tax revenue of approximately $27.5 billion over 25 years, local residents and politicians objected to the nearly $3 billion in tax incentives Amazon would have received, calling instead for that investment to go toward local housing and infrastructure.
"The Amazon Housing Equity Fund is tackling the affordable housing crisis on multiple fronts and through innovative solutions, such as teaming up with public transit authorities, which brings people closer to more opportunities, services and a better quality of life," said Catherine Buell, Director of the fund in a statement. "We know that our investment in these areas brings many economic opportunities for residents in the region, but we also acknowledge that this growth needs to benefit everyone in the community."
At the same time Amazon is tackling its climate impact. The latest effort toward its ambition of becoming a net-zero carbon business by 2040 is an Amazon Fresh location in Seattle, which the company claims will be the world's first grocery store to pursue zero carbon certification from the International Future Living Institute.
The 35,000-square-foot store, which will be the 26th Amazon Fresh location in the U.S., will feature more than a dozen store design upgrades expected to save nearly 185 tons of CO2 each year when compared to an industry-standard grocery store. These include:
Free electric vehicle charging stations for customers;
Low-carbon concrete flooring to reduce emissions;
Electric kitchens and hot water heaters to remove the need for fossil fuel combustion within the store;
Added doors to most refrigeration cases to reduce energy consumption; and
A central CO2-based refrigeration system that reduces the carbon emission contributions from leakage by 38 metric tons per year.
"We are constantly thinking about what we can do to make the customer shopping experience easier, more seamless and more sustainable," said Stephenie Landry, VP of Amazon Grocery in a blog post about the new store. "We know many customers are prioritizing sustainability in what products they buy and where they choose to shop. With our newest Amazon Fresh store, we are taking the next step on our path to becoming a net-zero carbon business by 2040, and we welcome customers to experience this firsthand while shopping with us in this store."