It is one of the oldest adages in the business world: "Find opportunity in adversity." With the economy uncertain at best, and showing signs of adversity at worst, it's tough for retailers to see 2008 as a year of opportunity. But it is. That opportunity lies in the discipline of customer engagement.
"Customer engagement is the perfect approach for retailing's current situation," said Laura Davis-Taylor, Founder and Principal of Retail Media Consulting. "It's about doing the math and having a personalized conversation. It is the perfect approach to capture the change in attitude customers have. It's no longer about 'find me and sell me.' It's about 'know me and help me.'"
Taylor and other customer engagement experts will share their insights at Retail TouchPoints' upcoming virtual event the Customer Engagement Conference, which will be presented online on August 6. Those views differ in terms of how customer engagement can be achieved and measured. For example, email is the key engagement tactic according to the Email Experience Council's Chad White, while customer satisfaction is still the ultimate yardstick according to Verde Group CEO Paula Courtney, two other presenters at CEC. But the common area of current thinking around CE centers on two approaches: emotional and quantifiable.
The emphasis on Customer Engagement (CE) started in 2005 as a method for measuring advertising. Advertisers wanted to know how consumers actually interacted with messages and then how the message and creative could be optimized. A whole plethora of theories and algorithms have been advanced since then. For example, a customer could be considered engaged if he registered for your website or responded to an email (quantifiable). That customer could achieve a different level of engagement by making a purchase. Disengagement could occur through a negative customer experience or negative connotation from an image (emotional). Now CE has been applied to customer
"It's not easy and there are no quick answers," says Taylor. "Customer engagement is a change agent. Now that we're in a crunch retailers are better off if they're set up to know and help their customers individually. If you're not set up, well, you're going to be forced to pay attention."
For retail, Taylor for example, believes that in-store signage is a key factor in customer engagement. It is a use of media that will be measured through actual viewing and measured by the emotional attraction it imparts to viewers. "Other media must be viewed in the context of engagement," she says. "People are overwhelmed by messages. They get more than 5,000 a day. You can make your message just another one to deflect, or you can make your in-store message one that reflects value and helps people to shop."
The metrics for customer engagement range from simple (such as email responses) to complex algorithms. On the complex side of the equation is Eric Peterson, CEO and Principal Consultant, Web Analytics for Demystified, Inc. He recently published a calculation to measure online engagement on MarketingSherpa. On a BtoB level he pointed out that offline sales that occur after a customer visits the company's website. "If you measure engagement, you can segment the customers interested enough to do more research," he wrote. "You might even find that campaigns with low conversion rates are worth keeping if they generate lots of engagement. On a BtoC level most retail-site visitors browse, they don't buy. Measuring if they are highly, moderately or poorly engaged can give you another way to focus your marketing."
Peterson worked with a major multi-channel retailer and found that moderately engaged visitors spent about $20 more per order than poorly engaged visitors. Also, highly engaged visitors had a conversion rate of about 5% compared to .2% for poorly engaged visitors — a 2500% difference. His algorithm has eight different values to compute for metrics such as click depth, recency, loyalty and site duration.
The emotional side is no less important. Harry Klein, CEO of CustomerEngagement.com, created a four-step model for creating and measuring effective engagement strategies that takes into account the numbers and the emotions. Consumers, he says, are looking for empathy in a down economy. They may look at lower prices and higher-value as a monetary break for them, but they will also see it as a sign that a retailer understands their plight. That results in emotional engagement.
"Look at the companies that do well during a downturn and you'll see that they make smart business decisions around customers but they also do a lot of things that show they care," he says. "They want to know that if they have a problem that the company they're dealing with will help resolve it to their liking."
Klein has identified four stages of customer engagement: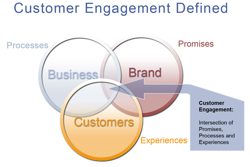 Initiation – welcoming (on boarding) a new customer and beginning the relationship.
Integration- the active management and assessment of the product or service after the initiation stage has been completed.
Intelligence – conducting additional fact-finding and research, assessing performance of the customer and the vendor, the vendor deciding what level of further relationship investment is warranted from a financial return standpoint, and developing a deep and keen understanding of the customer's long-term strategic goals
Value Creation – developing a partnership with the customer to become part of the customer's performance, find opportunities to drive innovation, create new value, and gain recommendations from the customer for new business