While Facebook Places, Foursquare and Gowalla have hinted at the potential of location-based apps by having customers "check in" while they are shopping at a particular location, a new mobile application is taking location-based engagement to new levels.
The new app called Shopkick has emerged with a retail-centric approach app that ups the ante on "checking in" by synergizing location-based awareness with in-store offers and special rewards. Contrary to typical location-based apps, ShopKick doesn't tap GPS, but rather utilizes custom hardware created and installed in partner stores, now including Best Buy, American Eagle Outfitters, Macy's and The Sports Authority.
Here's how it works: Customers that enter a Best Buy location with the Shopkick app open are immediately recognized via the mobile device. The customer is alerted with a message and points for deals within the location. The app can be used to scan items and earn more points and/or deals.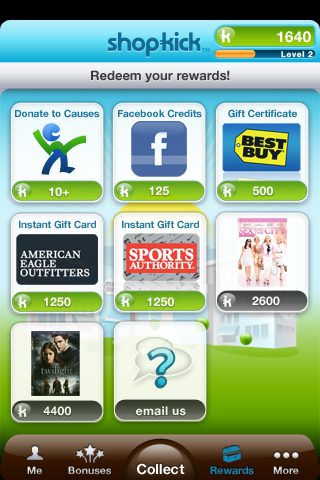 "We think consumers have more opportunities than ever to bridge their digital and physical shopping experiences, particularly through smart phones and mobile technology," said Matthew Smith, VP marketing services, Best Buy, in a press announcement. "We intend to explore ways we can use the power of location-based technology to personalize a Best Buy shopping experience, from check-in to check-out, with rewards and offers delivered right on a customer's smart phone."
Best Buy shoppers with the Shopkick application can enter a participating Best Buy with the app open with receive instant rewards, known as "kickbucks," that can be redeemed in the store or converted into Best Buy certificates through a user's ShopKick account.
Additionally, Best Buy said it has integrated Shopkick directly into its point of sale system to streamline the redemption of special in-store offers and/or added bonuses for scanning barcodes of specific products, all of which will be sent to the user's phone. Customers may walk up to the cashier, provide the mobile phone number connected to their ShopKick account, and any applicable personalized discounts immediately appear on their receipt.
"Today, the location-based service (LBS) revolution is building a list of users who are effectively opting in to receive offers, and this is a powerful opportunity," said Gabe Zichermann, Author of the book "Game-Based Marketing." "…Savvy retailers will think holistically, understanding what really motivates their users and delivering the rewards (merchandise, access, experience, fun, cash) that best match their interests."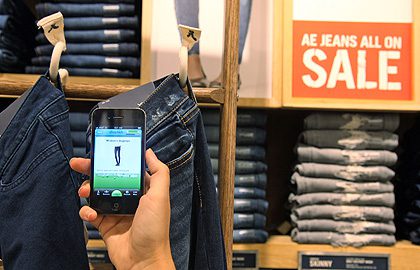 Cracking the Customer's Code
Though the mobile channel has proven to be promising for retail, privacy and intrusiveness have been key concerns. Gary Schwartz, Founder & President of Impact Mobile, said three things have to happen to foster opt-ins for brand communication:
Customers need to have explicitly opted in for the service
Customers need to expect the communication
The reward needs to outweigh the inconvenience of the interruption.
"There is a big difference between sending in your zip code to receive a deal of the week every Friday to redeem in a local store and have an offer send to you while running passed the same store rushing to pick up your laundry," he said.
Perhaps this is why the Shopkick app is an interesting fit for the brick and mortar environment. The concept takes the guesswork out of privacy and opt-in concerns, giving the customer and offer they can't refuse.
"These platforms have shown some success in the food and travel industry playing on the intersection of mobile and physical ordering or mobile and physical check-ins," Schwartz said.