Banana Republic has officially launched BR Home, the brand's new furniture and home décor business. Parent company Gap Inc. said in a statement that the debut marks a significant "milestone in the brand's transformation as a leading destination for the modern explorer."
Banana Republic has already released a home textile collection under the BR Home banner — including bedding, rugs, pillows and décor — but today's launch marks the formal debut of the sub-brand, which now includes bedroom, living room and dining room furniture, lighting and a dedicated website. 
In addition to being sold at BRHome.com, the collection also will be available in select U.S. Banana Republic stores by the end of September. The company also is planning two BR Home pop-up experiences, in New York and Los Angeles.
"At Banana Republic, we are driven by a desire for discovery and self-expression, representing a new way to outfit yourself and your home," said Sandra Stangl, President and CEO of Banana Republic in a statement. "We are committed to bringing exceptional quality, timeless design and versatile styling to our customers as we determine how to best support their lifestyle."
Banana Republic, like its parent company, is seeking ways to turn around a steady sales decline. Banana Republic's comparable sales dropped 8% in Q2 2023, which ended July 29. Net sales of $480 million also represented a decrease of 11% from the same time period last year.
Expanded product offerings are one tactic Banana Republic is employing to address these declines. In March 2022, the retailer branched out into new clothing categories with BR Baby and BR Athletics. Then in fall 2022 the retailer launched ART, a collection of exclusive works from artists and photographers with an emphasis on travel, culture and nature.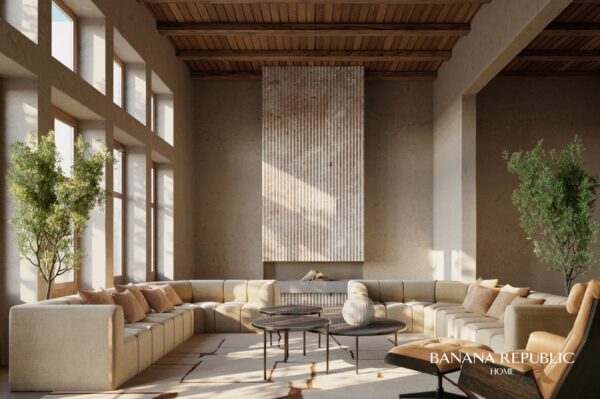 The BR Home collection features signature design details, natural materials and traditional production techniques across a series of themed collections. Prices vary from $195 for cotton sheet sets, $1,250 to $3,450 for dining furniture and sofas ranging from $2,650 to $4,950.
"Whether traditional global handicraft, American heritage production or small companies working in this era of maker culture, product craftsmanship is a Banana Republic legacy," said Aaron Rose, Chief Commerce and Experience Officer at Banana Republic in a statement. "This dynamic collection celebrates the beauty of high-quality natural materials and skilled artisans, creatives and those designers whose work reflects our brand values and allows us to support craftsmanship communities around the world."