Amazon has brought its dedicated air cargo network, Amazon Air, to India — the third market for the service after the U.S. and Europe.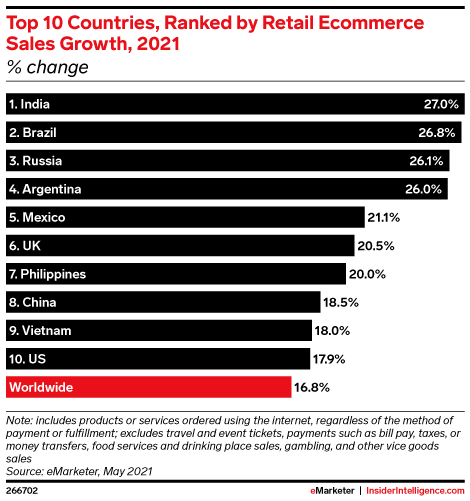 The launch is a first for an ecommerce company in India and a signal of the rapid growth in that region, which is the fastest-growing ecommerce market in the world, according to eMarketer.
"We're thrilled to launch Amazon Air in India to ensure we can provide our growing customer base with great selection, low prices and faster deliveries," said Sarah Rhoads, VP of Amazon Global Air in a statement. "This announcement reaffirms Amazon's commitment to invest in India's logistical infrastructure, create more jobs in the local economy and introduce newer capabilities to power our delivery network."
Amazon Air India will be operated by Quikjet Cargo Airlines and currently encompasses two Boeing 737-800 aircraft. Each plane will ship thousands of packages every day from the 1.1 million sellers in India across Hyderabad, Bengaluru, Delhi and Mumbai, India, helping to move goods faster and more cost-effectively from fulfillment centers to last-mile carriers. Amazon India currently has fulfilment centers across 15 states and sortation centers in 19 states.
Amazon Air debuted in the U.S. in 2016 and has since grown to include more than 110 aircraft across 70 destinations worldwide. The new planes in India will be based in Hyderabad, where Amazon also has its largest campus and largest fulfillment center.
"Hyderabad has emerged as a major hub for ecommerce distribution with its strategic geographic location, improved domestic air network and the increasing popularity of ecommerce in the country," said Akhil Saxena, VP of Customer Fulfilment in APAC, MENA and LatAm and Worldwide Customer Service at Amazon in statement. "We are celebrating a significant milestone in our global mission to transform the future of logistics."