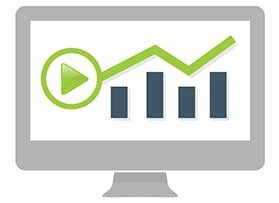 With a flurry of retail experiences available, customers need every edge they can get to make the right choice before a purchase. Videos give these shoppers the chance to gain more product insight before making a final purchase decision.
In 2014, online shoppers who viewed video during their purchase process were 1.6 times more likely to buy than shoppers who did not view video, according to the Invodo 2014 Video Commerce Benchmarks Report. Top performers on the Invodo platform experienced customers who viewed video 3.3 times more likely to purchase those who did not view video.
The report is based on aggregate data collected from videos hosted on the Invodo platform between Jan. 1 and Dec. 31, 2014. The videos examined originated from Invodo's base of more than 100 retail and brand clients across industries such as consumer electronics, fashion and sporting goods.
Pure play e-Commerce retailers, on average, saw video influence approximately 1.7 times higher than non-viewers, while multichannel retailers saw video influence around 1.2 times as high.
"How do you explain the 0.5x difference between the channels?" said Eric Engineer, VP of Strategy and Business Development at Invodo. "We're attributing this to the fact that people are absolutely doing the research online on these multichannel retailers' web sites, and then going into the physical stores and buying. It's just pretty clear that the consumer behavior is changing to where most folks that are going into the store right now have done a good amount of research online, especially for high consideration items. The best thing we think multichannel retailers can do is just improve that online experience, even if the transaction is not happening at that point in time, but happening at another channel."
Video view rates were 75% higher on product detail pages than across the rest of the web site. Overall, an average of 9.6% of visitors to e-Commerce web pages with video clicked "play" to watch the video. However, on product pages, view rates averaged 16%. Top-performing brands achieved site wide view rates as high as 17.4%.
While desktops and tablets still garner the majority of video views, mobile phones continue to catch up. In 2014, 62% of e-Commerce video views occurred on a PC, with 20% occurring on smartphones and 18% occurring on tablets. In fact, shoppers viewed nearly 50% of videos for children's products on a mobile device.
"First and foremost, we're seeing that mobile, whether it's a phone or a tablet, is the de facto platform that people are using at home," Engineer stated in an interview with Retail TouchPoints. "When people are shopping on a PC, it skews very heavily toward work-related activity. The key here is that the percentage of people that are coming on mobile devices continues to grow, and I think we'll see more of that as web sites become more mobile-friendly. We're also seeing that video view rates are higher on mobile devices, which makes sense. People don't want to read a lot of small text, they would rather engage with video on a media-centric type devices."
Attention span for videos continues to increase as well, illustrating that the videos are having more of an effect on viewers. As many as 70% of online shoppers who played a video in 2014 watched it to at least 80% completion, according to the report. Between Q3 2013 and Q4 2014, attention span rose 8% among video consumers.
In general, shopper satisfaction with online continues to stay optimistic, as 78% of consumers gave videos a positive rating in 2014.
To close out the report, Invodo made numerous recommendations to brands looking to make the most out of their content and drive sales from video, suggesting these companies:
Place video calls-to-action (CTAs) in highly visible locations on the page;

Make sure the video player has the necessary video SEO technology in place to drive traffic to your site;

Use bright colors, large buttons and actionable text to capture visitors' attention; and

Ensure that the video works and that the CTAs are visible across devices.
"Retailers have to come in with that mindset that while they still may be dipping their toes in it, they should be testing this as a program and not as a one-off," Engineer recommended. "They need to think about what they need internally at their company in terms of resources and people to really do this on an ongoing basis. Secondly, they need to make sure that everything they're doing is done in a way that is measurable. The Invodo platform emphasizes that it's not just about putting videos on the page; it's about understanding how people are engaging with it, how satisfied they are with that video and whether they're buying as a result. If they are going to make a video program successful within the organization, eventually someone is going to ask what about the ROI in this investment."