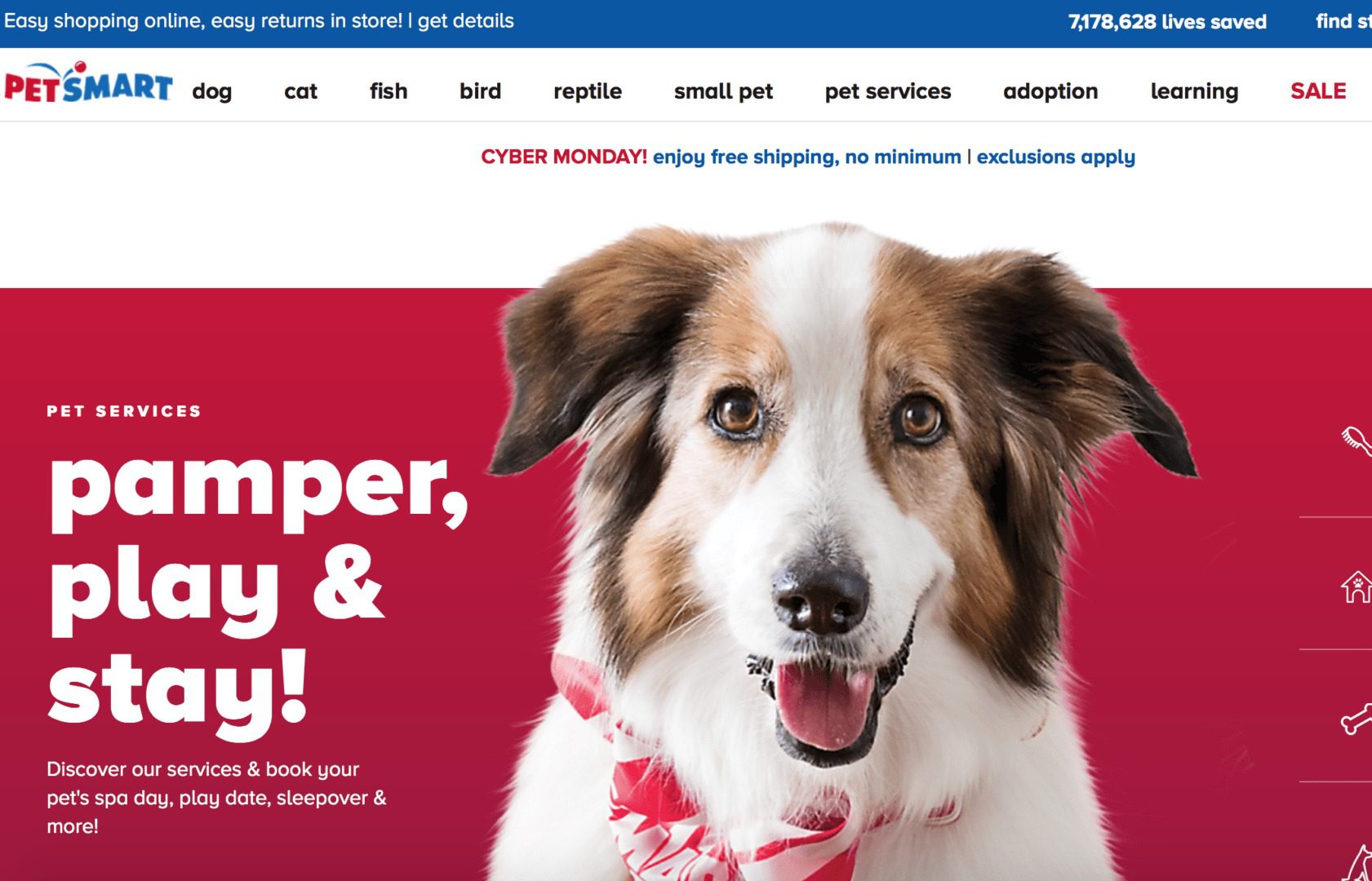 PetSmart has re-launched its e-Commerce site in time for the holidays; and in a move to keep up with Amazon, pet parents can now receive same-day delivery of online orders in select markets.
Changes to the company's web site, which is powered by Salesforce Commerce Cloud, are designed to make it easier for shoppers to order regular pet staples such as food, over-the-counter medicines, grooming supplies, litter and bedding, treats and toys. Pet grooming and boarding services can also be booked online, and customers can opt to receive text message about deals through an opt-in SMS service.
Mobile Mutts And Cellphone-Equipped Cats
While Amazon remains a major catalyst for retailer innovation, PetSmart said its shoppers heavily influenced the relaunched site's new features and functionalities. While it can't be argued that pets use mobile phones, their owners certainly do.
"Today, shopping and engaging with brands via mobile devices such as smartphones and tablets is very prevalent," said Ivy Chin, Divisional SVP, Digital, for PetSmart in an interview with Retail TouchPoints. "Shoppers want to do research, compare and buy from their mobile devices. Our new PetSmart.com has a responsive design that is optimized for mobile, providing pet parents with a convenient mobile shopping experience."
Another new feature of the revamped site is the mobile-desktop shared cart feature, where the items placed in the cart on the desktop and saved for future reference or purchase can be viewed via mobile devices (and vice versa).
Doggone Quick Delivery
Same-day delivery service Deliv will deliver online orders the same day they're placed, or at a set date and time that is convenient for the shopper. The service will cost shoppers $7.99 per order and is expected to be rolled out in 17 markets, including Chicago, Los Angeles, Miami and Las Vegas. These orders will be fulfilled through PetSmart retail locations.
PetSmart has integrated with Deliv to enable shoppers to customize their delivery schedules. Through the new feature, delivery can be set for a few hours within the time of the purchase to up to two days later. This process takes place on a new one-page checkout screen, which is designed to boost conversions and cut down on cart abandonment rates.
The revamped PetSmart site will also show shoppers in-store product availability. When items are not available in-store, the retailer is offering customers the option to get free shipping to their homes.
Squeaky Toy Subscriptions, Anyone?
Another new features is a subscription "auto-ship" option that lets pet parents choose to have items delivered on a preferred schedule (ranging from two weeks to two months). As an incentive, these subscription orders will come with a 5% discount and free shipping.
"Our omnichannel strategy is aimed at giving pet parents options tailored to their needs and desires," said Eran Cohen, Chief Customer Experience Officer for PetSmart in s statement. "We look forward to seeing their response to the new site with its new user experience and commerce-meets-content approach, as well as to our expanded and convenient home delivery options, which capitalize on our extensive store network for same-day and scheduled delivery."
The Furry, Cuddly Social Media And Video-Based Future
As PetSmart looks to improve the current customer experience, it's definitely keeping an eye on the future with video and social media driving decisions. Social media is currently a top-of-the funnel channel for PetSmart right now that is helping drive brand awareness and engagement, as well as e-Commerce traffic.
"Video content for our social channels is really doing well for us right now," said Chin. "It's driving some of the highest engagement we've seen, and also expanding the reach and interest for our brand. We are leveraging more video content, including live video content, on all our social channels. We believe the new PetSmart.com is well poised to meet the needs of the on-the-go pet parent lifestyle, allowing them to shop how, when and where they wish."