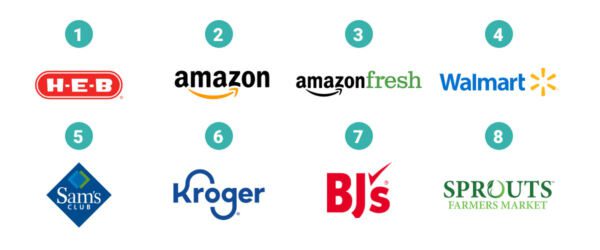 H-E-B narrowly defeated second-place Amazon and third-place Amazon Fresh as the top-ranked ecommerce grocer in the U.S., according to dunnhumby's inaugural Ecommerce Retailer Preference Index (RPI). Walmart made it to fourth place and Sam's Club rounded out the top five.
The study uncovered a number of interesting insights into the mindset of online grocery shoppers. First, Instacart, Shipt and DoorDash had lower emotional connections than nearly every grocery retailer measured, indicating that grocers that depend on these third parties for online grocery services may risk long-term consumer loyalty.
Additionally, unlike brick-and-mortar shoppers for whom price is the most important preference driver, online grocery shoppers prioritize "owned digital asset usage" (i.e. transacting directly through the retailer as opposed to an intermediary) and ease and reliability. Banners that scored highest on these two drivers also had the strongest emotional connection and ecommerce performance in the study. Walmart, Amazon and Amazon Fresh are the three top-ranked retailers for owned digital asset usage, while Sam's Club, Amazon Fresh and Aldi are the top three retailers for ease and reliability.
"Driving perception that the customer is transacting with the retailer (either in reality or through attaching their brand to an intermediary run experience) is not only critical because it is correlated with better business results, but also because customers have loyalty to the retailer and not the intermediary," concluded the dunnhumby report.
The dunnhumby study calculated ecommerce performance through a composite score based on:
Change in web visits (2019 to 2021) from SimilarWeb;
Share of wallet online;
Online penetration of a retailer's total shopper base; and
Retailers' preference driver score and emotional connection scores, gathered from an online survey of 3,000 U.S. households that had shopped online at least once in the 30 days prior to being surveyed.
The top five drivers of customer preference for ecommerce grocery offerings were (in order of importance): owned digital asset usage; ease and reliability; substitutes; product; and price.
H-E-B captured the top ranking due to a number of factors, including boasting the highest level of emotional connection and online share of wallet among its customer base out of all the retailers studied.
"H-E-B's impressive performance proves that it's possible to compete and win against Amazon when it comes to grocery ecommerce," said Grant Steadman, President of North America for dunnhumby in a statement. "Their success offers mid-size and regional retailers a roadmap on how to succeed online. H-E-B's ecommerce journey goes back to 2015 when they first started with curbside pickup, and they have since built up a powerful online ecosystem. The combination of a simple and easy-to-use shopping experience with a fantastic emotional connection with customers shows how grocers can thrive in this multichannel landscape."