Luxury marketplace Farfetch has teamed up with resale platform ThredUP to launch a donation program for its U.S. customers using the ThredUP Resale-as-a-Service (RaaS) solution.
The program follows on the launch of Farfetch Donate in the UK with partner Thrift+ in October 2019, and it will allow Farfetch customers to extend the life of their clothes while earning shopping credit and raising money for charity.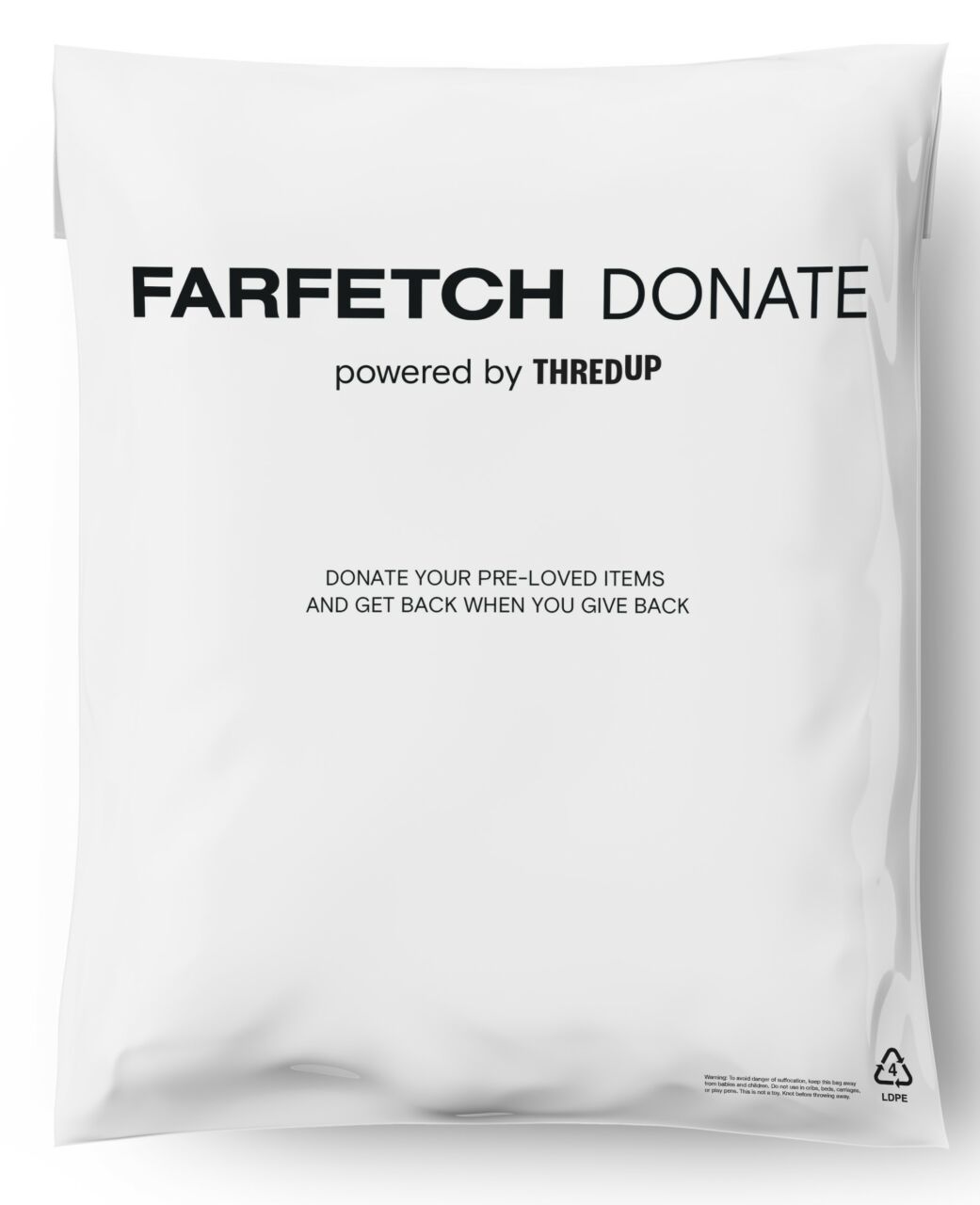 Farfetch is ThredUP's first RaaS customer to leverage its new white label offering to create a fully customized resale experience tailored to the Farfetch brand and audience. Customers will receive a Farfetch Donate-branded Clean Out Kit that they can fill with apparel, shoes and accessories. They can then ship it to ThredUP or have it collected at home for free. Once an item sells on ThredUP, sellers donate at least 50% of the total payout to their choice of a select group of charities, receiving any remaining payout as Farfetch shopping credit.
Farfetch is committed to becoming "more circular than linear" by 2030 as part of its recently launched 2030 sustainability goals, and growing Farfetch Donate in the U.S. will be integral to meeting this target.
"We're excited to work with ThredUP to offer U.S. consumers an easy and sustainable way to refresh their wardrobes," said Thomas Berry, Director of Sustainable Business at Farfetch in a statement. "Farfetch Donate is an innovative service, elevating the traditional donation experience by making it both easy and rewarding for customers, delivering a positive impact by extending the life of good quality pieces and supporting multiple charities along the way."
ThredUP technology, software and logistics power the Farfetch Donate experience as part of the resale platform's RaaS solution, which offers customized, scalable resale experiences for brands and retailers that also include Gap, Rent the Runway, Walmart, Vera Bradley and Madewell.
Resale has emerged as a strategic channel for retailers of all shapes and size: 42% of retail executives said that resale will be an important part of their business within five years, according to ThredUP's annual Resale Report. The support is there on the shopper side — 43% of consumers said they are more likely to shop with a brand that lets them trade in old clothes for credit, and 32% said they are more likely to view a brand as high quality if it sells both used and new clothes.