While Amazon and Alibaba have been the predominant online marketplaces for several years, the field is becoming more crowded, with new players entering the fray seemingly every day. These range from peer-to-peer platforms like eBay to third-party marketplaces integrated into traditional ecommerce operations like that of Walmart — and hundreds of variations in between. There are currently more than 125 marketplaces with 1 million or more monthly site visits — approximately 50 in the U.S. alone — according to management consulting firm Alvarez & Marsal (A&M).
Sponsored by  Channel Advisor
The scale of the online marketplace universe is staggering: A&M estimated that in 2019 marketplace sales worldwide accounted for approximately $2 trillion. With growth projected to continue at 20%-25% YoY, that number is set to reach $5 trillion by 2025. That's a lot of zeros, and an opportunity that is becoming increasingly hard to ignore.

"You should be wherever the customers are," said Jason Boyce, Founder and CEO of Avenue7Media and author of The Amazon Jungle in an interview with Retail TouchPoints. "The more you get seen in more venues raises mindshare for your brand. That may drive more sales to your site or it may drive sales to Amazon. Who cares? At the end of the day, people can so easily bounce around platforms. It's absolutely critical in today's world that you be everywhere the shoppers are."
Selecting the Optimal Marketplace Mix
For many companies starting their marketplace journey, Amazon is the first stop — and with good reason. The site has become a de facto search engine for many consumers, with 53% of shoppers in the U.S. beginning their hunts on Amazon, according to eMarketer. The site is a huge conduit for commerce, accounting for close to $490 billion in GMV worldwide in 2020, 62% of which came from third-party sellers. Nearly half (47%) of that $490 billion came from the U.S. To put that in context, for every dollar spent on online marketplaces in the U.S., approximately 70 cents are spent on Amazon, according to Cowen Equity Research.
Given all that, why isn't everyone on Amazon? As Nike will tell you, Amazon isn't a good fit for every brand despite its massive reach. "Not all marketplaces are created equal," said Mohit Mohal, Managing Director at the A&M Consumer and Retail Group in an interview with Retail TouchPoints. "Think about it like a set of golf clubs. Each of them has a specific use during the game — there are ones that will be great for you given where you are in your journey and others that will be an absolute misstep."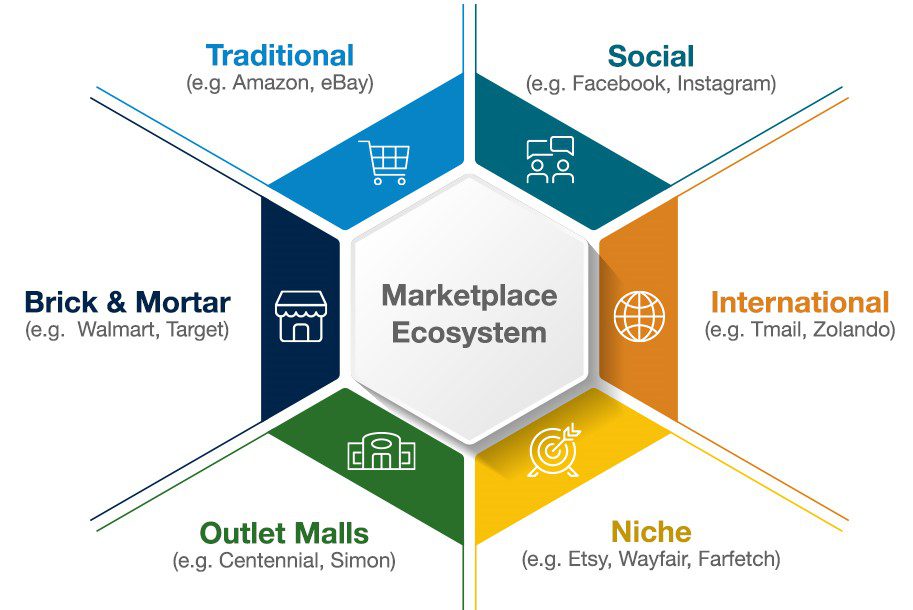 The rapidly expanding universe of online marketplaces means that brands and sellers have many options beyond Amazon as they look to expand. A&M has broken them out into six archetypes: Traditional, Social, International, Niche, Outlet Malls and Brick & Mortar.
A multi-dimensional approach is best when assessing the right fit for your brand, advised Mohal, who said merchants should consider factors such as their current consumer base, category penetration, average unit retail (AUR) and who owns the customer relationship when evaluating their options. For example, a premium apparel retailer might find more success on niche marketplaces than on traditional or "brick-and-mortar" marketplaces like Amazon or Walmart.
"Analyze it from the perspective of where your customers are, where you're going to have the most margin, where it's easy to integrate," advised Michael Vax, Principal at the consultancy Commerce is Digital in an interview with Retail TouchPoints. "You may also decide as part of your channel strategy to publish different products in different places — swimsuits on Zalando and furniture on Otto, for example."
Boyce, who was an Amazon seller himself at one time, still thinks Amazon is a good starting point for most brands simply because Amazon's role in consumers' ecommerce journey is hard to replicate. "Prioritize based on where your highest sales potential is," he said. "A shotgun approach is not best. Instead, get a foothold in ecommerce first, build your customer base and be on Amazon. Figure that out, own it, then the next platform is probably Walmart or a niche marketplace like Chewy or Wayfair, depending on your category."
Some companies — especially those on the larger side with a top-ranking dot.com — may want to consider opening their own marketplace rather than selling on others, according to Tom McFadyen, CEO, McFadyen Digital in an interview with Retail TouchPoints.
Regardless, the success of any marketplace strategy will vary dramatically depending on the strength of your brand and the kinds of products you sell. "There is a different approach if you're a branded, high-value product like a Nike or Adidas shoe, for example, versus a commodity like a pad of paper," said McFadyen. "If you're selling a non-differentiated commodity, it is oftentimes a race to the bottom in terms of price."
Want to dig deeper into this topic? Here are few other pieces of content you might like: