This year Amazon overtook Walmart to become the biggest retailer in the U.S. — but the fact is, Amazon is a big business powered by lots and lots of small ones. More than half of all products purchased on Amazon are sold by third-party sellers, most of which are small- and medium-sized businesses (SMBs).
"Today when a consumer buys a product [on Amazon], the odds are better than not that it's going to be a third-party seller's product," said Andy Jassy, who succeeded Amazon Founder Jeff Bezos as CEO a little over three months ago and gave the keynote address at the Amazon Accelerate conference for the company's third-party sellers. "We have nearly 2 million small- and medium-sized businesses selling in our marketplace today."
And as Amazon made clear at the conference, the company's future retail success will rely in large part on the success of the SMBs that power its marketplace — not just domestically, but also through cross-border sales in the 185 countries Amazon serves.
"The business is doing pretty well," Jassy said at the event, which at first sounded an exercise in modesty, until he pointed out that Amazon currently only captures 1% of the worldwide retail market. That can be hard to imagine, given Amazon's sometimes larger-than-life presence in the zeitgeist. And yet, despite all the talk of the rise of ecommerce, most of retail in the U.S. still happens in stores and will continue to — 72% as far out as 2024, according to Forrester.
Jassy, and Amazon as a whole, want to move that needle, and third-party sellers will be key to that effort. Here's how:
Continuing to create tools and services to make ecommerce easy for its third-party sellers;
Highlighting its role as a vehicle for the growth of SMBs; and
Increasing cross-border sales across its network of 21 digital storefronts worldwide.
SMBs: Amazon's Not-So-Secret Sauce
Despite the central role SMBs now play in the company's retail mission, the decision to open up the Amazon platform to third-party sellers wasn't an easy one, as Jassy, who has been with the company for 24 years, shared with the Accelerate audience.
"At the time, it was really a hard decision," he said. "We were an owned-inventory retail business only, and we had a lot of debate inside the company about whether we should [open to third-party sellers]. In retrospect it seems so obvious, but we had a hard time believing that others were going to take care of customers as carefully as we did. Also, when you build a culture around one type of business model, it's often really hard to move that culture, to do things that seem like they will cannibalize your business.
"Ultimately, we decided to pursue the third-party business in a marketplace because of two things," Jassy added. "First, we knew customers wanted it. They wanted broader selection, they wanted lower prices, and having a community of sellers was going to provide that in a better way than we could do on our own. And second, it was going to happen whether we wanted it to happen or not. We have this expression we use internally: 'You can't fight gravity.' Even if it seems cannibalistic to your business, or you wish it wasn't happening as fast, you can't howl at the wind. In this day and age, if it's better for customers, it is going to happen, and you're much better off trying to embrace that and help shape it than you are denying and chasing it."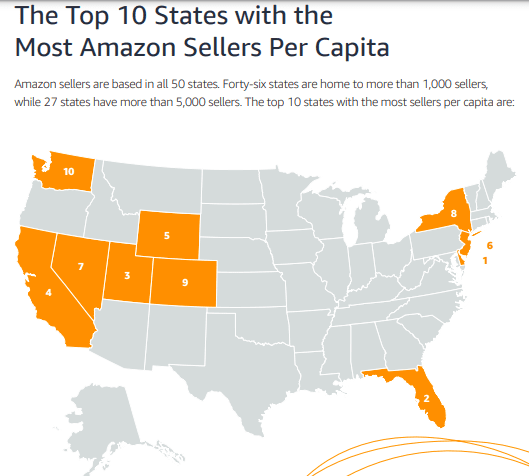 The rest, as they say, is history. The results of Amazon's two-decade-long third-party seller initiative are dramatic, not just for the company but for the economy as a whole. Amazon is now the second-largest employer in the U.S. (after Walmart), and it far surpasses the big box retailer if one takes into account the additional 1.8 million U.S.-based jobs that Amazon estimates its third-party sellers have created.
Those sellers sold more than 3.8 billion products in the 12 months ended Aug. 31, 2021 — an average of 7,400 every minute. Average annual sales for Amazon sellers were $200,000 in that period, up from approximately $170,000 the year prior, and the number of American Amazon sellers that surpassed $1 million in sales grew by nearly 15% in that time.
Jassy: Separating Amazon From its Marketplace Would Have 'Serious Unintended Consequences'
However difficult the initial decision to host third-party sellers was, Jassy now terms it a "win-win-win": SMBs gain access to a larger group of customers, who in turn get a broader selection and lower prices, and Amazon of course benefits as well.
The more cynical among us might see Jassy's bullish take on the marketplace model as a counter-argument to the current political maneuvering in Washington, D.C. aimed at undercutting the dominance of Amazon and its Big Tech counterparts.
Jassy addressed this directly at the conference: "We look at some of this and wonder what the goal really is, because typically speaking, companies are considered to have monopolistic characteristics if they have such unfettered power that they can adjust pricing however they want and they don't have any responsibility because there are no other choices," said Jassy. "In the case of retail, it is a hyper-competitive market segment with a lot of very large and successful players. We don't have the ability to take our consumer prices up. It's why you see us continually trying to help take prices down for customers.
"One of the more extreme ideas [in Washington right now] is trying to force Amazon to divest its marketplace," said Jassy. "You have to be careful when you think about an idea like that, that you don't have very serious unintended consequences. The reality is, it's not hard to have a website at this point. What really is making a big difference for our sellers has been having access to hundreds of millions of Amazon customers and all the traffic that we're able to create because of that community. You don't want a situation where you meaningfully hurt small- and medium-sized businesses."
Setting its Sights on International Sales
Amazon's introduction of its third-party marketplace and accompanying support services has in many ways democratized retail, making it easier for small businesses to both reach a huge consumer base and manage the logistics of serving them. At the Accelerate event, the company made it clear that it wants to do the same for cross-border retail.
Amazon estimates that more than 6 million products currently offered by its U.S. sellers have a high potential for success on its international websites, and the company unveiled a series of new tools designed to help its third-party sellers reach customers in the 185 countries Amazon serves.
"Really for the first time ever a very small entrepreneur in the U.S., no matter where they're located, has access to a very large number of customers in each of the countries in which [Amazon operates]," said Eric Broussard, VP of International Selling Partner Services at Amazon in an interview with Retail TouchPoints. "We've got over 900 million customer visits per month, and more than half of those visits are from outside of the U.S. Sellers in the U.S. can potentially double their access to customers by leveraging what we've built in each of these countries."
Last year, 20,000 U.S. sellers launched their global business on Amazon, according to the company, and in the 12 months ended Aug. 31, 2021, U.S. SMB exports on Amazon accounted for more than $2.2 billion in sales, up from $1.5 billion the previous year. With cross-border commerce growing at 2.3X the rate of total commerce, according to eMarketer, international sales offer a pretty compelling growth opportunity to both Amazon and its sellers.
To that end, Amazon announced a set of new tools at Accelerate that make it easier for American third-party sellers to offer their products in Amazon's 21 digital storefronts worldwide, the "continuation of a strategy we've been implementing over many years," according to Broussard. These include:
Customer Service by Amazon — instead of building a local-language customer service team from scratch, sellers can outsource that function to Amazon to manage customer inquiries, refunds and returns;
Marketplace Product Guidance — "This is basically a recommendation service where we help sellers prioritize and understand which products they should launch in other countries," said Broussard. "It removes a lot of the work that they would otherwise have to do with market studies to understand, for example, what does the Japanese customer want? And it's personalized for each seller. This is not a general statement about what the world wants in France or in Germany — these are the products you [a seller] have that are likely to succeed in the market you might want to export to.";
Global Inventory Viewer — a tool that lets sellers monitor inventory supply and demand across all international markets they sell in and lets sellers know when to send more inventory to Amazon fulfillment centers before running out of stock; and
Global Listing — a tool the lets sellers list products on Amazon once and sell globally. Instead of managing products separately across Amazon's various international stores, they can replicate their product listings across countries, with translation services. (This feature is currently in beta testing and will be open to all U.S. sellers in early 2022.)
These new offerings join a number of services that have already been available in global markets, including Fulfillment by Amazon and product listing translation services. All of this is included in the basic Amazon Professional Selling Plan, which starts at $39.99 a month alongside additional variable fees based on sales.
"The incentives between Amazon and our sellers are well aligned; we succeed when they succeed," said Broussard. "Our fees are basically variable based on sales, so we have a vested interest in helping our sellers succeed and developing these types of products and technology to make it easier for them to succeed.
"Adding global selection is a huge part of our 'Earth's largest selection' strategy," he added. "It's completely aligned with what we've been doing for many, many years now. We want that value and selection to be available to every customer in all the different stores of Amazon across the world."
Jassy echoed that in his keynote, thanking sellers for "their partnership."
"What we've done over the last 20 years is just remarkable, and we're still in the early days of what's possible," he said. "We care a lot about our sellers; our community matters a lot to the team, and it matters a lot to me. We don't always get everything right, but when we don't, it's not for lack of focus. As long as [Amazon and our sellers] collaborate and communicate, I'm very confident we'll continue to iterate and improve for customers."