Mobile has continued its exponential growth as a sales and marketing channel for retailers, and it's easy to see why. On average, shoppers spent approximately three hours and 40 minutes per day on their mobile devices in 2019, 35% more than they did two years prior, according to data from mobile data and analytics provider App Annie. But retailers may not need to sell as much on mobile as they think — as long as they are able to get people to download and visit their shopping apps.
In compiling The State of Mobile 2020 report, App Annie determined that the time spent in a mobile shopping app strongly correlates with total retail sales (both online and in-store), signifying that not only are consumers turning to mobile to shop, but retailers are enhancing mobile experiences to better serve all phases of the buying journey. The correlation had an r-value of 0.94 (a "perfect" positive correlation would be a value of 1, indicating the correlation's strength).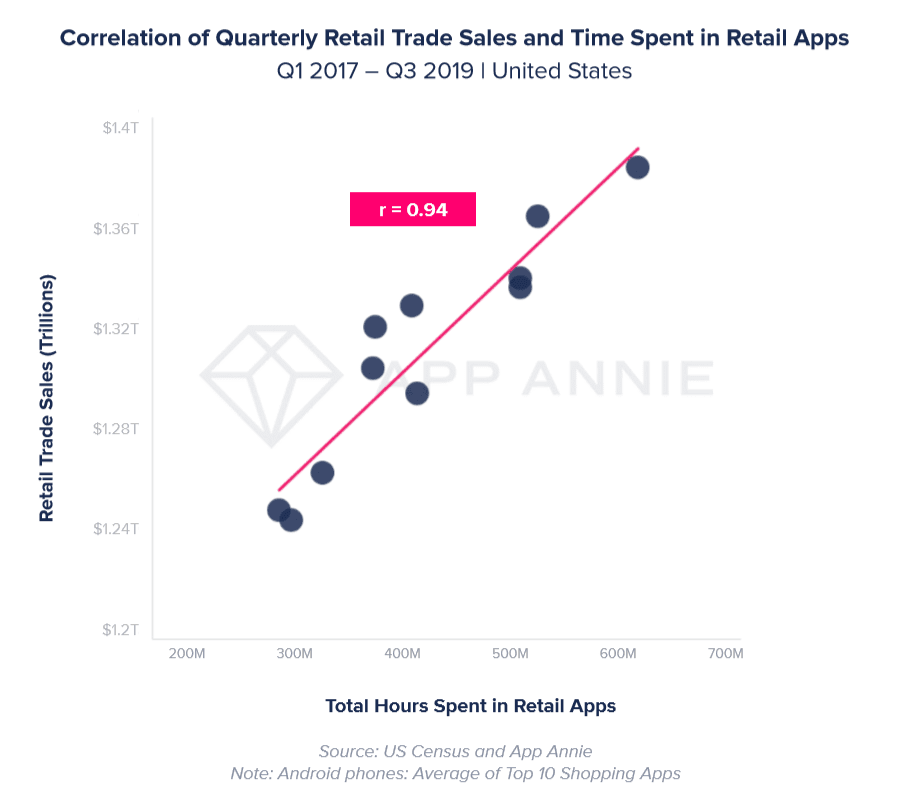 "Sales might not be directly driven in the app itself," said Lexi Sydow, Senior Market Insights Manager at App Annie in an interview with Retail TouchPoints. "It might be their primary research tool before they head into the store and complete the purchase. The shopper might create a wish list on mobile before picking the item they want on their tablet later on."
While mobile web is an important part of any retail business because it offers a place for consumers to land and acquaint with the brand, Sydow noted that the app enables a more personalized customer experience that web sites don't provide.
"The app ultimately lets you deliver push notifications and customize the search options," said Sydow. "If a shopper creates a profile and you want to surface more of the things that they're interested in, and pull a recommendation engine into your app, those are features that an app really has an advantage in. It's also great for loyalty programs; we've seen strong loyalty adoption within retail apps. For example, we've seen definite surges in Kohl's app downloads and usages when they have 'Kohl's Cash' promotions. Bridging that gap with the mobile web and app strategy is important, but the ultimate opportunity to drive bigger basket sizes, more conversions and shopping frequency is what the app is best suited for."
Mobile Growth Creates More Fulfillment Opportunities For Retailers
The positive correlation extends beyond the front-end customer experience. According to Sydow, mobile is facilitating fulfillment growth, whether through in-store pickup or tracking of packages.
"In Q4, we saw that BOPIS was a really strong feature that brick-and-mortar retailers advertised," said Sydow. "Of the top 10 brick-and-mortar retailers on mobile by active users in the U.S., seven of them advertised BOPIS or curbside pickup actively. Two of them — Walgreens and CVS — offered partial offers, such as picking up prescriptions and picking up photos. In 2019, retailers really thought strategically on how to harness the power of stores in an app the way an online company cannot. They're recognizing the power of consumers not only wanting to shop on their couch, but picking up their groceries on the way home from work, or that birthday present you forgot to get."
While apps for digital-native retailers still had up to 3.2X more average monthly sessions per user than apps for brick-and-mortar-based retailers in 2019, the physical retailers are catching up. "Bricks-and-Clicks" apps saw stronger gains in total sessions year-over-year, often outpacing digital-first apps in their respective markets, a notable change from past years.
Appealing to a mobile audience means gearing more toward a younger audience. In fact, Gen Z shoppers access their apps 60% more than all older demographics combined, so it's a must to capture their attention within the app. The growth of the young mobile consumer means more businesses are going to spend big on mobile ads; in fact, mobile ad spend across industries is expected to reach $240 billion in 2020, a 26% jump over 2019.
"In-app advertising in general is a great way to capture the time spent — 3.7 hours per day — which is almost 25% of the total time you are awake," said Sydow.