For years Apple refused to sell consumers or independent repair shops the tools and parts needed to fix its devices, saying that consumers were best served by having their products fixed by authorized specialists. But the tech giant has finally yielded to consumer and political pressure with the debut of its new Self-Service Repair website — complete with repair manuals as well as genuine Apple parts and tools. DIYers can now easily purchase everything they need to fix that cracked screen or replace aging batteries themselves.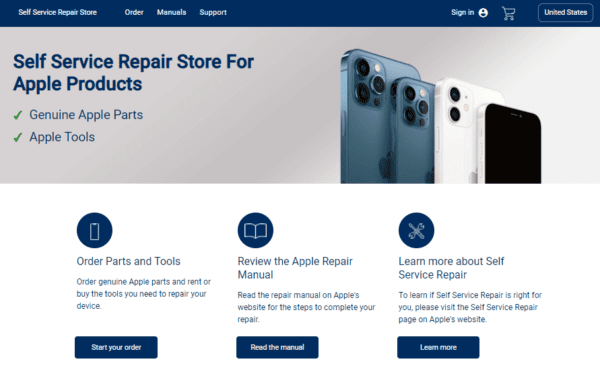 Apple first unveiled plans for its self-service repair program in late 2021, and Samsung announced plans for a similar program of its own last month in a series of victories for "right to repair" advocates.
For now, Apple's Self-Service website is only available in the U.S., but it will roll out to additional countries later this year, beginning with Europe. The online store currently offers more than 200 parts and tools to complete repairs on many of the company's smartphones, with additional manuals and parts set to be added later this year for self-repair of Mac computers.
To start the self-service repair process, a customer first reviews the repair manual for the product they want to fix at support.apple.com/self-service-repair. They then visit the Apple Self-Service Repair Store to order the necessary parts and tools. According to Apple, the parts on the site and the tools needed for DIY repairs are the same products available at the same price used by its network of authorized repair providers. Same goes for the tools needed for DIY repairs. Customers who don't want to purchase Apple tools (which aren't generally useful for anything except repairing Apple's devices) can rent a professional tool kit that will ship to directly to their home for a weekly fee of $49.
While it is now possible for consumers to repair their own devices with official parts and tools, Apple is still encouraging laypeople to seek out official repair resources, saying in a statement: "For the vast majority of customers who do not have experience repairing electronic devices, visiting a professional repair provider with certified technicians who use genuine Apple parts is the safest and most reliable way to get a repair."
The company also touted its ongoing efforts to expand its network of professional repair resources, saying that it has doubled the number of service locations over the past three years, including the addition of more than 3,000 independent repair providers. Apple's network of authorized service providers now includes more than 5,000 locations and 100,000 active technicians worldwide.