Three years after the pandemic upturned the grocery industry, omnichannel chain H-E-B has regained its leadership position as the top U.S. grocery retailer from Amazon, with Costco following closely behind in second place, according to the sixth annual Dunnhumby Retailer Preference Index (RPI). Amazon fell to third, while Wegmans took the fourth spot for the third year in a row.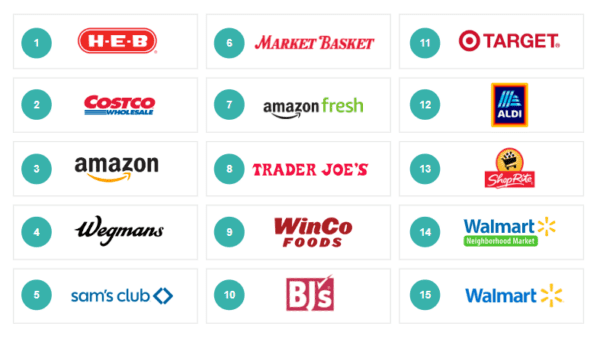 BJ's Wholesale made the most dramatic moves up the rankings over the last three years, climbing from 27th place to 10th place in 2022. In fact, club stores are gaining momentum across the board, with three of the top 10 spots now occupied by these retailers: Costco (#2), Sam's Club (#5) and BJ's Wholesale (#10). In contrast, in the 2019 RPI, no club store ranked higher than seventh.
The rise of club stores is likely being driven, at least in part, by record high inflation. Indeed, price was the top consumer need across all income brackets, including 66% of people making $50,000 to $74,999 and 53% making more than $200,000. Personalized prices, promotions and rewards also became 3X more important at driving overall price perception compared to 2019.
The annual Dunnhumby RPI combines financial results with customer perception to rank the largest 63 retailers in the U.S. selling everyday food and non-food household items. The financial data comes from Edge Ascential, and the customer perception data is sourced from dunnhumby's annual survey of 10,000 American grocery shoppers conducted in November 2022.
"In 2017 we set out on a journey to understand how customers' preferences and retailers' financial results predicted which retailers would last," said Matt O'Grady, President of the Americas at Dunnhumby in a statement. "But little did we know that in the ensuing six years consumers and retailers would have a lifetime of difficulties including a pandemic that shook consumer behavior and the global economy, a prolonged period of supply change struggles and a once-in-a-generation inflation crisis."
Over the six-year history of the U.S. Grocery RPI there has been a fierce battle among the top retailers. In 2020 and 2021, the pandemic helped propel and then solidify Amazon as the top grocery retailer over H-E-B, Trader Joe's and Wegmans. But in 2022, H-E-B reclaimed the top spot due to its superior ability to deliver a combination of better savings and a better-quality experience and assortment.
However, the pandemic's impact is still evident in the results even as its impact has waned. COVID-19 dramatically increased the percentage of Americans shopping online for groceries, from 39% to 50% of the country — an 11-point rise. Despite record inflation, more than half of those people remained online grocery shoppers in 2022. As a result, there are 9.4 million more omnichannel households today than there were in 2019, with a combined grocery budget of $4.9 billion.
Amazon still leads in the realm of online grocery, but other online retailers are closing the gap. In fact, 52% of customers of first-quartile retailers reported they have an easy online shopping experience, an increase of 13% from 2019. The top six digital retailers are 1) Amazon, 2) Amazon Fresh, 3) Target, 4) Sam's Club, 5) Walmart and 6) Walmart Neighborhood Market.