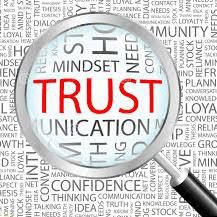 We talk a lot about omnichannel retail and giving today's shoppers every option when it comes to product ordering and delivery. But what is really at the heart of retail success is establishing a trusting relationship with customers. It sounds simple, but it's not.
This week I attended the Money20/20 conference in Las Vegas, where there were a lot of discussions and questions around data security and payment innovation. Are retailers implementing EMV? How can we make mobile payment work at the drive-thru? What are the steps to speeding the checkout process, both online and in the store? These are all great questions and need to be addressed, but when it comes right down to it, they all lead to Trust.
Amazon's Patrick Gauthier said it best during one Money20/20 panel discussion: "Trust is the cornerstone of commerce. It is not about technology. It is not about product. It is about who consumers will trust" — with their hard-earned dollars as well as their personal information.
The path to building trust is different for every retailer. It is paved with the overall brand promise. Amazon, for example, is focusing on decreasing the friction during online checkout in order to increase the percentage of shoppers finalizing purchases. "On an average site, only 35% of shoppers who begin the checkout process will complete a purchase," Gauthier noted.
Will Shoppers Trust The Buy Button?
Trust also will be a key element in the success of quicker shopping transactions taking place using Buy Buttons. More platforms, such as Twitter, are testing and implementing these buy-it-now options. But for shoppers to make that impulse click, they will need to believe their personal information is secure and protected. Twitter is banking on a partnership with Stripe to empower its Buy Button service, noted Phillipe Dauman Jr., Director of Commerce, Twitter.
For Pinterest, the Buy Button is just an add-on feature designed to "reinforce existing strengths" of the platform, said Michael Yamartino, Head of Commerce, Pinterest. "Today's retailers need to sell where their customers are, but Buy Buttons really are just a feature" of the overall shopping experience. Consumers will gravitate toward the platforms and apps they like, he explained.
Empowering Mobile Through Trust
The future of retail is embedded in mobile technology. Not to insinuate that physical retail is disappearing, but mobile will play a role in every aspect of the retail experience moving forward. But in order to motivate shoppers to opt into the app that will sense them as they approach the drive-thru or identify where they are dwelling inside the store, retailers will need to build brand trust.
This trust will translate to easier and more seamless retail activities. In one example, Phillips 66 is testing a solution that will alert drivers when they are running low on gas. As the driver pulls up into the Phillips 66 station the mobile app will initiate payment upon fueling and record loyalty points — all without a swipe.
Trust Is A Constant Struggle
While retailers are in the process of implementing EMV, tokenization and end-to-end encryption, as well as other new customer service technologies, they are aware that there is never a 100% guarantee of security. Data breaches will occur. Criminals get smarter and trickier. Those are facts that will not change. To retain customer trust, it's important for both consumer-facing and B2B companies to remain above board when it comes to questionable activities.
Money20/20 is a prime example. Reportedly, an unauthorized company has attempted to purchase attendee and sponsor lists from the 2015 event. In response, the event organizers have posted the following on the event home page: "PLEASE NOTE: We have been informed that Money20/20's attendees and sponsors have been contacted by a company offering to sell our attendee list. WE HAVE NOT AUTHORIZED THIS, and have not shared your contact information. Please DO NOT REPLY TO OR SPEAK WITH ANY ORGANIZATION CLAIMING TO SELL ATTENDEE LISTS FOR MONEY20/20, AND DO NOT SHARE YOUR CREDIT CARD INFORMATION."
Keep working at building and securing a trusting brand relationship and your customers will keep coming back.