It's been a persistent retail challenge to connect consumers' online and offline experiences. The ascent of mobile has made this challenge even tougher, because this portable touch point needs to be incorporated in retailers' strategic thinking about the entire shopper journey, from pre-sale through post-sale.
"The biggest challenge in the retail market is still offline/online integration," said Pano Anthos, Managing Director of XRC Labs in an interview with Retail TouchPoints. "If you're browsing online, how does the retailer know who you are when you come into the store?"
Several of the solution providers that populated the Innovation Lab at the NRF Big Show in January addressed these challenges head-on:
• June20 uses tablets mounted on a sliding track to provide the depth of content shoppers would get online in a store setting, while linking to consumer mobile devices and retailer apps to facilitate purchases;
• Tangiblee creates an in-store experience online by showing scale models of people (e.g. a five-foot-tall woman) so that shoppers can see whether an item such as a handbag or a hat actually fits their stature;
• Slyce provides visual search capabilities, allowing consumers to take a picture of someone's outfit and have the app discover the most visually similar item in a retailer's catalog.
'A Car Dealership That's Smaller Than A Car'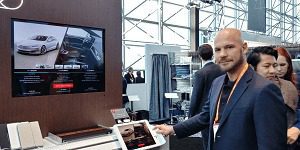 The June20 technology uses a tablet equipped with a backside camera capable of reading QR codes, providing access to the same rich content typically available online, such as videos and product reviews. At the Innovation Showcase, COO Jason Seed demonstrated how a shopper could use the solution to pick colors, accessories, interior fabrics, etc. for a Tesla automobile. In essence, it's "creating a car dealership that's smaller than a car," he said.
While the tablet is displaying this content, it's also capturing information about each consumer's actions and preferences, tracking data that can be used for follow-up interactions. "Home Depot Canada not only knows that it was your shopper journey, but they have access to analytics that record every touch point, such as the videos you watched and the point at which you abandoned them," said Seed. "We're seeing consumers spending more than three minutes interacting with the tablets, compared to an average of 20 seconds with typical displays."
The tablets also can share content with shoppers' phones, allowing them to review information after they have left the store. If the consumer wants to make a purchase in-store, the June20 solution can be linked to a retailer's mobile app, bringing the consumer immediately to a shopping cart loaded up with the item they have been browsing.
Creating An In-Store Experience Online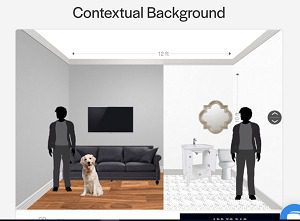 While the June20 technology brings the online experience into the brick-and-mortar store, Tangiblee brings elements of the physical store to digital shopping. In a store, shoppers can see for themselves how big an item is, but size comparisons that are simple in the real world are more difficult online. The Tangiblee solution shows how actual products look on scale models that consumers can adjust to show their height and body type. This can prevent, for example, a petite woman from accidentally purchasing an enormous handbag.
The Software-as-a-Service solution also can place scale models of people in rooms, revealing not only how different pieces of furniture would fit but how large they are compared to the people that would actually be using them.
"We take the existing product dimensions and imagery from a retailer's product page, for example furniture retailer Z Gallerie, scale the items proportionally, then render that product inside an interactive room as configured by the retailer," said Ryan McLaughlin, in charge of strategic partnerships for Tangiblee. "Our technology provides a product comparison view as well — allowing visitors to compare two products side by side, seeing what will fit inside or around the product as if they were in the store — for example a laptop inside a tote or next to a small carry-on bag." Tangiblee partners with luggage brands to identify which bags will qualify as a carry-on for different airlines.
"Our clients see an average of 10% improvement in conversion rate," said McLaughlin.
Connecting Images To Retailer Catalogs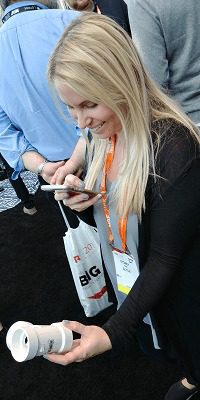 Visual search technologies allow consumers to take a smartphone picture of an item and find its match within a retailer's offerings. Slyce continually ingests both images and product category information from retail clients including Tommy Hilfiger, Best Buy, Macy's, Urban Outfitters and Neiman Marcus.
"If there's not an exact match, the solution offers 'find similar' functionality, bringing up five or six products that approximate the image," said Sydney Fink, account manager at Slyce.
Consumers also can take a picture of an appliance part or household item to discover what it is, and whether it is in stock at a home improvement retail store.
These types of easily understandable consumer benefits were at the heart of the Innovation Lab showcase, according to Anthos, who helped curate the exhibitor selection. "In the emerging technology space, we focused on what the customer was going to get from the solution, whether that was visual search for furniture or facial recognition for streamlined identification," said Anthos. "Thinking of the customer first is critical."