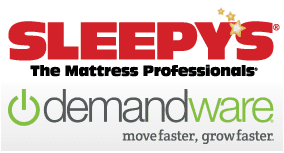 The retail industry is seeing ongoing innovation, especially in the area of technology. As a result, retailers are trying to let go of their legacy systems and replace them with solutions that meet their goals of providing a seamless, consistent experience across all channels.
Sleepy's, one of the largest mattress retailers in the U.S., was a late-bloomer when it came to updating its e-Commerce systems and strategies, with the company using a legacy, on-premise solution until recently.
With more than 900 retail locations that deliver over 3,000 mattresses daily, the retailer's onsite system was not able to keep pace with the growing demand, according to Chris Cucuzza, VP of Technology.
"Over time, the platform required a lot of outside resources in order to complete the tasks we needed it to," said Cucuzza in an interview Retail TouchPoints. "It was very high-cost to bring in these outside resources. In our industry, we are geared towards handling particular holidays throughout the year where there is an overwhelming increase in traffic. The scalability of an on-premise solution was always challenging, and the upgrades to the system almost cost as much as an entire re-implementation."
When researching a replacement platform for its web and mobile commerce sites, Salesforce1 compatibility was an essential requirement. Sleepy's also wanted to avoid having another onsite platform, so the SaaS model offered by Demandware presented cloud capabilities and ease of use that stood out in the crowd.
Cucuzza added that "the ability for a non-technical user to produce or manage content in the system was something that Sleepy's was really interested in. These sorts of tasks required a lot of prior training and knowledge in order to complete them with our old legacy system."
Another one of Sleepy's initiatives for the upcoming year is implementing different regional campaigns, which would be beneficial to the company's growth in new markets across the U.S.
"We now have a lot of different markets, and we are trying to change our regional marketing approaches because each region has its own triggers and needs in order for our engagement to be successful," Cucuzza said. "Having the ability to serve up different content and promotions to fuel these different regional campaigns — and focus this content by geographic area — was something that interested us very much."
Because the cloud-based platform can integrate across all channels, Sleepy's is able to optimize its e-Commerce business as it grows, and continue to develop and refine its omnichannel strategies.
"Demandware has made it known that they are looking to get into the stores, and not just the web site," Cucuzza explained. "For example, our POS system is home-grown, and we're possibly going to be looking for a solution to replace that over time. I can't even begin to list the benefits we would have with an integrated e-Commerce and POS platform. To me, that's the perfect storm."
In addition, the Demandware platform provides a central location for the Sleepy's team to manage content, helping employees keep brand messaging consistent across all channels and marketing campaigns.
"No matter if you are shopping online or shopping in-store, it really needs to be the same message — and that is what the customer is expecting," Cucuzza said. "The Demandware platform offers that, and that was another major feature that we were striving for."
Since implementing the platform in March, Sleepy's has seen improvements in internal processes such as marketing planning, as well as content creation and management. Having a platform that can manage each of Sleepy's sites — including Mattress Discounters and 1800Mattress.com — makes it easier for Sleepy's employees to produce a consistent brand message, while also making content production and management easier.
"My staff is thrilled to have this platform at their disposal," Cucuzza noted. "When my employees come to me and say 'my job is much easier now and I can be more productive,' that really speaks for itself — and that's a lot of the feedback we are getting right now."