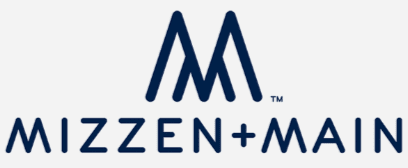 Building a retail company carrying exclusively American-made products can be a gamble due to the time and costs required to make it work, especially when the brand is literally starting from scratch. But Mizzen+Main has powered its way through the ranks to stand on its own as an authentic brand that now offers its apparel in more than 100 specialty stores across the U.S.
The startup apparel brand, which launched as an e-Commerce site in July 2012, is known primarily for its wrinkle-free men's dress shirts made from performance fabrics. In an effort to differentiate from traditional menswear companies, Mizzen+Main gears its tailored products toward men who seek comfortable dress wear that can absorb sweat but doesn't need to be ironed or dry cleaned.
Following the success of its trademark dress shirt, Mizzen+Main's key accomplishments have included:
Expanding its menswear collection in 2015, launching a line of Chino pants made from the same performance fabrics;

Partnering with professional football player J.J. Watt, who serves as the "face of the brand;"

Implementing a staunch "no discount" policy to emphasize genuine product quality; and

Opening pop-up shops in both New York City and San Francisco.
The opening of the first pop-up store in New York is just one of many examples showing how the husband and wife team of Kevin and Jen Lavelle (CEO and CMO of Mizzen+Main respectively) have managed to build on their investment from the ground up.
"We did not hire people to man the New York store," said Jen Lavelle during a presentation at the Retail TouchPoints Retail Innovation Conference. "Kevin and I got an Airbnb here in New York, lived here for three weeks, ran the store during the day and ran the business at night. I would say there is no easy way of doing this, but that experience allowed us to shake hands with our customers, hear their feedback and also meet with a lot of press people that we otherwise wouldn't have had the opportunity to meet."
Two Drivers Lead The Charge: The Consumer And The Product
The brand has expanded nationwide in a relatively short time, and its dedication to the customer and the effort put in place has been paramount in achieving a sustainable success. When starting the company, Kevin and Jen packed and shipped every item that was sold from the guest room in their home. Before shipping each product, they would even write a personal note accompanying the package as a 'thank you' to the consumer for supporting the company.
In running a company trying to get off the ground, they initially had to take care of these processes themselves without outsourcing any activity.
"Even at this point, we were putting everything we had — including all of our savings — into the actual product," Jen Lavelle said. "We hadn't invested one dollar in advertising, and Kevin was hitting the phones and the pavement telling everyone he could about Mizzen+Main, but we invested in amazing packaging and product quality."
Emphasizing Community-First To Further Growth
Since Mizzen+Main didn't have an advertising budget at first, the Lavelles sought to focus on the community aspect of retailing in order to build intimate relationships with consumers. The Lavelles developed a social media following for the brand, starting by interacting with friends and gaining organic reach through the conversations held about the products online.
"We would follow and engage with our customers to learn about them," said Kevin Lavelle, recipient of a 2016 Retail Innovator Award. "If you farm that out to an agency that doesn't understand your customers, and you don't pay attention, you miss opportunities to connect directly with them."
To spread the word of the brand during its infancy, Kevin reached out to various press members, including a newspaper editor in his hometown of Sarasota, Fla. When the Sarasota Herald-Tribune highlighted the Mizzen+Main brand, professional baseball player Ian Desmond, Kevin's high school classmate, caught wind and invited him to attend a trunk show with the Washington Nationals. Within 30 minutes, Mizzen+Main sold $10,000 worth of merchandise, which was 10 times more than the brand's previous best sales day ever, Kevin noted.
"I asked, 'That's great, how did you hear about us?'" Kevin Lavelle said. "Ian told me his wife's grandmother from Sarasota saw the article and she bought him a shirt. This small act of reaching out to a local reporter has turned into something much bigger. From there, we have built this amazing following of professional athletes, and we now have around 250 professional athletes as customers."
Kickstarting New Funding To Fuel New Products, Charitable Initiatives
The community aspect has benefitted the brand when it comes to designing newer products as well. Mizzen+Main raised nearly $55,000 in February 2014 on Kickstarter (well beyond the initial $15,000 goal) to fund the production and manufacturing of its 0-5 Blazer Line. Since then, the retailer procured Series A funding of $1.2 million in August 2014, and closed another round of funding for $3 million in April 2016 to shore up inventory.
As Mizzen+Main has grown, it has partnered with several military veterans' organizations such as The Agoge Challenge, The Travis Manion Foundation and 31 Heroes as a means to give back to the community. With these partnerships, the Lavelles have conducted charitable efforts such as manufacturing custom-made shirts for Navy SEAL Foundation members and their donors. In November 2015, the retailer even crafted a promotion for which every time a customer bought a dress shirt, a Henley shirt was shipped out to a veteran or active duty service person.
"The feedback we got from this campaign was absolutely incredible," Jen Lavelle said. "Servicemen and servicewomen said they've gotten care packages and aid from nonprofits in the past, but that they don't really get presents that are just for them. That was huge for us, and that's exactly what we're going for."