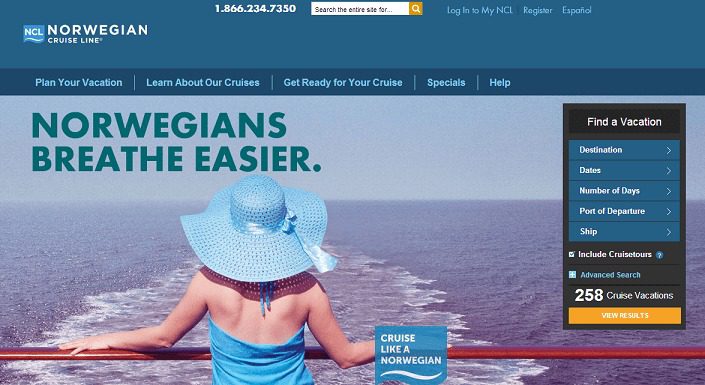 The Norwegian Cruise Line (NCL) e-Commerce department has always strived to stay ahead of the curve, especially in refining and optimizing the online browsing and buying journey. Of its strategies, NCL was one of the first cruise lines to utilize content such as consumer comments, forums and tips to educate site visitors on the cruising experience.
Efficiently managing and publishing relevant content to drive online conversions is a top priority for the e-Commerce team, according to Rob Casas, VP of e-Commerce at Norwegian Cruise Line. When Casas was introduced to customer experience management company Needle in early 2012, he was intrigued by the solution but was unsure if it could adapt to the travel and cruise industry, which requires very high-touch interactions.
After a series of meetings throughout the year, the e-Commerce team was convinced that the Needle chat offering fit the company's goals. Since implementing the solution, NCL has seen a five-fold increase in ROI, according to Casas. "Needle reinforced our beliefs on the impact our advocates have on our business and the positive level of influence they can deliver during the cruise purchase consideration process."
Aligning Service To The Sales Funnel
Initially, NCL implemented a pilot program with Needle, using targeted banners and other calls-to-action to invite customers in the deeper stages of the visitor "funnel" to engage with the tool.
In the early stages, site visitors received an invitation to interact with Needle when they received their first cruise quote. However, NCL soon learned that customer service representatives, referred to as advocates, needed to engage with visitors earlier in the discovery phase.
Now, customers are encouraged to chat with representatives when they first select potential cruises and amenities. The change has allowed NCL to engage with potential consumers based on their wants and needs instead of less favorable topics such as pricing and booking. In addition, it has helped ensure that there is no overlap with service-oriented questions handled by corporate customer service agents.
"Certainly the platform was unique in that it delivered an efficient way for our loyalists to interact with Norwegian's guests," Casas said. "The advocates have the ability to quickly connect to online resources, including other advocates for any assistance they require. When advocates come across a topic or question they don't have immediate experience in, they can usually find another advocate quickly in the chat team room so they can easily relay the information."
By the end of the initial pilot, online conversion rates increased nearly 40%. The results were considered so successful that the companies established a long-term agreement.
"We believed in the concept and knew it would produce good results," Casas said. "A lift of 10% to 15% would have been a success."
Over the next year, NCL and Needle continued to provide optimized engagement to site visitors. Customers were having more fulfilling interactions during the researching process, as evidenced by the Net Promoter scores, which climbed from 57 to 65 year over year. During the peak summer season, the score climbed as high as 73. Customer service advocates received an average customer satisfaction score of 9.3 out of 10.
NCL and Needle will continue their partnership to further optimize online engagement. As part of these efforts, NCL may eventually train advocates to address specific situations such as assisting first-time customers or helping visitors stalled on the payment page, according to Casas.
"Having a customer connect with a like-minded customer is probably the single most influential thing we can do to help them interact with us and book a cruise," Casas concluded. "The authentic narrative of the customer is more influential than anything else I can think of."