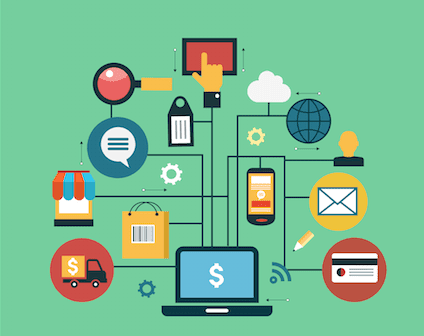 Various research studies have indicated that consumers who leverage several channels during the browsing and buying journey are more profitable for retailers. Executives from Cole Haan and Staples verified this hypothesis during a session at the 2015 NRF BIG Show.
"We've seen the economics at play, and we can verify that the customers who engage with us through our wholesale partners, in our stores and online are nearly twice as profitable," said Kyle Gallary, VP of Corporate Strategy and Digital Commerce at Cole Haan. "So we're thinking about how to bring commerce as well as our content and brand point-of-view to them across all these different channels as seamlessly as possible."
Titled Omnichannel Commerce: Successfully Navigating The New Purchase Path, the session delved into how Cole Haan and Staples have revised their organizations and ramped up their brand experiences to keep pace with omnichannel demands.
"We're trying to strike the balance between getting our company where we need to go in the long-term and meeting customers' short-term expectations," Gallary said. "We want to be nimble, but we have a lot of foundational work we need to do."
Cole Haan has established a multi-year plan for several omnichannel investments, including implementing more flexible fulfillment offerings. The brand and retailer also will be rolling out endless aisle in stores within the next month.
Because Cole Haan is an independent business free from outside influencers, the team can take a "fresh perspective on our growth strategy," Gallary explained. "Digital and omnichannel are at the forefront of our corporate strategy."
Most recently, Cole Haan partnered with Uber to provide same-day delivery to New York City customers. Using UberRUSH for a September 2014 campaign, Cole Haan targeted shoppers within the New York City customers and was able to deliver online orders in under an hour.
The project with Uber was "a very positive step for us," Gallary noted. "Based on the feedback we got, we were able to surprise and delight our customers which was very powerful."
Cole Haan also partnered with Nordstrom to better bridge the gap between the digital and in-store channels. The companies created a tool that digitally scans feet to measure the optimal shoe size. Gallary noted that conversion rates for shoppers who use the technology are up to four-times higher than those who don't use it.
Staples Builds Connections In The Small Business Community
Although small businesses are Staples' core customers, many of the core principles of omnichannel retailing still apply to the retailer and play a significant role in the company's goals moving forward.
For example, digital tools and technologies are playing a more prominent role in the decision-making process. Previously, product circulars were the most influential source for driving purchases, according to Alison Corcoran, SVP of Marketing for North American Stores and Online at Staples. Now, the most influential channels are digital, and the retailer is keeping pace by incorporating new digital technologies in locations.
"We use kiosks in stores so consumers can purchase products online that are not available in the store," Corcoran said. Those kiosks now represent 5% of the retailer's total sales. "Shoppers also can use the mobile app in-store. We actually encourage them to do so, and use the app to access their rewards." Over the next quarter, Staples also will be arming in-store associates with mobile devices.
Digital tools and technologies are empowering consumers to browse and buy from Staples anywhere and at anytime. However, the small business community also has a desire to access content from the retailer. That is why Staples launched a LinkedIn group, called Succeed: Small Business Network, Powered By Staples. In this group, small business owners and employees can communicate with each other.
"It's an important part of our omnichannel strategy," Corcoran said. "Our customers want to purchase products and engage with us, but they also want to connect with each other."