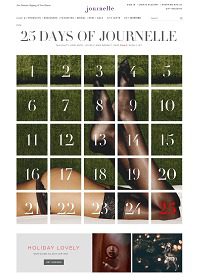 Designer lingerie retailer Journelle derives its name from an old French word for "daily," so it's quite fitting that its 2015 online holiday promotion was inspired by a calendar. The "25 Days of Journelle" web page mimics a one-window-per-day advent calendar, revealing one carefully selected, gift-friendly item each day from Dec. 2 to Dec. 25.
The combination of built-in suspense and careful merchandising has already yielded positive results for Journelle, which operates four brick-and-mortar stores and a private atelier as well as its e-Commerce site. The calendar has delivered an 8% conversion rate, which is more than three times the site average, and the AOV (Average Order Value) is 37% higher than average.
"We will typically see a higher AOV during the holidays than the rest of the year, but we believe the advent calendar is making it easier for shoppers to make a buying decision," said Helen Schmid, Senior Manager of e-Commerce and Digital Marketing at Journelle.
Journelle relied on basic psychology in designing this campaign. "We wanted to provoke a sense of urgency by addressing that innate human love for anticipation and surprise by making this a daily deal," explained Schmid in an interview with Retail TouchPoints. "Not knowing what you'll get until the next day has really helped draw people in on a regular basis."
Promotion Features Gift-Friendly Items
Journelle's merchandising team chose items it believed would be strong sellers for the calendar, with an emphasis on easily "giftable" products. Other key guidelines informing the selection included:
• Limited size selection, e.g. pajamas, which only come in four sizes, versus lingerie, for which it can be challenging to select the correct size;
• In-stock in all sizes, to avoid out-of-stocks on items promoted both online and via email; and
• Featuring accessories such as candles and cosmetics to promote cross-sell and upsell opportunities.
"We were seeking a balance between these more 'giftable' items and our bread and butter, which is fashion lingerie," said Schmid. "We also wanted to surprise people with the diversity of what we chose to feature."
The technology supporting the advent calendar, provided by Qubit, included code that revealed only the previous and current days' items to site visitors. With each new day, a new tile is flipped, revealing that day's featured product.
The retailer has been pleased with the results of its first interactive web page, and is working with Qubit on a similar type of promotion for its next big purchasing season: Valentine's Day 2016. But for future projects, Journelle will pay additional attention to the mobile user experience: Schmid admitted that the daily tiles for this promotion may have shown up as too small for easy viewing on mobile device screens.