The Home Depot began distributing 125,000 hdPhones to store associates in June 2022, but as with any piece of hardware, the multi-function devices are really only as good as the in-store networks supporting and connecting them. That's a major reason the rollout coincided with a network refresh for the retailer's U.S. and Canadian stores that is slated to be complete by late 2022 or early 2023.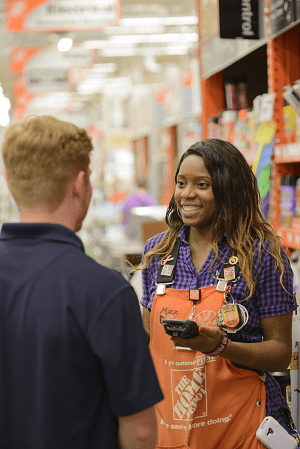 "Offering an interconnected retail experience has been key to us for several years now, and it continues to prove important for us to support, both for customers and store associates," said Coleen Matsuo, Senior Director of Technology at The Home Depot in an interview with Retail TouchPoints. "We recognized that to deliver that experience we needed a powerful and modern foundation in our stores."
The retailer chose the Aruba ESP (Edge Services Platform), delivered via HPE GreenLake for Aruba's network-as-a-service (NaaS) offering. Aruba, a Hewlett Packard Enterprise company, is providing Wi-Fi 6, also known as High Efficiency Wi-Fi, to provide connection and coverage both inside and outside Home Depot's brick-and-mortar stores for the Zebra Technologies TC52ax handheld devices.
The phones feature advanced-range barcode scanning that enables associates to locate products and check pricing and inventory availability from more than 40 feet away — helpful when associates are looking for products in overhead storage areas. They can be docked with Zebra's Workstation Connect to demo products and specifications on larger screens, and they also feature multi-device integration, more efficient app speeds, in-store texting and direct walkie-talkie communication.
Making all these capabilities work without lags or hiccups is a challenge given the physical conditions in Home Depot stores. "The environments we operate in are not the most conducive to technology; there's a lot of dust, concrete and metal that gets in the way," said Matsuo.
Additionally, the stores tend to be large, and the coverage area needs to be even larger when outdoor spaces are factored in. Like many retailers, The Home Depot instituted curbside pickup when COVID-19 struck, as well as tool and truck rentals in store parking lots, raising its requirements for "ubiquitous coverage," said Matsuo. She added that "in the stores where we've already deployed [the upgraded network], we're seeing the desired extension of coverage into those physical areas."
Test, Test and Test Again
Matsuo shared a number of best practices that have helped the chainwide network refresh go smoothly. "Whenever we're considering a tech refresh or swap-out, we go through a comprehensive process," she noted. "The first step is researching the tech capabilities that are out there and how they might fit our current and upcoming business needs. Then we evaluate the tech in third-party labs and our own labs, and eventually in a simulated store environment. By that time we have a good understanding of how it will work, scale and function in our environment.
"This isn't our first refresh, but it's the most exciting technologically," Matsuo added. "It marries up a lot of groundbreaking technologies at one time, so through all of that, testing is the key. When we're deploying at scale, things that would be a mere annoyance in a handful of stores become business disruptors, so having teams, partners and solutions that we've really put through their paces is part of a very intentional, well-thought-out process."
For Matsuo and the rest of the IT team at The Home Depot, everything goes back to creating a seamless, frictionless experience for both store associates and customers, along with the agility to meet future requirements — whatever they might be. "With the combination of the resiliency and speed of the network and these new devices, we've created a foundation that will meet the business demands for creating those user experiences," said Matsuo. "The ability to add more connectivity devices to stores will all help bring to light whatever the business thinks of next."