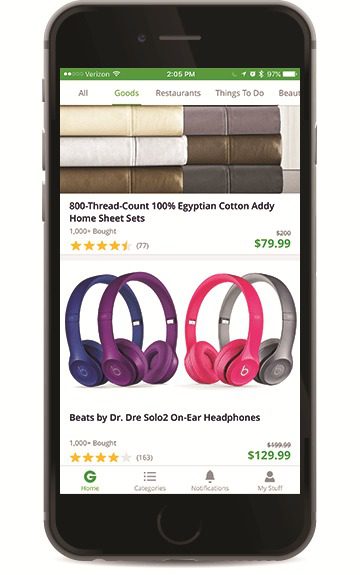 Groupon Goods, a unit of Groupon that offers tangible goods rather than local experiences or travel deals, has boosted sales at a rate of 12% since enlisting the services of competitive pricing technology provider Boomerang Commerce.
To examine its pricing strategies, Groupon Goods tested a control group of SKUs against another SKU group priced using Boomerang's data insights. The Boomerang system monitors millions of items weekly, including both private-label products and SKUs that can be found on other retail sites, as well as items that are comparable to the private-label products that Groupon Goods sells.
As Groupon started to move away from manual price optimization to a more centralized algorithmic approach in 2015, the company needed a solution that could provide insights and actionable recommendations to both employees and consumers. After consulting reports from industry experts and running benchmark tests, Groupon selected Boomerang Commerce's Retail Analytics Suite, which features both the Price Optimization and Competitor Intelligence modules.
"Monitoring price moves was primarily manual and managed by our internal buying organization." said Nikhil Sagar, VP of Supply Chain Inventory Planning, Pricing and Analytics at Groupon. "The volume of products and the constant turnover of product resulted in buyers only being able to monitor competitive pricing on all their top deals that were being featured or promoted."
The Groupon Goods site typically only offers each product SKU for 25 to 30 days, which can be quick compared to many online retailers that stock SKUs for six months or more. This makes dynamic pricing even more important, as items are expected to sell quickly.
"Quicker turnover means more SKUs/deals needing to be analyzed and priced over a period of time, hence the need for a systemic solution that is easily scalable," Sagar said in an interview with Retail TouchPoints. "Short lifespan of product also creates the need for managing inventory risk and markdowns by staying competitive on price at all times, in a very proactive manner."
The Boomerang analytics suite implementation was completed in less than a month, in two phases. First, the Boomerang team integrated the Competitor Intelligence module into the e-Commerce site without Groupon engineers' involvement. Instead, Groupon engineers could spend their time building custom APIs that would enable Boomerang's data to be shared among other systems. As for deployment of the Price Optimization module, six Groupon engineers collaborated part-time with the Boomerang support team to complete the installation. The system went live in November 2015.
Sagar said the Groupon team learned valuable lessons from the partnership: "Adoption is key, so staying focused on continuous training and collaboration with the merchandising team to ensure the tool is being understood correctly and used frequently is very important," said Sagar. "Integrity of measurement is really important. This includes setting up clean, easy-to-communicate measures of impact from price changes that remove the noise of all the other levers we move as a retailer."
With dynamic pricing in place, Groupon Goods is expanding plans to invest in this area by building pricing strategies for merchandise that has no market equivalent, such as unique or unbranded products. The retailer is presently collaborating with Boomerang on this new initiative, as well as options for adding greater elasticity to its pricing.