Virtually every industry expert is urging retailers to bring experiences to shopping environments in order to attract more consumers to their physical spaces. Westfield Malls has taken this advice to heart, hosting a new high-tech multiplayer video gaming theater in its Paramus, NJ Garden State Plaza mall. As many as 30 people can play games together live, using wireless touchscreen motion-sensitive devices. Their gaming activity is displayed on a 30-foot by 11-foot screen, providing entertainment for game viewers as well.
Games range from collaborative to competitive and can be played by teams or individuals. Concert-quality surround sound, 50 multi-color LED and strobe lights and synchronized lighting effects all are driven by game play, and a live MC provides play-by-play commentary and encourages teamwork.
"The idea is to make the Westfield experience absolutely engaging, exciting and social," said Charley Delana, EVP of Global Brand Ventures for Westfield Malls. "The premise is that, especially in today's increasingly isolating digital age, the creation of communal experiences is more important, and more desirable, than ever before."
The 750-square-foot ESC Game Theater "had never been rolled out in such a large, open, and public environment," Delana added. While the design process took four to six weeks, the actual building and installation was accomplished in just two days. The theater has been operational since early December 2016, and will stay in place into Q1 2017.
Westfield, ESC Games and the theater's designer, ESI Design, are using this installation to test the technology and its impact on shoppers. "We believe that social activities such as this one can help drive traffic, increase dwell times, and enhance customer engagement," said Delana in an interview with Retail TouchPoints. "Those are quantifiable metrics which we'll be continuing to monitor throughout the time the theater remains at Garden State Plaza."
"It's very fun to watch how people react to it," said Todd Swidler, CEO of ESC Games. Because one side of the theater is open, "everyone who walks by stops and watches the game play. The reactions post-play have been good.
"We're obviously looking to get a lot of feedback on the experience itself, such as which games people enjoy and which we need to tweak further," said Swidler in an interview with Retail TouchPoints. "The impact on the mall is that we feel it's a key component to drive a younger audience into the mall, and to increase their dwell time. The play is done with a smartphone-like device, so if you use a smartphone you can play the games. We've seen anyone from 12-year-olds to 40-year-olds playing."
Employee Motivational Tool And Co-Promotion Potential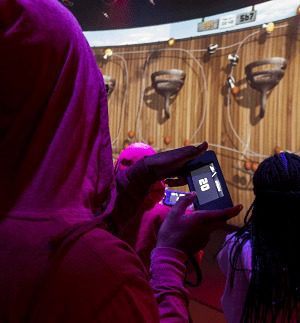 There also could be opportunities for retailers and other brands to use the Games Theater as a customer reward or team-building exercise for employees. "We have started discussions with brands about cross-promotion and cross-trafficking," said Swidler. "We could do some customization to have brands appear in the games themselves, as well as sponsor the game theater experience. We see lots of opportunities to align ourselves with brands."
Even without this type of overt connection, "We've noticed that retailers, and especially restaurants, are benefiting since the arrival of the ESC Game Thater," said Delana. "A number of restaurants have even been offering successful cross-promotions that reward their patrons with tickets to the Game Theater."
Westfield is exploring the possibility of bringing the Games Theater to other malls, "especially indoor properties, where we can leverage the latest in technology and digital entertainment," said Delana.
"Westfield is not just a landlord that signs leases with tenants," Delana added. "Especially as we move into the future, Westfield's relationship with brands is becoming far more collaborative and creative in nature. We are creating a mall experience which is not just a collection of stores, but a canvas of experiences upon which brands can entice consumers with multiple points of engagement."