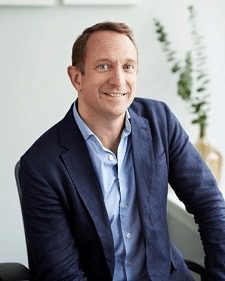 Food and New York City are the primary near-term focuses for Jet.com, as the shopping site homes in on an improved user experience and better delivery options. Simon Belsham, recently named President of Jet.com, explained the company's strategies during a keynote presentation at the eTail East event in Boston, followed by a 1:1 interview with Retail TouchPoints.
In the exclusive Q&A, Belsham, who joined Jet.com as President in March 2018, talks about the future of Jet.com, the new Jetblack personal shopping service, the site's integration with Walmart, and how a hyper-focus on food will help the company move to the next level.
Retail TouchPoints (RTP): What is the impetus behind Jet.com's current focus on food?
Simon Belsham: Food is now the center of everything. I think it's the most emotional category of products you can sell. With that in mind, today's consumers are looking for convenience, speed and control in their shopping experience. We are offering scheduled, same-day delivery that will help busy families fill up on necessities.
RTP: What will make Jet.com stand out in the food segment?
Belsham: We will offer more curated selections. This will help consumers better manage the Paradox of Choice. Optionality is great until it becomes a barrier. Apple has been genius at that, as well as Sephora. Instead of giving you a huge selection of cosmetic products and making you figure out your own look, Sephora tells you the three products that will work for you.
RTP: How is Jet.com thinking about its core values today?
Belsham: We are working through disruptive times in the U.S. right now. We are focused on delivering Trust, Transparency and Fairness both internally, with our employees, and externally, with our customers.
As we look forward, there are a million things to think about, but when it comes to leadership values, we want to build experiences customers love. High NPS experiences are what we need to aspire to.
RTP: Following Walmart's acquisition of Jet.com, how are you positioning the two companies?
Belsham: Jet is working with different brands and has some exclusive brands that are not available at Walmart. Jet is focusing on big cities where the target shoppers have a Millennial mindset. They care about local and have liberal values. The goal is to keep the brands (Jet.com and Walmart) separate, but complementary.
RTP: How will the focus on cities at Jet.com progress?
Belsham: We are starting with New York. The GDP of the New York metro area is bigger than many international countries. We'll test strategies in New York, like Jetblack, then eventually expand into other cities. In the meantime, we'll continue to evolve the business in other cities while we're testing new strategies in a great market.
RTP: What's the philosophy behind Jetblack?
Belsham: We are looking to create amazing customer experiences. We just launched Jetblack, which is designed for shoppers to "need it, text it, get it." It features a combination of humans and bots that text back three options for shoppers following clarification questions. We announced the launch of our public beta at the end of May with membership available for founding members at $50/month.
RTP: How will Jetblack deliver on its delivery promises?
Belsham: This is easier to pull off on a large scale when the company is vertically integrated. That's why Jet and Walmart purchased Parcel last year. We also just added a fulfillment center in the Bronx, which enables us to sell more local brands.
RTP: How is Jet.com keeping up with changing consumer preferences?
Belsham: We know our customers care about where their products are from. The new fulfillment center will help us offer more local brands. Additionally, we can see in their searches what products they are looking for, so it's easier for us to change product offerings compared to CPG brands. We can work with startups that are incentivized to be on trend. We also are adding a Head of Curation and Operations who will be in charge of putting together the retail assortment.
RTP: You've had a long career in retail and technology. What motivated you to join Jet.com?
Belsham: I came across Marc Lore when he was at Diapers.com. I am looking forward to working with him to combine food with long tail categories. Food is my background.
Editor's note: Belsham came to Jet.com from the VC-backed online marketplace, notonthehighstreet.com. Prior to that position, his career has focused on grocery retail both online and offline. He joined Tesco in 2003 and spent seven years leading a variety of projects developing the operating model for the UK business. After a two-year stint with Ocado, he returned to Tesco as Managing Director of Grocery Home Shopping, then became Online Director in January 2015.
Also, during the eTail East session, Belsham was asked a somewhat controversial question by an audience member. Here's a recap:
Audience question: Are you actively making public relations decisions around whether or not to carry a brand?
Belsham: We do think about that. There have been a number of situations in the last few years, even a few weeks ago. Before I joined last year, there was a New York chef who had a lot of products on our site and we pulled them off. It matters to my team. People really care about this. We have to be authentic to who we are. It matters to customers that we stand for something. It is challenging at times. We are always trying for a positive take on any situation. The other week, again, with child incarceration at the border…We have a very diverse culture at Jet.com. Ultimately, in this case we decided to raise money to donate to charities as a way for associates to support these families.