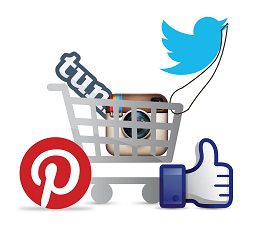 Retailers are investing more time and money in their social media strategies. As many as 66% of retailers said they have a social strategy in place in 2014, versus 60% in 2013, according to Retail TouchPoints research.
When used effectively, social media can help retailers generate buzz and even boost both online and in-store traffic. But retail executives, analysts and experts continue to debate social media's impact on bottom-line results.
Recent industry research confirms that social media can influence sales both online and in the store: 40% of all social media users have purchased items online or in-store after sharing or "favoriting" them on Facebook, Twitter or Pinterest, according to research from Vision Critical. The survey of 5,900 consumers concluded that social media drives approximately the same amount of sales both in-store and online.
But how can retailers tap Facebook, Twitter and other social channels, such as Pinterest, to accelerate the sales cycle from initial research to the final purchase decision? And more importantly, how can retailers measure social media's overall impact on the brick-and-mortar business?
Experts indicate that social media can be effectively integrated into brick-and-mortar strategies; and while some forward-thinking companies are seeing initial success with this approach, it's still early for the industry as a whole.
"No one's really cracked the code on it yet," said Laura Davis-Taylor, SVP of Omnichannel Experience at The Integer Group, in an interview with Retail TouchPoints. "In some part due to strategy and other part due to the tools. It's still early days but there are a lot of opportunities."
Promoting Social Engagement In The Store
One initial opportunity that some merchants may be missing is promoting and encouraging social engagement in the store. Unfortunately, many retailers are holding on to the misconception that because social media is a digital activity, it is best promoted online.
Recent research confirms this belief among industry executives. Retailers use email (79%) and their web site (77%) to promote their social commerce services to customers, according to the Retail TouchPoints Social Commerce Survey. Only 24% of retailers said they promoted their social presence in-store at the POS, and even fewer said they used in-store digital signage (21%).
But at least one retailer is leading the way toward a successful in-store/social connection. In 2013, Nordstrom started using its Pinterest fan base to identify popular products and encourage social engagement. These "most-pinned products" were then promoted in-store with special signage and unique merchandise designs.
"What's great about social media is that it creates a bigger platform for customers to share their experiences with us and with each other," said Dan Evans, Business PR Director for Nordstrom, in an interview with Retail TouchPoints. "Customers speak to us through their pins about which items are most relevant and exciting, and the top-pinned items in our stores is an attempt to bring these pinned items to life. We hope everyone finds them as inspiring as our Pinterest followers do."
Other retailers may be missing out on new marketing opportunities because they continue to view social media and the store as separate channels addressing different parts of the sales funnel.
"Social media is currently being used as a brand awareness, top-of-the-funnel initiative," noted Pau Sabria, Co-Founder of Olapic. "And in-store retail is used as an end-of-the-funnel channel, or a sales channel. These are very different approaches and rarely compete with one another. I believe that clever strategies feed off each other; for example how Nordstrom is identifying the products that have been most pinned on Pinterest."
In another example, cosmetics company 100% Pure is merging the digital and physical worlds by placing events at the center of its strategies. The brand is promoting in-store events using a designated hash tag, encouraging customers to share images of themselves once they enter a location.
"We're trying to refine our events strategy, but the most successful thing we've done is put signage in stores and encourage people to Instagram about the event and build dialogue," said Ric Kostick, CEO of 100% Pure. "We use the company hash tag and encourage everyone to use it. We may even give out incentives to really get them talking [about the brand] during our events."
Creating An Effective Social-Store Strategy
When crafting plans for integrating social media into the brick-and-mortar store, retailers should consider a number of elements, according to Davis-Taylor, including: The store, the category, the product and what makes it unique, and current shopping behaviors.
But most importantly, retailers need to determine how they can amplify consumers' shopping behaviors and encourage them to talk more about their experiences throughout the entire brand journey.
"Retailers need to look at before, during and after the purchase and consider their consumers' shopping behaviors," Davis-Taylor explained. However, because consumers continue to hop between channels and devices throughout their browsing and buying journeys, there no longer is a standard path to purchase, she added. Instead retailers "need to create a shopping story."
Davis-Taylor suggested that brands and retailers ask themselves the following questions:
Would I engage with this brand personally? Why?
Does this strategy amplify or add value to my brand? How?
Would I take five minutes out of my day and participate in this campaign? What emotional currency am I creating with this strategy?
Additionally, to ensure that marketing and engagement strategies are relevant, retailers need to clearly identify target customers and their preferred social channels.
"Companies need to understand what channels their customers are using most frequently," said Omer Minkara, Senior Research Analyst of the Contact Center and Customer Experience Management Practice at Aberdeen Group. "You may build a Facebook fan page but then find your consumers are using Twitter more frequently."
Minkara recommended that retailers tap surveys, focus groups and other voice of the customer (VoC) programs to establish a baseline of "understanding where your consumers want to interact with your firm. These programs can help you understand what your customers prefer."
However, merchants also should consider the value of specific social channels. For example, Instagram is a valuable network for retailers to give consumers a "behind-the-scenes" look at their brand, while Twitter is a valuable service channel.
"You have to determine what problems you're trying to solve," said Kyle Wegner, Associate Director of Digital Strategy at The Integer Group. "For the majority of brands and retailers, there's a place in the world for most social platforms. Each site can solve a different problem for an organization."
Tying Social Engagement To Brick-And-Mortar Sales
In June 2013, Facebook started supporting hash tags, which offered users a new way to track conversations about trending topics. The development also gave retailers a new opportunity to create hash tag campaigns that spanned across three key channels: Facebook, Twitter and Instagram.
"Within the last year it has become easier for brands and retailers to create cohesive social campaigns," Wegner said. "You used to have to decide where to push people. Were you going to do a Facebook program, or an Instagram and Twitter program? If it was Facebook, you couldn't use hash tags."
Now that hash tags are universal, retailers can use a single tag for several social channels, which makes it easier for consumers to share insights and retailers to collect and track feedback, Wegner added. "You don't have to make a choice for your shopper anymore."
Retailers can refer to hash tags and other social feedback to keep a pulse on customer sentiment. By integrating this feedback with CRM data, retailers can create a comprehensive picture of individual customers and their unique shopping journeys.
Retail "Leaders" are more likely to incorporate social media into their CRM initiatives, according to Aberdeen Group research. As many as 40% of business "Leaders" incorporate social media touch points into their CRM and/or customer experience management initiatives, compared to only 26% of "Followers."
In the report, titled: Social Powers Activate: Engineering Social Engagement To Win The Hidden Sales Cycle, Aberdeen also indicated that progressive organizations leverage "active listening," which "combines social media monitoring with an infrastructure of action."
Key capabilities of active listening include:
Monitoring social channels for content and mentions specific to the company (70%);
Identifying key social influencers in a market for engagement (55%);
Identifying and prioritizing social posts for engagement (45%); and
Identifying customer advocates for outreach and engagement (42%).
If a customer references a brand, product or service on social media, a retailer can "then attribute that feedback to a specific customer record in the CRM system," Minkara explained. Tying social data with different types of account data, such as credit card information, then allows retailers to attribute the customer record in the CRM system with their in-store purchase. By using technology tools such as customer analytics, companies can then map out the entire journey and see what particular activities encouraged buyers to visit their store and contributed to them making a purchase."
Loyalty programs also can help close the loop between social feedback and in-store purchases.
"One of the challenges of social media is that it is somewhat individual agnostic," noted Bob Heaney, Principal Analyst of the Retail/Wholesale Markets and e-Commerce Practice at Aberdeen Group. "If a shopper goes to a retailer's Facebook or Pinterest page, the company can get information about his or her general interests and what they're doing on that site. But unless it's tied to a loyalty program and a customer is opted in, you don't have the intelligence into who that person is and you can't see what they're doing differently over time. Additionally, if behavior or supplemental activity is initiated via mobile or social devices, retailers may not be able to link the specific device-level activity back to a 360-degree view of an individual consumer across all omnichannel points of engagement."
---
This article is Part 1 of the two-part feature on Integrating Social Media And The Brick-And-Mortar Experience. Part 2 will be published in the May 20 newsletter.