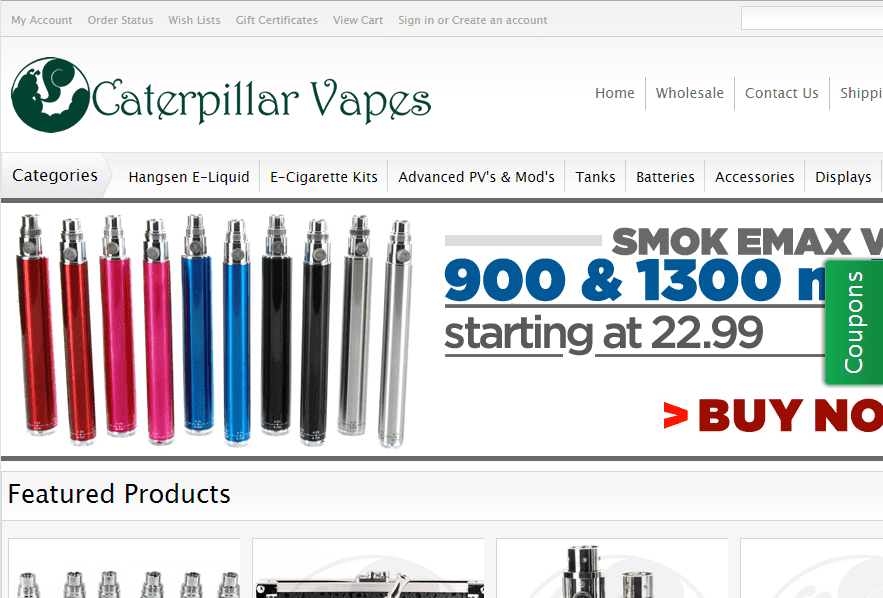 As a brand expands, its IT infrastructure can become more complex. However, in today's omnichannel world, it is imperative that retailers of all sizes have a comprehensive view of sales and inventory.
To create this more 360-view of the business as it expanded from e-Commerce to brick-and-mortar, e-cigarette products retailer Caterpillar Vapes integrated APIs from POS platform provider Zing into its e-Commerce platform powered by Bigcommerce. With the Zing APIs, the retailer manages its inventory, e-Commerce and POS functions in one central location.
"Right now, we deal with inventory prediction software," said Eric Johnson, principal owner of Caterpillar Vapes. "We actually have a process that pulls down all the inventory and orders from Zing. Based upon that inventory and those orders, we are able to provide this application with a number of days we want on hand for inventory, and it will automatically create a purchase order of the different items we want. For a company that only has 100 items, tracking all this inventory by hand wouldn't be so difficult. For a company like ours that has thousands of SKUs, doing that manually is impossible, making the Zing integration an absolute requirement for us."
Initially, the Caterpillar Vapes team considered building an in-house e-Commerce solution to host the web site. Despite having the manpower to build one, the team determined that the time and effort would be better used elsewhere. By onboarding Bigcommerce to power its e-Commerce site, Caterpillar Vapes learned its in-store POS system could integrate with its online storefront.
"When we opened our shop, we realized that integrating our in-store POS and e-Commerce site wasn't as easy as we thought," said Johnson in an interview with Retail TouchPoints. "And I went around looking for other e-Commerce providers that had integrations with POS services. It was just something that wasn't really prevalent, and when it did happen it was incredibly clumsy. The more that I delved into how much Bigcommerce worked with Zing, and how they were not only partners but neighbors, that told me that this was going to be a partnership that was going to last."
Zing's main mission is to create a seamless brick-and-mortar commerce environment, starting at the point of sale. However, the integration layer underneath the POS solution is where the heart of the company lies, according to Nate Stewart, Founder and CEO of Zing.
"We want to be defined by how many things a retail business can do in a limited amount of time," Stewart explained. "Right now, if you're a small brick-and-mortar retailer, you're competing against companies 1,000 times your size, and those companies are only getting bigger and more competitive. We're trying to make it seamless to connect the different data points you have and different products you work with."
By integrating Zing, Caterpillar Vapes created a "hands-off" IT situation where e-Commerce operations team members were relieved from dealing with servers, hard integrations, upkeep and maintenance. Since the platform allows retailers to manage inventory across multiple locations, the retailer can continue to expand into a second brick-and-mortar location.
"Next year, I'm not going to have to worry about moving my entire platform," Johnson said. "This ensures that I won't have any migration issues that invariably bite you and cost you thousands of dollars."