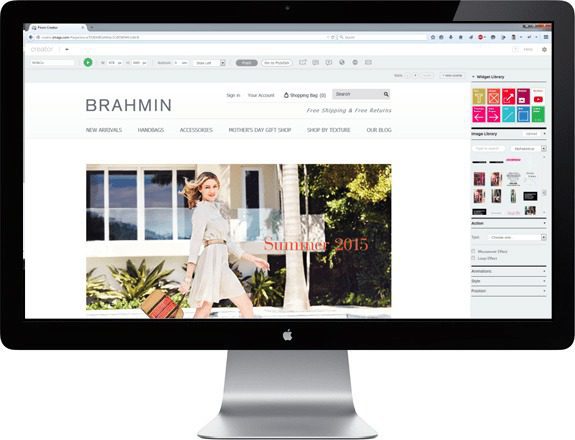 Content is becoming a competitive differentiator for retailers across categories. Rather than providing stagnant product specs and descriptions, best-in-class retailers are embracing new tools and strategies to turn their e-Commerce sites into immersive and educational experiences.
For Brahmin, a U.S.-based handbag and accessories retailer, a successful content marketing strategy hinges on "telling the Brahmin story using rich and engaging lifestyle images that showcase the quality of our products," according to Alison Katz, Director of Direct-to-Consumer at Brahmin.
Using Creator, a new solution from Zmags, the retailer has been able to add new, rich content to its e-Commerce site more quickly and seamlessly. With the solution's "shop the look" functionality, consumers can identify with the brand and complete transactions at any time during their browsing and buying journeys.
"This is only possible because Zmags Creator enables our designers to quickly create lush, immersive experiences that come alive with elegant animations and embedded commerce capabilities," Katz said in an interview with Retail ToucPoints. Investing in the tool has led to a 111% increase in conversions and a 16% boost in customer sessions.
"We are an innovative company, always seeking opportunities to improve how we market," Katz said. A loyal user of Zmags Publicator, Brahmin was able to create engaging, shoppable experiences "where our customers can explore and purchase from our seasonal catalogs," she added. Pleased with the results, Brahmin became a Creator beta user.
Not only was Brahmin seeking a trusted partner that listened and acted upon challenges and concerns, the retailer also sought an SaaS-based solution that empowered team members to develop and execute rich and immersive brand experiences. The Brahmin team also required "independence to deploy new content to our site without going through a third-party vendor," Katz explained. "At that time, we were looking to improve how we managed our content and, in particular, how we got that content online."
After implementing Creator, which took less than a day to complete, Brahmin was able to deploy new content onto its e-Commerce site within minutes. "We can do it whenever we want," Katz noted, "and without going through an external vendor or our internal IT department."
Most importantly, Brahmin is able to create these compelling content assets and experiences more seamlessly. Touting a "simple and intuitive" interface, Katz explained that "our designers learned quickly, and now, once we have the vision for what we want to create, it usually only takes hours to create the experience."
As a brand and retailer, Brahmin focuses on providing a timeless blend of modern-American versatility and quality craftsmanship. "As uncompromising as we are about the design and construction of our products, we are equally demanding of our brand image," Katz said. "Our commitment to quality is apparent to anyone who has visited the Brahmin web site, browsed our catalog or had the pleasure of owning a Brahmin handbag."
Now with the help of Zmags Creator, Brahmin can create richer, more engaging web experiences and, in turn, further refine and optimize its content strategy. For example, Katz noted that the retailer is implementing a new commerce platform, which it will use "to fully leverage Creator's capabilities in accessing Brahmin's rich and engaging lifestyle images that showcase the quality of our products."