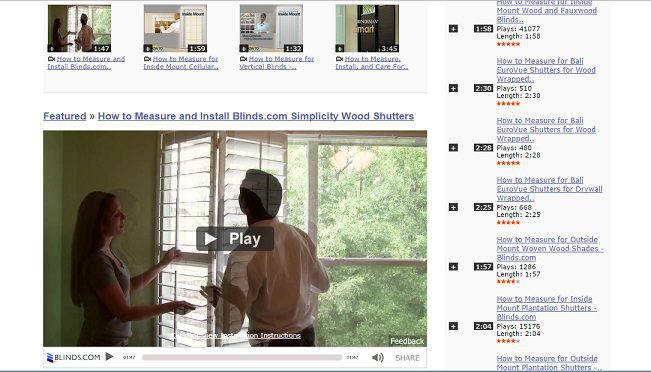 To differentiate from the competition, online retailers are focused on creating more visually compelling experiences for consumers. Some retailers are embracing video to help create this more memorable experience, as it helps add more context and detail to product images already available on the site.
Blinds.com is an online retailer with more than 200 "how-to" and product-related videos in its library to help guide consumers throughout the browsing and buying experience. After enlisting video commerce solution provider Liveclicker, the retailer was able to build up its video arsenal and increase revenue by 92% between Q1 2013 and Q1 2014.
Through the same time period, the web site's video engagement rate increased by 99%, orders increased by 68% and conversion rate increased by 70%.
Blinds.com initially started uploading videos to the web site in 2006 to demonstrate products and address customer concerns regarding measuring and installing their blinds. The company continued to produce more videos throughout the years, but as the e-Commerce site expanded, it became more complex to update and manage. Since some videos were used in multiple locations, the designer also had to find each use of the videos and manually make the changes whenever appropriate. In addition, the eTailer still could not determine which types of videos were most useful and relevant to consumers.
"As we started adding more content to our site, we did start to find that we really didn't have the ability to actually see how the videos were performing," said Robert Reed, Video Producer at Blinds.com. "We asked questions about our video content; 'Did we make improvements? Are we actually providing an experience the customers are looking at and benefitting from?"
After researching and testing solutions, the Blinds.com team implemented Liveclicker's VideoCommerce platform in 2012 because it had the analytical capabilities Reed required to track video performance. The platform also allows Blinds.com to create a more valuable customer experience, allowing visitors to provide feedback on videos via ratings and reviews.
"It's not unusual for us to get dozens of comments every day," Reed said. "We review those and see whether the particular video makes sense for the customers, if it's providing them with details and if they're confused by something that the video is supposed to be about. We're finding — as we fine-tune what we put out to the customers — that they're getting more of what they're really finding useful. Our ratings have tracked really well overall, but the ones that don't initially track highly are the ones we pay the most attention to. That helps us actually raise the bar on what we're trying to put out to the customers."
With a new customer feedback system in place, Blinds.com went on to roll out a complementary video feature by creating groupings of similar videos. This new feature has helped enhance the customer experience significantly, according to Reed.
"The Blinds.com team has done a phenomenal job of actually utilizing that feedback and modifying their content," said Kenna Hilburn,Sr. Video Commerce Strategist at Liveclicker. "They've really surpassed expectations in terms of the way their video program has grown, and that's really from them utilizing that feedback and specifically editing videos, creating new types of content that satiates the user's appetite."
The Liveclicker team provided guidance and recommendations to Blinds.com employees throughout the implementation process, which took less than one month to complete. The installation also didn't require third-party plugins to maximize the platform's capabilities.