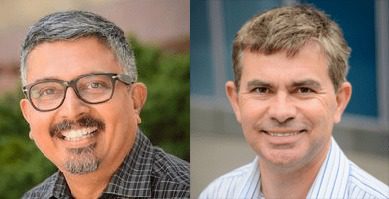 RichRelevance, a provider of omnichannel personalization solutions, has added two new executives to it leadership team. Mahesh Tyagarajan will serve as Chief Product Officer, and will oversee product strategy and management, engineering, cloud operation and infrastructure. John Dickson will serve as VP of Client Services to help drive company expansion.
Tyagarajan joins RichRelevance from Walmart, where he led the development of the retailer's Global e-Commerce (GeC) Platform at WalmartLabs and created the roadmap for the modernization of retail technology systems. His technology responsibilities at Walmart included e-Commerce, omnichannel retail, POS, store back-office systems, warehouse management, next-generation logistics and mobile applications. Dickson previously served in executive roles at MicroStrategy and Business Objects. In both positions, he led professional services teams to deliver enterprise deployments.
Tyagarajan and Dickson both "bring a corresponding expertise in enterprise technology and deployments to accelerate success," reported Eduardo Sanchez, CEO of RichRelevance. "Their vision and leadership will be critical as we continue to deliver the best product and open platform capabilities in the industry, and turn these innovations into real-world success."
The appointments come shortly following several significant company announcements, including the launch of the Relevance Cloud and Build customization solution. RichRelevance also revealed major enhancements to its Recommend, Engage and Discover solutions.
"Done correctly, personalization transforms every part of the customer experience around the shopper," Tyagarajan said. "This is a simple concept, but a huge technology challenge in today's complicated ecosystem of platforms and point solutions spread across digital, call center and store operations. There is a huge opportunity to cut through the complexity to deliver elegant, powerful products that have an immediate impact."