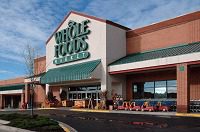 No one could accuse Whole Foods of being timid about its growth prospects. The supermarket chain foresees operating 1,200 stores in the U.S. by 2021, which would be nearly three times its current store count of 436. Projected growth of the retailer's 365 by Whole Foods Market concept stores could push the total even higher than the 1,200 mark.
Whole Foods' optimistic projections come at a time when traditional supermarkets are consolidating and non-grocery retailers are making a strong bid for the consumer's food dollar. In Supermarket News'2016 Top 75 listing of grocery's biggest players, four of the top 10 were non-traditional formats: two big-box discounters, Walmart and Target, and two drugstores, CVS Health and Walgreens.
The 365 concept, designed to provide a more value-oriented experience for busy shoppers, could ride the wave of these changes by appealing to Millennials. Whole Foods plans to make space within these stores for shops offering complementary products including body care, fashion, food and drink, records, and even services such as tattoo parlors.
Still, the 365 stores have not yet been subjected to any real-world testing. The format is set to debut in May in the Silver Lake neighborhood of Los Angeles, with other 2016 openings scheduled in Lake Oswego, Ore., in July and Bellevue, Wash. in August. Whole Foods also has signed leases for five other 365 locations averaging 30,000 square feet. Three are in California, in Claremont, Concord and Los Alamitos, along with Gainesville, Fla. and Evergreen Park, Ill.
The retailer reported record Q1 sales of $4.8 billion, a 3% increase over the same period last year. However, comp store sales declined 1.8% during the quarter that ended January 17, 2016. In September 2015, Whole Foods announced it would be cutting 1,500 jobs as a cost-cutting measure.
Despite these challenges, Whole Foods executives expressed strong confidence in the company's prospects. "We improved our cost structure, stepped up our value efforts, and are excited to announce today the national launch of digital coupons within our mobile app," said Walter Robb, Co-CEO, in a statement. "We believe we will deliver strong returns to shareholders over the long term as we improve our price perception, better communicate our higher quality standards and differentiation, and continue to fundamentally evolve our business."