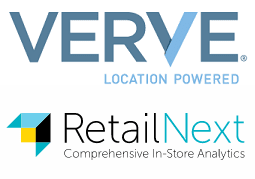 Verve Mobile, a location-based mobile advertising company, and RetailNext, a provider of in-store analytics solutions, have partnered to combine their solution capabilities for brick-and-mortar customers.
"One of the hottest topics in mobile advertising today is attribution," said Mike Boland, Senior Analyst and VP of Content at BIA/Kelsey. "Retailers intuitively get the value of location-based mobile advertising but, for now, the true 'closed loop' of coupons and mobile payments creates too much friction for consumers and marketers, especially for branding and other 'upper funnel' advertising. Partnerships that combine location targeting and in-store technologies are a major improvement to existing solutions and will enable retailers to better understand the connection between their mobile advertising and in-store dynamics."
Using the combined Verve and RetailNext solutions, retailers can leverage the range of tools to measure the correlation of location-targeted mobile advertising to driving foot traffic and sales.
"Retailers are rapidly adopting location-targeted mobile advertising to drive consumers into stores," said Tom MacIsaac, CEO of Verve Mobile. "They love having the ability to reach consumers on their mobile devices, when they are out and about in the real world, closer to the buying decision than ever before. But they also want to see the complete picture. They want to understand how mobile advertising affects in-store behavior."
"Now, a physical retailer can reach a shopper with an ad based on their location and context, invite the consumer to visit a store nearby or incent them with a special offer," added Alexei Agratchev, CEO of RetailNext. "By leveraging advanced RetailNext in-store analytics technology, retailers are equipped to understand the performance and effects of location-based marketing efforts."