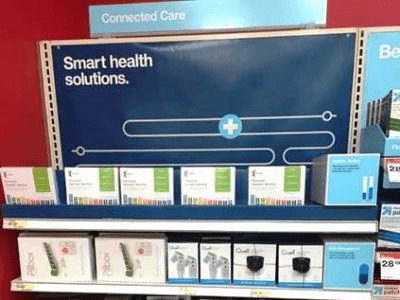 The Connected Health section will be featured within Target's CVS-branded pharmacies, providing customers access to products designed to allow customers to digitally monitor and keep tabs on their health at any time and place.
The retailer has partnered with digital health technology company Qardio, with the section set to promote Internet of Things (IoT)-style devices such as the QardioArm blood pressure monitor and the QardioBase wireless scale.
With the sales of its pharmacies to CVS and the ensuing brand conversion, Target is establishing itself as a premier player in health and wellness retailing. The partnership between Target and CVS has been mutually beneficial, with the retailer gaining more credibility for its health services offerings, and the pharmacy expanding its horizons without building additional stores.
The retailer has also taken a more health-conscious approach with its food reinvention campaign, which emphasized healthy snacks and expanded on the availability of natural, organic, locally grown food choices.
With a greater focus on health care and healthy food options, other discount retailers may feel the pressure to focus on wellness. CVS already took unprecedented steps to move in this direction when it decided to discontinue sales of tobacco products in 2014, so its partnership with Target puts both companies well ahead of competitors when it comes to putting their money where their mouth is.
The pending combination of Walgreens and Rite Aid will keep attention on Target's progress in the health field, as the new competitive landscape may affect consumers' perception of the CVS/pharmacy brand in the future.