On the eve of the 2017 Retail Innovation Conference event at Apella in NYC, retail executives from around the country got a unique, exclusive look at the new Westfield World Trade Center mall, located inside the one-of-a-kind Oculus structure in lower Manhattan.
During the Store Tours, attendees had the opportunity to visit six innovative retail locations and hear from each brand about the stores' unique offerings, including interactive digital signage, mobile clienteling apps and customer experiences such as virtual reality and script-to-text writing tablets. The stores visited included:
Eataly, an Italian market featuring restaurants, counters and a cooking school that invites guests to "Eat, Shop and Learn."
Aldo, a trendy footwear retailer integrating technology into its customer experience.
Ford Hub, a no-shopping retail location that provides the automobile manufacturer with an opportunity to connect with consumers.
TUMI, the luggage and travel manufacture that houses a large format touchscreen digital kiosk inside its Westfield WTC store
Montblanc, a manufacturer of luxury writing instruments and other goods that offers products equipped with innovative technologies;
The Westfield WTC Concierge, offering a language line and exceptional customer service.
Attendees were also joined by Westfield execs Steve Roche, VP, Senior General Manager; Lisa Herrmann, Senior Director of Marketing; and Evan Walke, General Manager. The Westfield Mall is releasing an app called Door-to-Door that takes product feeds from every store's on-hand inventory, so shoppers can find products immediately with search functionality.
Read on to get an inside look at some of the highlights from this year's Store Tours event!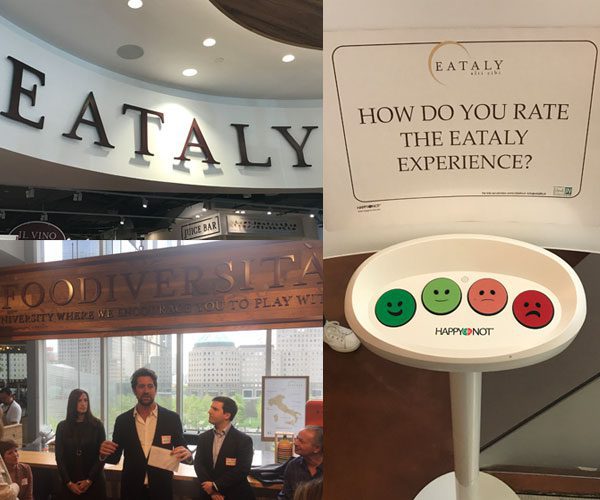 The tour kicked off at Eataly's Foodiversita, a free "university" of cooking classes for fresh pasta, pizza and cookies. Eataly NYC Downtown General Manager Fabrizio Germano led the tour, and spoke about how Eataly's goal is to provide small/local farmers and producers a platform to showcase and sell their foods. The store also has a cool stand right outside the door that asks customers to rate their Eataly experience with a quick push of one of four buttons.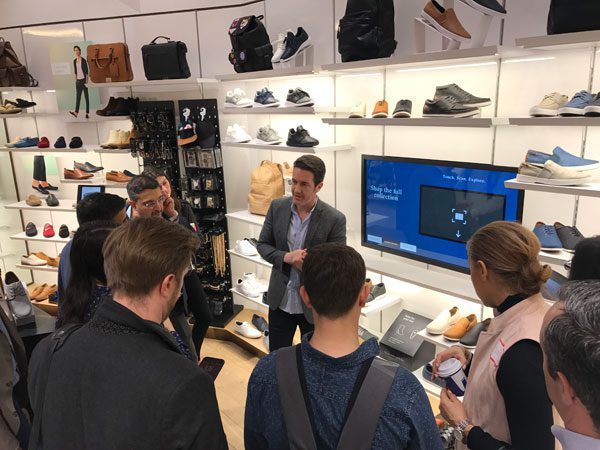 The Aldo store features a variety of digital experiences for customers, including a pre-selection feature via its mobile app that allows customers to choose items they'd like to try on before they even walk into the store. There are also multiple touchscreens throughout the store for checking inventory and handling payments.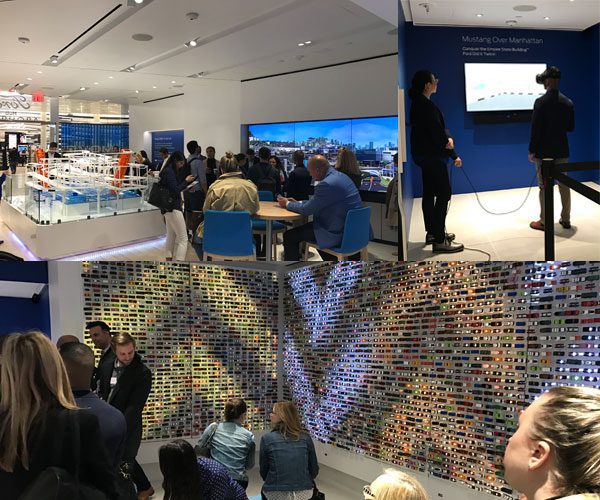 The Ford Hub isn't actually a store where customers can purchase goods. Instead, the location is "an opportunity to connect with consumers" and highlight Ford's transformation "from an automotive to an automotive and mobility company." The Ford Hub features a VR experience, video games, a wall of 5,000 miniature models of Ford vehicles and more interactive experiences.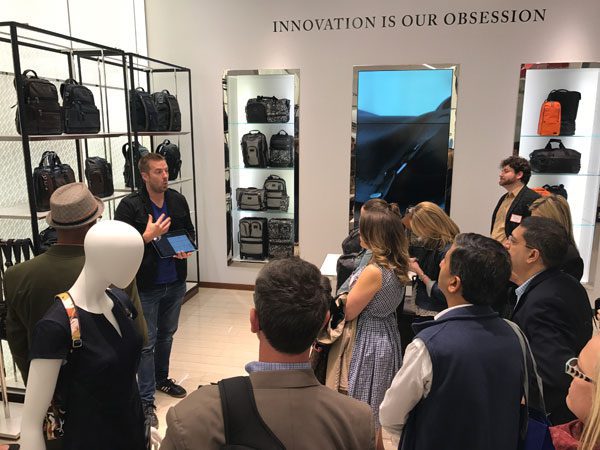 Charlie Cole, Chief Digital Officer for TUMI (and an RIC17 speaker), met with attendees at the brand's Westfield WTC location to talk about its clienteling app for sales associates and new touchscreen digital kiosk that brings the online experience in-store. The 2,000-square foot space also features seating for customers, in-store WiFi and charging stations.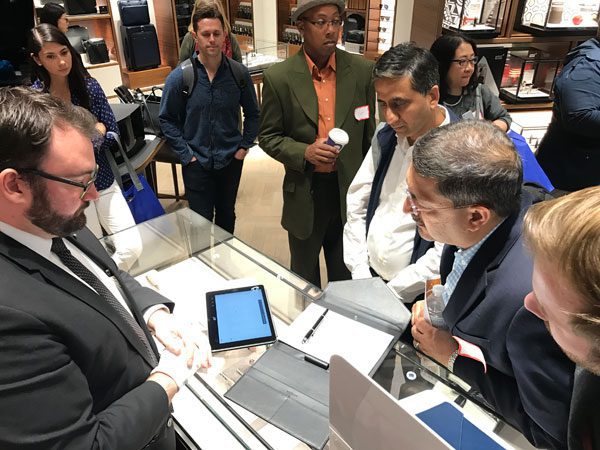 At the Montblanc store, attendees were introduced to Augmented Paper, a new writing innovation that integrates traditional writing into the digital workflow.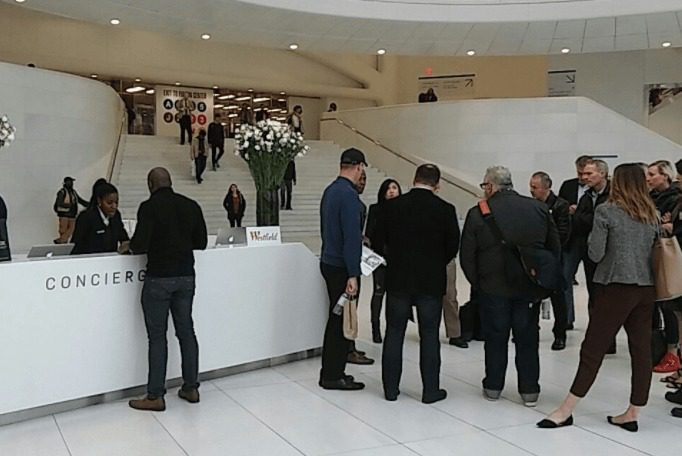 The Westfield WTF Concierge is both a concierge for the mall, as well as the city of New York — a unique offering for the tourist-heavy area that also serves as a transit hub. The location also features a Language Line of 250 languages, connections to live interpreters via video conferencing and a customer service text service.