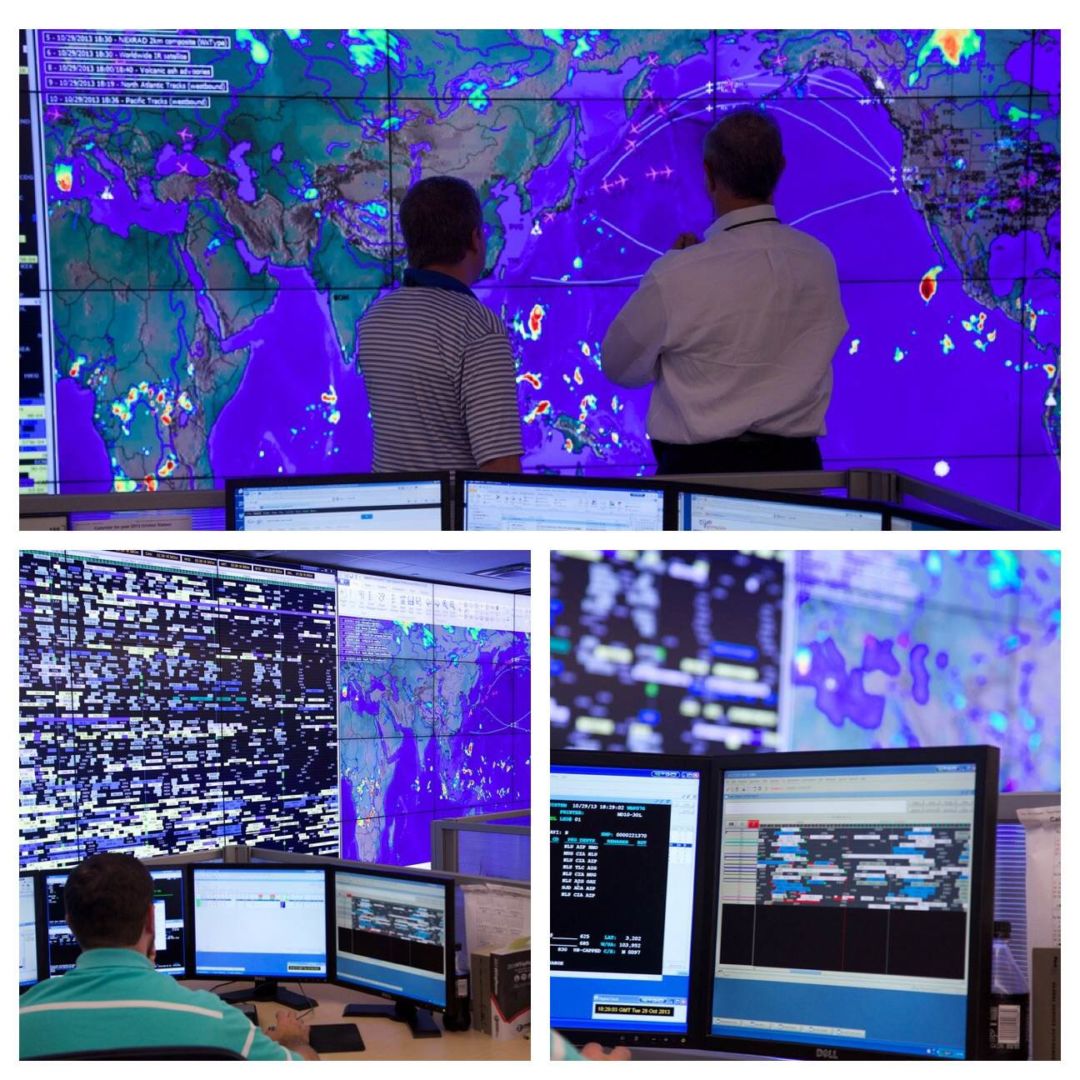 On any given day somewhere above the world, at least one, and as many as 250, FedEx Express jets are flying toward their destinations. A team of aircraft dispatchers, meteorologists, technicians and other hardworking team members are monitoring conditions all over the world so the shipments they're carrying arrive when and where they're needed. Retailers know how important delivery is when it comes to the last mile, but they may not realize just how difficult that last mile may sometimes be to traverse.
Headquartered at FedEx's nerve center — the Global Operations Control Center (GOCC) in Memphis, Tenn. — the 15-person meteorology team is the largest in-house department of its kind in the express cargo industry, and is the second-largest staff among all U.S. airlines. The team helps packages get delivered, rain or shine, snow, sleet or even a haboob (a rolling dust wall that can reach 3,000 feet high). In a world of shifting weather patterns and unpredictable events, how does FedEx Express oversee and direct 672 aircraft and 44,000 vehicles?
One critical way the department works is by tracking the location of every FedEx airplane currently in the sky, and working with the GOCC team to reroute when necessary.
"Our operational forecasters are on duty 24 hours a day, seven days a week, and hold daily weather briefings that help operations team leaders plan appropriately," said Kory Gempler, Manager, Weather Services at FedEx in an interview with Retail TouchPoints. "For example, if a big storm is coming, some flights and packages may be rerouted to other airports and areas to avoid delays."
The team monitors trends from around the globe on a massive, color-coded "War Board." This includes everything from winter storms to tropical hurricanes and even volcanoes. FedEx can forecast runway visibility when it drops below a half-mile, which is more precise than other weather agencies'calculations and provides more accurate information for the FedEx pilot in the cockpit, given that landing a plane safely is the most difficult part of its journey.
Improving Safety With Greater Visibility
FedEx Express also recently added Enhanced Vision Systems to 270 aircraft, which greatly improve a pilot's ability to land in low visibility conditions and mitigate potential weather delays. This technology allows FedEx aircraft to descend to 100 feet above the touchdown zone elevation of the runway.
This technology and the team's expertise give FedEx forecasters a major role in critical decision-making that affects not only the on-time delivery of packages, but also the safety of FedEx team members around the world.
"Our top priority is the safety and well-being of our team members, as well as providing the highest level of service to our customers," said Gempler. "Although contingency plans are in place, some service delays and disruptions can be anticipated in areas impacted by the winter storms. FedEx is committed to providing service to the best of our ability in areas that can be safely accessed."
Customers are looking for the most convenient experience possible —and from shopping online to delivery and returns, retailers must give them what they want. And, Gempler added, "Knowing exactly how to handle the ordering and delivery process is one of the best ways to create an experience that keeps customers coming back."