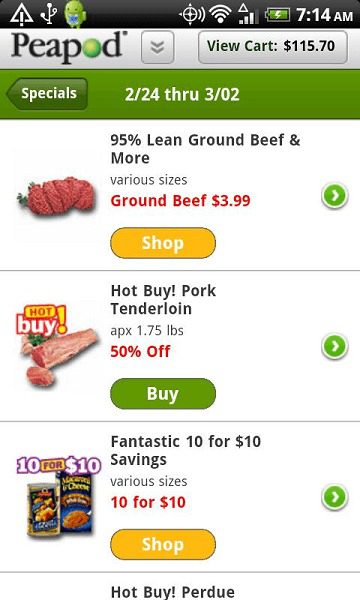 Online grocery shopping and delivery service Peapod has unveiled a new mobile app that touts improved features and functionality, such as Filter and Order Genius.
The Filter feature is designed to give customers easier access to dietary and nutritional filters. With Filter, Peapod can become an organic farmer's market, a gluten-free or dairy-free store, a nut-allergy safe zone or a low-sugar or low-carb shop, according to a company press release. Customers also can use the feature to display specific brands, items or sales.
Order Genius is a search recommendation engine designed to instantly suggest products shoppers have purchased in the past. With Order Genius, the consumer can fill their carts with just a few clicks. The feature can vary based on product seasonality and cycle, and is designed to help Peapod learn more about consumers and their overall purchasing behaviors.
The Peapod app is synced with recipe-planning API partner GatheredTable, which automatically generates a menu of weekly meals tailored to consumer preferences. In one click, customers can add all recipe ingredients they need into their Peapod shopping carts.
"Mobile drives business: More than half of Peapod orders are touched by a mobile device," said Thomas Parkinson, Chief Technology Officer and Co-Founder of Peapod. "So, to ensure that we give our increasing number of mobile shoppers what they want and support a growing revenue driver for the company, the completely redesigned Peapod app boasts higher speed, better features and a more personalized shopping experience than ever before."
Other features of the new Peapod app include weekly sales, favorites lists, a delivery and pickup times page as well as smart search based on keywords, universal product codes or barcodes.