Neighborhood Goods has been reimagining how a traditional department store operates, by showcasing emerging digitally native brands and driving foot traffic through the promise of a newly curated and constantly rotating product experience. Earlier this month, the Texas-based retailer set up shop in New York City with its second store, located in a 4,500-square-foot space in the popular multi-retailer Chelsea Market space.
On Dec. 5, Neighborhood Goods held an opening ceremony ahead of the company's official store launch, providing a peek inside the store's array of more than 40 brands in categories that range across apparel, beauty, jewelry, home goods, pet products and fitness. Each brand has its own designated area within the store, with a white plaque that showcases a brief description of the brand, its products and its mission.
Brands within the NYC store include Rothy's, Fossil, Dollar Shave Club, athletic essentials brand Olivers, luxury sunglasses brand Just Human, baby apparel and products brand The Tot, luxury fragrance brand Phlur, jewelry brand Kinn, casualwear brand Faherty and outerwear brand Rains, among many others.
Fossil's station included machines for customization and engraving, as well as "mood watches" on display. There is also a "denim bar," lined with various pairs of Mott & Bow jeans and topped with candles from Boy Smells that go across the color spectrum.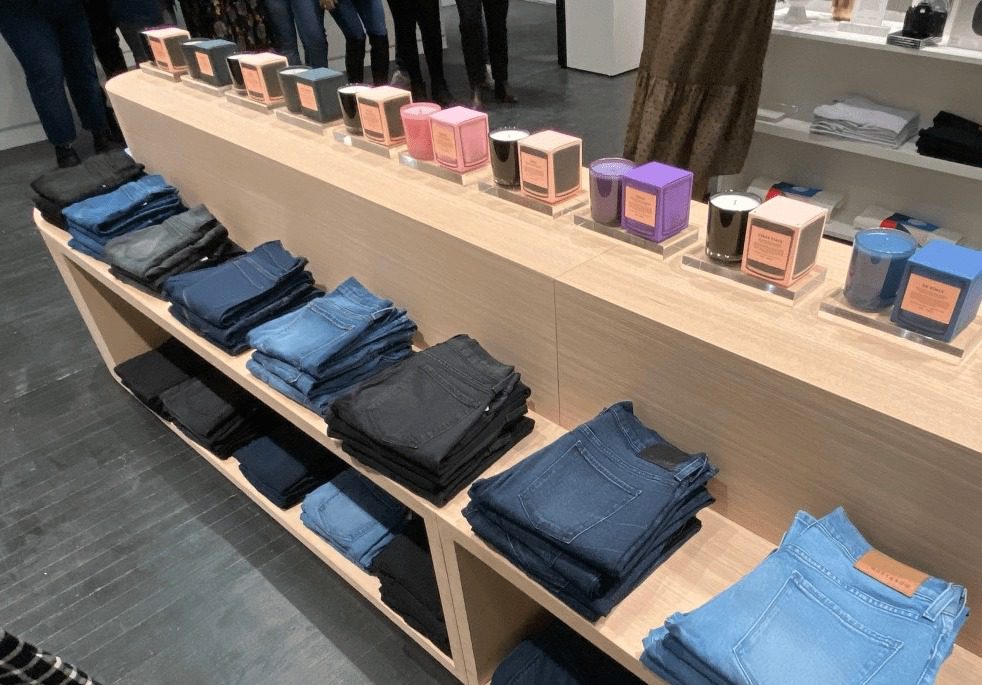 Skincare and beauty brands such as Colleen Rothschild, R+Co and Asystem have their own section, which includes a sink where shoppers can test out the different products.
The brand assortment and product selection is curated to cater to the different consumer demographics of each geographic market. While there is some overlap in inventory between the New York City and Plano, Texas stores, the stores are largely regionally customized. Many brands within the store will rotate every few months to give the location a sense of freshness for returning customers.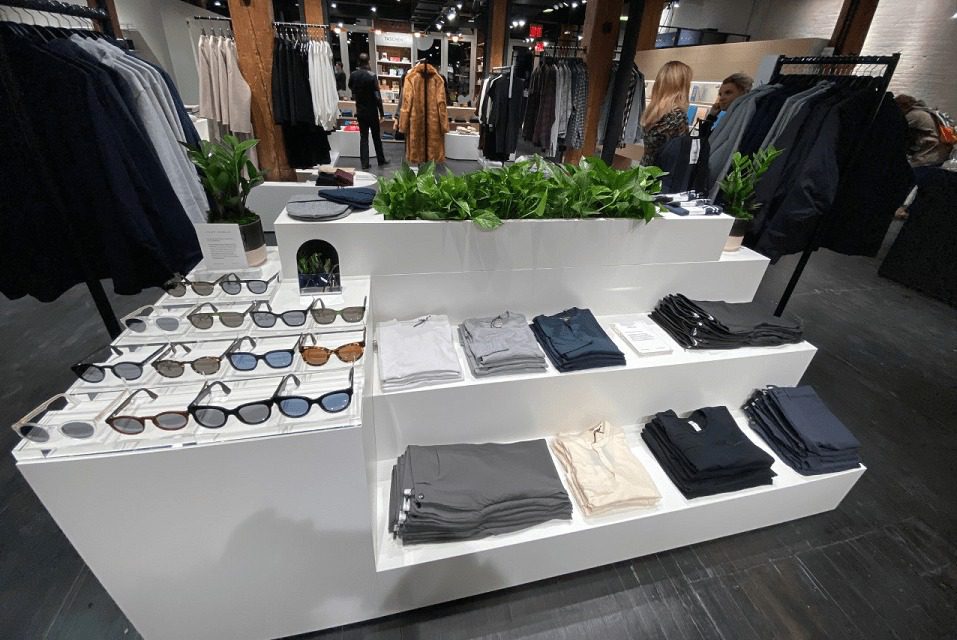 The front of the store serves as a lounging area with numerous couches where shoppers can rest or hang out as they purchase. The lounge is designed to promote the communal vibe that Neighborhood Goods wants its shoppers to feel when entering the store, which will be augmented by experiences including wine tastings and fitness classes. The back of the store features a pop-up grocery area with nine in-wall shelves, where shoppers can grab various snacks such as cookies and chips.
Neighborhood Goods first launched in 2018 with a 10,000-square-foot location in Plano, Texas. In September 2019, the retailer raised $11 million in financing to help expand its brick-and-mortar presence. The company has raised a total of $25.5 million to date, and is using the funds to help Neighborhood Goods secure more real estate, build its staff, ramp up its supply chain with faster delivery options and build out a backend digital platform where all the retailer's brand partners can check sales metrics in real time.
Neighborhood Goods says it's planning to roll out more locations in 2020, including a location in Austin, Texas. Co-Founder Matt Alexander told CNBC that he can see the company getting to the point where it opens a new shop as rapidly as every three to four months.