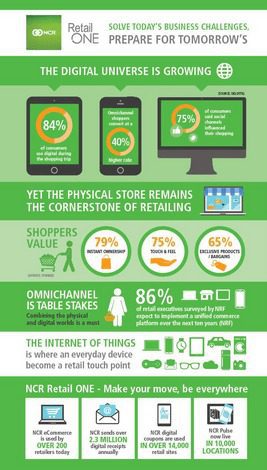 Retailers are at a crossroads: They're currently forced to focus on day-to-day operations and tasks. But now more than ever, they must focus on innovation and differentiating from their competitors.
NCR is striving to help retailers achieve operational excellence and innovation with the NCR Retail ONE commerce hub, which is designed to create an open ecosystem of applications and data. This open ecosystem integrates with an omnichannel software platform, which helps retailers create a frictionless shopping experience for customers.
Companies such as Cisco, Freshub, Inmar, Intel and Microsoft, voiced their support and involvement with NCR Retail ONE during the company's Synergy conference in Orlando this week.
NCR Retail ONE commerce hub is positioned to connect to a broad selection of POS, mobile and clienteling apps developed by NCR, its partners and other third-party providers. It can integrate applications at any time, allowing businesses to keep pace with breaking trends such as Big Data and the Internet of Things. Retailers can implement the hub through the cloud, on-premise software or a hybrid of both.
"Increasingly digitally savvy and mobile-enabled consumers expect retailers to offer an integrated online and brick-and-mortar based shopping experience, with services such as wish lists, click (or reserve) and collect, and real-time digital store stock checks, for greater speed, convenience and value," said Miya Knights, Senior Research Analyst, IDC Retail Insights. "This is putting huge pressure on retailers to transform their businesses, which they have traditionally run as a number of standalone channels."
However, retailers' current IT investments are making it increasingly difficult for them to keep pace with customer expectations, Knights explained. NCR is positioned to respond to these challenges "by offering retailers the means to meet such challenges via tighter omnichannel integration in a phased and pragmatic way that is designed to help them maximize the value of their existing, legacy IT assets, while enabling them to update heavily IT-reliant processes and services that can offer further value and differentiation in highly competitive markets."