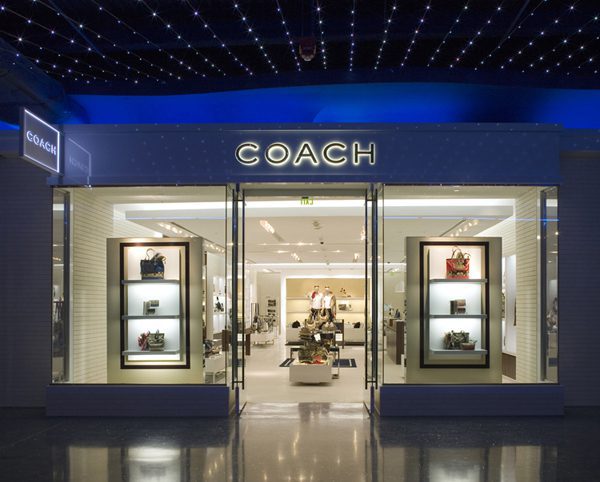 Executives from Coach revealed that the luxury retailer will close 70 stores in North America during the 2015 fiscal year and expects a projected "low double digit decline" in revenues during the same period.
In addition to the store closures, Coach expects comparable store sales in North America to experience a percentage drop in the "high teens" throughout 2015. The retailer is expected to return to low single digit top-line growth by the end of the 2016 fiscal year, according to Jane Nielsen, CFO of Coach.
The 2015 fiscal year "is the 'invest and reset' year," Nielsen said. "Gross margin should hold steady through our plans while operating margins will move to the high teens as we invest across the company. Capital expenditures will total in the neighborhood of $400 million. The 2017 fiscal year is when we return to sustainable growth, with both revenue and [comparable stores] in solidly positive territory."
During the annual Analyst and Investor Day conference on June 19, executives shared their goals and expectations for Coach, which is currently undergoing a brand transformation. The transformation is focused on changing the company's promotional strategy, repositioning its outlet stores, restricting access to the e-Commerce outlet store and reinvesting in the brand's wholesale channel.
"Success in North America is about driving productivity across all channels," said Francine Della Badia, President of North America Retail at Coach. "We are already in the best and most important locations in North America, and there are limited new brand-enhancing locations available. We've lost productivity because we underinvested in marketing. We lack distinctive product newness, and haven't appropriately reinvested in the store base. This worked when we were alone and unchallenged in the marketplace, but this isn't working today."
To drive ongoing sales throughout the year, Coach has instituted semi-annual sales that will occur in January and June/July, and will offer end of season and discontinued products.
As of June 2013, Coach operates 351 stores and 193 factory outlets in North America. Although Coach will be closing stores in 2015, the company will continue to invest in flagship stores and renovations, particularly focusing on stores based in major metropolitan areas.
With outlet locations generating 70% of total company revenue, the company seeks to prevent this sales rate from cannibalizing revenue for its flagship stores. At least five net outlet store closures are planned for the 2015 fiscal year, including two in major metropolitan areas that would reduce footprint in the markets by one third. Coach also will be working to improve branding in outlet locations by offering more leather goods and lifestyle products, and fewer pieces that feature the brand's signature logo.
"From a store count perspective, we will take a portfolio approach, resulting in no net new store growth over our planning horizon," Della Badia said. "Over the course of the plan, we will selectively open new outlet stores, but have evolved the lens in keeping with our enhanced brand positioning."
Known primarily for its monogram and leather handbags, Coach has seen increased competition from primary rivals Kate Spade & Company and Michael Kors. Since April 28, 2014, the brand's stock price has fallen 32.19% to $34.19, marking its lowest value since July 2010.
Coinciding with the store closures and brand re-focus, Coach will open new corporate headquarters during fall 2015. The new offices will be located in the Hudson Yards Development in New York City, and will consolidate the three offices the company presently occupies.