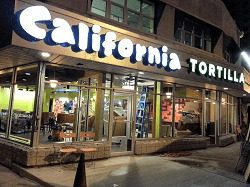 The California Tortilla restaurant chain has integrated a single sign-on for mobile ordering into its Burrito Elito mobile app for both iOS and Android devices. The food retailer deployed a solution from reward solution provider Paytronix Systems to upgrade its apps.
Key benefits for California Tortilla include:
• Maintaining a single view of each customer whether they purchase online or in the store;
• Capturing customers' attention in the moment of purchase decision with real-time messages;
• Enabling customers to place an order from anywhere;
• Cutting guest wait times; and
• Increasing the number of orders California Tortilla can process during peak day parts.
The app enhancements also allow customers to identify themselves via the app, view their account status, reward and point balances, and search for the nearest store. California Tortilla can now not only recognize and reward customers for their spending, it can also capture all their mobile interactions and send relevant messaging based on real-time behavior.
"Paytronix provided key support in helping us to evolve our rewards program, ensuring that it was a seamless process for our staff and our 180,000 Burrito Elito members," said Laura Cissel, VP of Marketing for California Tortilla in a statement. "We're excited about the opportunities our new mobile apps bring to enriching the guest experience and helping us to further our marketing efforts."