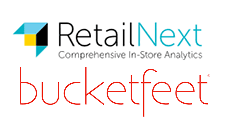 BucketFeet, a footwear brand and retailer, has selected RetailNext as its in-store retail analytics provider. By implementing the technology, BucketFeet plans to improve its in-store shopping experiences and strategically expand its brick-and-mortar footprint.
"BucketFeet is deploying RetailNext's market-leading in-store analytics platform to better understand in-studio shopping behaviors," said Bobby Stephens, Operating Co-Founder, President and COO at BucketFeet. "RetailNext's platform will support growth at our brick-and-mortar locations and help us ensure our omnichannel customer experience is consistent and compelling."
The BucketFeet brand sources designs from artists worldwide to develop its line of footwear, which includes shoes and flip-flops. BucketFeed products are available through the branded e-Commerce site, studio stores and retailers such as Nordstrom, Bloomingdale's and Lord & Taylor.
"Retail analytics used to be the sole purview of large chain stores," said Alexei Agratchev, Co-Founder and CEO of RetailNext. "But online merchants growing into the brick-and-mortar space understand the importance of accurate, objective data and deep shopper insights in developing the experiences today's empowered shoppers demand."