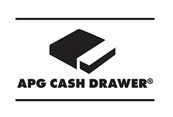 APG Cash Drawer is offering a tablet-based POS solution featuring a tablet holder that slides back and forth to enable easy viewing by both the sales associate and the consumer.
The Stratis system includes the Cash Drawer and adjustable Tablet Holder. Featuring an adjustable clamping system, the tablet holder can accommodate a variety of tablet sizes.
APG also is offering the Stratis Integration System that includes cable management to hide power cables from shoppers' view.